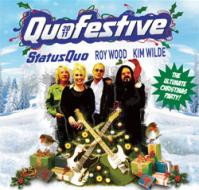 Band members: Francis Rossi, Rick Parfitt, Andy Bown, John Edwards, Matt Letley
Main Setlist: Caroline, Somethin' About You Baby, The Wanderer, Rock'n Roll 'n You, Rain, Mean Girl, Beginning of The End, Proposin' Medley, Big Fat Mama, Two Way Traffic, The Oriental, Let's Rock, Paper Plane, Gerdundula, Living On An Island, In The Army Now, Drum Solo Matt, Roll over lay Down, Down Down, Whatever You Want, Rockin'all over the World - Encore: Burning Bridges, Winter Wonderland*, Santa Claus Is Coming To Town*.
Tour Crew: Glen Smith (Tour Manager), Lyane Ngan (Band Personal Assistant), Pat Marks (Lightning Designer), Andy May (FOH Sound Engineer), Tim Franklin (Monitor Engineer), Lloyd Gilbert (Guitar Tech), Andy Tomkins (Keyboard / Bass Tech), Lance Miles (Drum Tech) Merchandiser: Mike Hrano for Finally Fan-Fair Ltd. Management: DurocMedia Ltd. Manager: Simon Porter.
Special Guests: Kim Wilde* & Band, Roy Wood* & Rock'n Roll Orchestra.
Tour Note: It seems the band will slow down a bit and played "only" a 11-date UK Arena Tour this time with special guests Kim Wilde and Roy Wood. No real changes in the set but a grand finale with Kim and Roy singing "Winter Wonderland" and "Santa Claus is coming to Town" together with Quo. No Bye Bye Johnny at the end...!
209/x a bit
2011
03/12/ UK, Birmingham - NEC Arena | 95'min. AUD Quality: 4
04/12/ UK, Sheffield - Motorpoint Arena | 95'min. AUD Quality: 3 +
06/12/ UK, Liverpool - Echo Arena | 75' min. AUD Quality: 3 -

07/12/ UK, Nottingham - Capitol FM Arena
09/12/ UK, Brighton - Centre | 98'min. AUD Quality: 3-4
10/12/ UK, Cardiff - Arena
11/12/ UK, London - O2 Arena | 98'min. OB* Quality: 5
13/12/ UK, Bournemouth - BIC | 25' min. AUD Quality: 3 +

14/12/ UK, Plymouth - Pavilions | 96' min. AUD Quality: 3
16/12/ UK, Newcastle - Metro Radio Arena | 98'min. AUD Quality: 3-4
17/12/ UK, Glasgow - SECC | 98'min. AUD Quality: 4 +
*official Bootleg at www.liveherenow.com
*FACTS FROM THE ROAD:
01.12.2012 - Only two days before Quo started their "QUOFESTIVE 2011" UK Tour in Birmingham, Rick Parfitt suffered a heart attack. Unbelievable - heart attack on Thursday, heart surgery in a London hospital on Friday and than travelling to Birmingham on Saturday to kick off the Arena tour! What?! The big problem (believe it or not) wasn't the heart, but that the plug would go in his groin, through which they'd had go into and up from in order to put the stent in his heart. That was the worry; that the plug would shift and he would bleed out from it on stage!!! So Rick's been told not to jump on stage! Quite surreal...Aaaaah, Rick.....!?! So the band and crew were very worried but Rick turned up, amazingly. Secretly, Freddie Edwards was ready to replace Rick and came up to Birmingham!