Other helpful Weblinks:
Status Quo Fanclub Magazine Archive
SMART (70s Music & Gig Reports)
Band members
Without whom...!
The people who have made this project possible.
Very Special Thanks to:
Bob Young, Richie & Karl Malone (R.I.P.),John Coghlan, Mike Hrano, Andy Brook, Robert Ellis, Simon Hampton, Garry Fielding, Eric Fortin, Roland Krebs, Werner Killian, Yvonne and Paul Hanvey, Jason Hodgson, FTMO Fanclub & Team, Wolfgang Gürster, Simon Cooper (R.I.P.), Dr. Lee Hawkins, Mike Paxman, Jürgen Adametz, Olle Östergard, Andreas Nixdorf & SQRR Radio, Luke Hargreaves (Status Quo Rescued Recordings Group) and Dr. Andrew Cope.
Paul K. Samuel, Andy Gamble Egbert Grumpelt and Steve Mielnik-Young
for keeping me enthused when my efforts and interest were flagging, providing numerous shows, motivation and scans as well as their definitive database. Also for their tireless work on the concerts section, providing me with a large number of the shows and being great mates.
Roger Johansson
for the fantastic Cover concept, a number of brilliant pics and CD-Artworks plus his definitive traders website (the bible) "Raiders of the lost Chord".
Michael Schiller
for the fantastic Website banner and running the german Status Quo Forum statusquorockt.de (celebrating the 25th Anniversary in 2022)

Andy Flemmings
for the fantastic book "Forty-Five Hundred Gigs - A Status Quo Touring History" and his enormous effort in researching everything about Quo's touring history.
Pictures & Artworks
Roger Johansson, Simon Cooper (R.I.P.), Craig Hine, Luke Hargreaves, Matthew Wall, Andreas Nixdorf, Wolfgang Gürster, Egbert Grumpelt, Dennis Hahn, Kalle Linkert, Margit Harwardt, Rainer Heer, Rolf Horstmann, Thomas Martens, Simon Hampton, Andrew Gamble, Gary McDonald, Olle Östergard, Mario Sienknecht, Uwe Held, Roland Krebs and Abbas Schirmohammadi.
I would also like to make a special dedication to:
Nicholas & Kieran Rossi, Gert Ohlsson (R.I.P.), Wayne Morris, Gerard Rappard, Peter Meintema, The Dutch Status Quo Fanclub, Dave Oxley, Philippe Duponteil, Dave Ling, Chris Dixon, Günter Röder, Thomas Martens, Dieter Brinker, Michael Harke, Dirk Weise, Michael und Franz Engels, Peter Ehrlich, Members of the german Status Quo Forum, Pildriver (Germany), Godslave, Ulrich Schölling, Till Langhorst, Michael Kern, Stefan Anowski, Status Quo Coverband "QUO", Anja Gardian, Jörg Domscheit, Benno Freundt, Tobias Euler, Uwe Niewiadomski, Uwe Held, Michael Cluse, Lutz Stein, Rüdiger Wenzel, Olaf Hartung, Andreas Kokas, Dirk Heyer, Stefan Klimm, Ursula Schulte, Michael Weisbecker, Mario Sienknecht, Uwe Stegmüller & Straighten Out, Dirk und Tilo Sierks, Karel van Hove, Emiko Yuuki, Robb Murdock, Ron Coyle, Peter McCray, Steve Cox, Pierre Chatelet, Tom Russell, Ted Janssen, Pieter Balk, Raul Rulastroll, Asha, Patrick Specht, Abbas Schirmohammadi, Wolfgang Bauer, Günter Weixelberger, Thierry Simon, Josep Anton Gaspar Vila, Berthold Türtscher, John Dalton, Nicola Lisle, Andrew McKay, Ulf Sogge, Per Wranning, Alberto Fontana, Dermot Murphy, Kevin Doyle, Marco Brück, Eric Favré, Craig Hine, Max Robinson...

and of course:
FRANCIS ROSSI,
RICK PARFITT,
ALAN LANCASTER,
JOHN COGHLAN,
BOB YOUNG,
JOHN "RHINO" EDWARDS,
ANDREW BOWN,
LEON CAVE,

JEFF RICH,
ROY LYNES,
MATT LETLEY,
PETE KIRCHER,
PAUL HIRSH
FREDDIE EDWARDS,
RICHIE MALONE...
and all members of the fantastic Quo-crew over the years.

Last but not least my wife Anke, for accepting my foolish obsession, traipsing around Europe watching the band with me, not moaning about the clutter of my collection, the pointless memorabilia collecting or anything else and being all round generally the perfect missus.
I love You!
KEEP ON QUOING!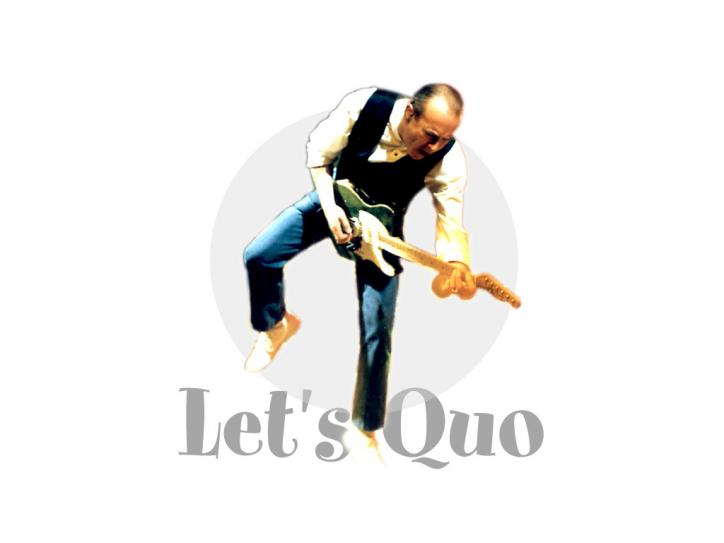 Mit Urteil vom 12. Mai 1998 - 312 O 85/98 - "Haftung für Links" hat das Landgericht (LG) Hamburg entschieden, dass man durch Anbringung eines Links die Inhalte der gelinkten Seite ggf. mit zu verantworten hat. Dies kann - so das LG Hamburg - nur dadurch verhindert werden, dass man sich ausdrücklich von solchen Inhalten distanziert. Hiermit distanziere ich mich ausdrücklich von den Inhalten aller verlinkten Seiten und mache mir die Inhalte nicht zu eigen. Diese Erklärung gilt für alle auf dieser Website eingebundenen Links und für alle Inhalte der Seiten, zu denen die bei mir angezeigten Links führen.
Haftungshinweis:
Trotz sorgfältiger inhaltlicher Kontrolle übernehmen ich keine Haftung für die Inhalte externer Links. Für den Inhalt der verlinkten Seiten sind ausschließlich deren Betreiber verantwortlich.
Please note;
The content of this site is only for information/promotion. The copyright to the used pictures are owned by the individual copyright holders. www.quogigography.net is not responsible for the content of external sites.
I acknowledge the copyright of all photos, posters, flyers, record/CD/cassette/book covers in this site as the property of their respective owners. My purpose in using copyrighted material has no other benefit than illustrating the career and work of the artists covered. If any copyright owner of any material in this site objects to his/her work appearing in this site I will promptly remove it.

Apologies for any inconvenience, but I'd just like to make sure you know that I'm care about your privacy and personal data.