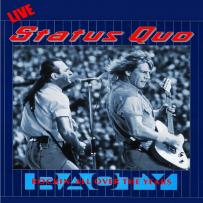 Band members: Francis Rossi, Rick Parfitt, Andy Bown, John Edwards, Jeff Rich
Main Setlist: Caroline, Roll over lay down, Little Lady, Mystery Medley, Hold You Back, Rain, Dirty Water, Whatever you Want, In the Army Now, Rockin'all over the World, Don't waste my Time, Roadhouse Blues Medley, Burning Bridges, Bye Bye Johnny.
Tour Crew: Dave Salt (Stage Manager/Bass Tech), Paul Ashcroft (Band Personal Assistant), Andrew Carman (Drum Tech), Pat Marks (Lightning Designer), Derek Simpson (Monitor Engineer), Alan "Tonto" Jhowry (Guitar Tech), Clive Brooks (Drum tech), Kevin McDade (Backline), Tamsin Manvell (Wardrobe) Merchandiser: Bravado Merchandising Ltd. Management: Handle Group of Companies Manager: David Walker, Ian Jones.
Note: Summer Festivals in Germany with Saga, Mothers Finest, Asia*, Fish*, Magnum* and die Toten Hosen**.
1990
16/06/ GERMANY, Göttingen - Sportpark | 90' min. AUD Quality: 3
17/06/ GERMANY, Berlin - Weißensee Park* | 42' min. TV Quality: 4+
22/06/ FINLAND, Nurmijärvi - Festival | 80' min. AUD Quality: 3
23/06/ FINLAND, Saarijärvi - Festival | 80' min. AUD Quality: 3
30/06/ UK, Knebworth - Park | 60' min. FM Quality: 5
28/07/ MALTA, Attard - National Stadium (Festival)

18/08/ GERMANY, Emmendingen** - Stadion | 90' min. AUD Quality: 4
19/08/ GERMANY, Senden** - Gorki Park | 90' min. AUD Quality: 3
*FACTS FROM THE ROAD
30.06.1990 - another milestone in the bands history with the performance at the Knebworth-Festival. 120,000 people attended this festival to see many well-known bands, who came together because of the "Silver Cleef Winners Award". Alongside Status Quo such "Stars" like Cliff Richard, Robert Plant, Eric Clapton, Mark Knopfler, Elton John, Genesis, Paul McCartney and Pink Floyd performed that day. Status Quo was the second band on stage and their 60 minutes performance was a total success.