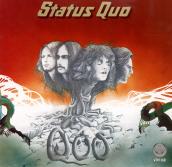 Band members: Francis Rossi, Rick Parfitt, Alan Lancaster, John Coghlan
Additional Musician: Bob Young (harmonica)
Main Setlist: Junior's Wailing, Backwater/Just take me, Claudie, Roll over lay down, Big Fat Mama, Don't waste my Time, Roadhouse Blues*, Railroad*, Caroline, Drum Solo, Bye Bye Johnny.
Additional/unusual songs performed: Someone's Learning, Don't Think It Matters (both tracks only in the set for a short time)

Tour Crew: Bob Young (Tour Manager), Mal Kingsnorth (Sound engineer/Equipment), Paul Robert Lodge (Roadie/Stage Equipment), Keith Castley (Roadie/Equipment) Management: Quarry Production Manager: Colin Johnson, David Oddie
Support Bands: Epitaph & Stryder (German dates), Montrose and Snafu* (UK dates), Snafu and Heavy Metal Kids (France Tour), US/Canada Tour support for Rory Gallagher**
Tour Notes: During the US support Gigs, the band played only a short set of 35' - 45' minutes. Quo did 20 more US Gigs between 26.9. - 19.10.1974 (taken from the german Bravo magazine) but no dates found until today.The gigs in Switzerland, Winterthur 2.11. and Zofingen 3.11. were cancelled (due to Rick Parfitt's illness).

1974
06/05/ UK, Bristol - Colston Hall
07/05/ UK, Bristol - Colston Hall
10/05/ UK, Bournemouth - Winter Gardens
12/05/ UK, Manchester - Belle Vue
14/05/ UK, Glasgow - Apollo Theatre
15/05/ UK, Glasgow - Apollo Theatre | 82' min. AUD Quality: 3
16/05/ UK, Glasgow - Apollo Theatre
19/05/ UK, Newcastle - City Hall
20/05/ UK, Newcastle - City Hall
22/05/ UK, Birmingham - Odeon Theatre
24/05/ UK, London - Wembley Empire Pool
25/05/ UK, London - Wembley Empire Pool
26/05/ UK, London - Wembley Empire Pool | 20' min. TV Quality: 4-
03/06/ HOLLAND, Geleen - Sportpark Burgemeester Damen "Pink Pop Festival"
16/06/ ISLE OF MAN, Douglas - Palace Lido
28/06/ DENMARK, Roskilde, Festival
05/07/ YUGOSLAVIA, Zadar - Central Stadium
06/07/ YUGOSLAVIA, Zagreb Festival
07/07/ YUGOSLAVIA, Belgrade Festival
13/07/ UK, Port Talbot - Afan Lido (support Stryder)
20/07/ UK, Southend on Sea - Kursaal Ballroom (support Snafu)
26/07/ USA, Santa Monica - Civic Auditorium (support to Rory Gallagher, Montrose)
27/07/ CANADA, New Westminster - Queens Park Arena (with Rory Gallagher and Heartsfield)
31/07/ USA, San Diego** - Civic Theatre

01/08/ USA, Nashville** - Auditorium
02/08/ USA, San Diego - JJ's Palace (2 Shows)
03/08/ USA, San Diego - JJ's Palace (2 Shows)
04/08/ USA, Houston** - Liberty Hall

07/08/ CANADA, Edmonton** - Jubilee Auditorium
09/08/ CANADA, Toronto - Olympic Island (with Rory Gallagher, Todd Rundgren, Dr. Hook) | 45' min. AUD Quality: 2
10/08/ CANADA, Montreal** - Forum Concert Bowl
11/08/ CANADA, Toronto** - Center Island

12/08/ USA, Cleveland** - Agora Ballroom
13/08/ USA, Cleveland** - Agora Ballroom
15/08/ USA, Kansas City** - Cowtown Ballroom

18/08/ USA, Boston - Paul's Mall(with Little Feat)

20/08/ CANADA, Winnipeg** - Centennial Concert Hall
21/08/ USA, Lansing** - The Brewery
23/08/ USA, Kutztown** - State College Keystone Hall
24/08/ USA, Parsippany / New Jersey** - The Joint in the Woods
26/08/ USA, Atlanta** - Alex Cooley's Electric Ballroom
27/08/ USA, Atlanta** - Alex Cooley's Electric Ballroom
28/08/ USA, Atlanta** - Alex Cooley's Electric Ballroom

29/08/ USA, Orlando** - Jai Alai Fronton Theatre
30/08/ USA, West Palm Beach** - Auditorium (Opening act Sly & the Family Stone)
31/08/ USA, West Palm Beach** - Auditorium (Opening act Sly & the Family Stone)
01/09/ USA, St. Petersburg** - Centre

06/09/ NORWAY, Oslo - Chateau Neuf (support Montrose)
07/09/ SWEDEN, Stockholm - Kungliga Tennishallen (support Montrose)
09/09/ FINLAND, Helsinki - Kultuuritaalo
11/09/ DENMARK, Copenhagen - KB Hallen (support Montrose)
12/09/ SWEDEN, Lund - Olympen
26/10/ BELGIUM, Brussels - Ancienne Belgique
27/10/ BELGIUM, Anvers - Handelbeurs
29/10/ GERMANY, Kehl am Rhein - Stadthalle
30/10/ GERMANY, Düsseldorf - Philipshalle
31/10/ GERMANY, Offenbach - Stadthalle
01/11/ GERMANY, Ludwigshafen - Eberthalle
13/11/ AUSTRALIA, Perth - Entertainment Centre
14/11/ AUSTRALIA, Adelaide - Apollo Stadium
17/11/ AUSTRALIA, Melbourne - Festival Hall
20/11/ AUSTRALIA, Sydney - Hordern Pavilion | 64 min' SB Quality: 4+
21/11/ AUSTRALIA, Brisbane - Festival Hall
23/11/ AUSTRALIA, Sydney - Hordern Pavilion
01/12/ UK, Sunderland* - Empire Theatre
02/12/ UK, Liverpool* - Empire Theatre
03/12/ UK, Cardiff* - Capitol Theatre
06/12/ UK, Blackpool* - Opera House
07/12/ UK, Leeds* - University
08/12/ UK, Coventry* - Theatre
09/12/ UK, Blackburn* - King Georges Hall
10/12/ UK, Stockton On Tees* - Globe Theatre
11/12/ UK, Blackburn* - King George's Hall
13/12/ UK, London* - Hammersmith Odeon
14/12/ UK, London* - Hammersmith Odeon
16/12/ UK, Southampton* - Gaumont Theatre
17/12/ UK, London* - East Ham Granada

1975

10/01/ FRANCE, Epinal - Parc des Expositions
11/01/ FRANCE, Paris - Olympia | 80' min. AUD Quality: 3
14/01/ FRANCE, Bordeux - Alhambra
15/01/ FRANCE, Poitiers - Arenes
16/01/ FRANCE, Marseille - Salle Vallier | 80' min. AUD Quality: 3+
17/01/ FRANCE, Saint Etienne - Palais des Sports
18/01/ FRANCE, Villeneuve lez Avignon - Clos de l' Abbaye
19/01/ FRANCE, Nice - Theatre de la Verdure