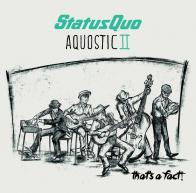 Band members: Francis Rossi, Andy Bown, John Edwards, Leon Cave
Rick Parfitt not appeared at the 2016 AQUOSTIC shows!
Special Guest Musicians: Richie Malone and Ralf Ohemichen - guitars (both only for the 2017 shows), Geraint Watkins - Accordion, Piano, Martin Ditcham - Percussions (only 2016 shows), Freddie Edwards - guitars (only 2016 shows), Amy Smith - female vocals, Hannah Rickard - female vocals, country violin, Chloe Gardner - female vocals (only Winter tour 2017), Paul Hirsh - keyboards, piano (only 2017 shows)
Strings (only 2016 shows): Lucy Wilkins - Violin, Howard Gott - Violin, Natalia Bonner - Violin, Alison Dods - Violin, Sophie Sirota - Viola, Sarah Wilson - Cello.
Main Setlist 2016: Pictures Of Matchstick Men, Paper Plane, Caroline, What You're Proposing, Claudie, That's A Fact, Hold You Back, Rolling Home, Down Down, Whatever You Want, Rockin' All Over The World, Burning Bridges,

Main Setlist 2017: And It's better Now, Break the Rules, Again and Again, Paper plane, Rock'n' Roll, Caroline, What You're Proposin', Lies, Hold You Back, That's A Fact, Down Down, Pictures Of Matchstick Men, Down the Dustpipe, All The Reasons, Rollin' Home, Don't Drive My Car, Reason for Living, Claudie, Rain, Marguerita Time, Nanana, Whatever You Want, Rockin' All Over The World, Burning Bridges,
Tour Crew: Glen Smith (Tour Manager), Lyane Ngan (Band Personal Assistant), Ewan Cameron (Lightning Director), Andy May (FOH Sound Engineer), Tim Franklin (Monitor Engineer), Lloyd Gilbert (Guitar Tech), Andy Tomkins (Keyboard / Bass Tech), Lance Miles and Darren Alexander (Drum Tech), Danny Stead (Strings Engineer), Musicial Director: Mike Paxman. Merchandiser: Global Merchandising Services Ltd. Management: DurocMedia Ltd. Manager: Simon Porter.
Support acts: Fraser Churchill* (summer UK 2017), Ken Hensley** (European Winter Tour 2017)
Tour Notes: Due to ongoing medical treatment at the time, Rick Parfitt were not appearing at Union Chapel and BBC Hyde Park in 2016. Aquostic Live will be the future for the band after the Last Night of the Electric Tour 2016/2017. Most of the AQUOSTIC LIVE shows in 2017 are full seated. Status Quo have been forced to postpone their gig scheduled for Sunday, 25th June at Norwich due to illness. Francis Rossi has been diagnosed with laryngitis. The band plan to rescheduled the show on Thursday, 16th November 2017 - the start of the AQUOSTIC LIVE European Tour.

***The Band and Management have had a change of hearts and they've decided to plug in the electric guitars for the UK shows and renamed it "PLUGGED IN - Live and Rockin' Tour". The renamed 2017 UK Winter Tour will now be fully electric, althrough this change applies to AQUOSTIC LIVE UK dates only. The Band haven't toured the "AQUOSTIC LIVE" show in Europe and promoters have requested that the shows stay in that format.*** "
German Aquostic Tour Cancellation - December 2017
Further to the cancellation of shows in Berlin, Frankfurt and Baden Baden, the management are forced to announce that the remaining dates on the German Aquostic tour will also be cancelled due to Francis Rossi's ongoing illness.
Francis is receiving medical attention in Germany for a severe upper respiratory infection. It was hoped that he would be able to recover enough to perform the rest of the dates of the tour from Friday Dec 15th in Stuttgart but unfortunately that has not been the case.
AUOSTIC LIVE" show in Europe and promoters have requested that the shows stay in that format.***
2016
09/09/ UK, London - The Union Chapel | 60' min. AUD Quality: 3+
11/09/ UK, London - Hyde Park | 46' min. FM Quality: 5| 46' min. FM Quality: 5

103' min. AUD Quality: 3+
2017
20/06/ UK, Inverness - Leisure Center*
21/06/ UK, York - Barbican* | 90' min. AUD Quality: 4
23/06/ UK, Glastonbury Festival - Acoustic Stage (Headliner)
29/06/ SPAIN, Barcelona - Gran Teatre del Liceu | 50' min. AUD Quality: 3-4

01/07/ UK, London - Royal Albert Hall* | 90' min. AUD Quality: 4

16/11/ UK, Norwich - The Nick Rayns LCR UEA
17/11/ BELGIUM, Antwerpen - Stadsschouwburg
18/11/ GERMANY, Regensburg - Donau Arena** | 68' min. AUD Quality: 3-4
21/11/ GERMANY, Bielefeld - Stadthalle**
22/11/ GERMANY, Hannover - Kuppelsaal** | 90' min. AUD Quality: 3+

23/11/ HOLLAND, Tilburg - Poppodium 013