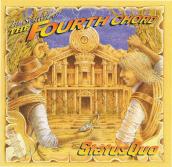 Band members: Francis Rossi, Rick Parfitt, Andy Bown, John Rhino Edwards, Matt Letley
Main Setlist: Caroline, Somethin' bout you baby, Don't waste my time, 4500 Times, Rain, Paper Plane, Beginning of The End, Gravy Train, All Stand Up, The Oriental, Creepin' Up On You, Proposin' Medley, Big Fat Mama, Gerdundula, Roll over lay Down, Down Down, Whatever You Want, Rockin'all over the World, In The Army Now, Junior's Wailing, Rock'n Roll Music / Bye Bye Johnny.
Tour Crew: Dave Salt (Tour Manager), Lyane Ngan (Band Personal Assistant), Andrew Carman (Stage Manager), Pat Marks (Lightning Designer), Andy May (FOH Sound Engineer), Tim Franklin (Monitor Engineer), Lloyd Gilbert (Guitar Tech), Willem Calluy (Keyboard / Bass Tech) Merchandiser: Mike Hrano for Finally Fan-Fair Ltd. Management: DurocMedia Ltd. Manager: Simon Porter.
Support Bands: France and Germany ("The Trews", from Canada), except Hamburg* (with Doro) and in the UK ("Bernadette & The North", Francis Rossi's daughter from Canada)
Additional songs performed: Burning Bridges on the UK Arena leg.
Tour Note: 2 shows (Hull 1.12. and Edinburgh 2.12. were cancelled due to Francis Rossi's throat infection)
x
05/10/ FRANCE, Caen - Zenith
06/10/ FRANCE, Nantes - Le Zenith | 106' min. AUD Quality: 4 +
07/10/ FRANCE, Tours - Parc des Expositions
09/10/ FRANCE, Toulouse - Zenith
10/10/ FRANCE, Marseille - Dome
11/10/ FRANCE, Clermont-Ferrand - Zenith D'Auvergne
13/10/ FRANCE, Lyon - Le Radiant
14/10/ FRANCE, Dijon - Zenith
15/10/ FRANCE, Lille - Aeronef-Euralille | 35' min. AUD Quality: 3
16/10/ FRANCE, Amneville - Le Galaxie | 105' min. AUD Quality: 4
18/10/ GERMANY, Leipzig - Haus Auensee
19/10/ GERMANY, Karlsruhe - Schwarzwaldhalle
20/10/ GERMANY, Frankfurt - Jahrhunderthalle | 105' min. AUD Quality: 4 -
21/10/ GERMANY, Hamburg* - Sporthalle | 105' min. AUD Quality: 4
23/10/ GERMANY, Augsburg - Schwabenhalle
24/10/ GERMANY, Rosenheim - Kultur & Kongresszentrum
26/10/ GERMANY, Siegen - Siegerlandhalle
27/10/ GERMANY, Stuttgart - Liederhalle | 105' min. AUD Quality: 4 -
28/10/ GERMANY, Chemnitz - Stadthalle | 108' min. AUD Quality: 4 -
08/11/ UK, Southend - Cliffs Pavillion
09/11/ UK, Southend - Cliffs Pavillion
11/11/ UK, Ipswich - Regent Theatre | 108' min. AUD Quality: 3 +
12/11/ UK, Ipswich - Regent Theatre
14/11/ UK, Cambridge - Corn Exchange | 105' min. AUD Quality: 3 +
15/11/ UK, Croydon - Fairfield Hall
16/11/ UK, Croydon - Fairfield Hall | 105' min. AUD Quality: 2 +
18/11/ UK, Portsmouth - Guildhall | 105' min. AUD Quality: 3
19/11/ UK, Plymouth - Pavillions | 105' min. AUD Quality: 4 -
21/11/ UK, Oxford - New Theatre
22/11/ UK, Oxford - New Theatre | 105' min. AUD Quality: 3 -
24/11/ UK, Harrogate - International Center
25/11/ UK, Harrogate - International Center
27/11/ UK, Llandudno - Cymru Arena | 105' min. AUD Quality: 3 -
28/11/ UK, Halifax - Victoria Theatre | 105' min. AUD Quality: 3
30/11/ UK, Blackpool - Opera House | 102' min. AUD Quality: 2 -
04/12/ UK, Newcastle - City Hall | 110' min. AUD Quality: 4
05/12/ UK, Cardiff - Arena
07/12/ UK, Manchester - MEN Arena | 108' min. AUD Quality: 3 -
08/12/ UK, Birmingham - N.E.C. | 108' min. AUD Quality: 3 -
09/12/ UK, Nottingham - Arena | 107' min. AUD Quality: 4
11/12/ UK, Bristol - Colston Hall | 110' min. AUD Quality: 2 - 3
12/12/ UK, Bristol - Colston Hall
13/12/ UK, Brighton - Centre
15/12/ UK, London - Wembley Arena | 108' min. AUD Quality: 3
16/12/ UK, Glasgow - SECC Hall | 109' min. AUD Quality: 3 +
17/12/ UK, Aberdeen - Exhibition Centre | 107' min. AUD Quality: 4
19/12/ UK, Dundee - Caird Hall | 112' min. AUD Quality: 4 -
20/12/ UK, Sheffield - Hallam FM Arena | 112' min. AUD Quality: 4 -
21/12/ UK, Bournemouth - International Centre | 25' min. AUD Quality: 2 -

2008
24/05/ UK, Ayr - Racecourse | 90' min. AUD Quality: 2 +
29/05/ GERMANY, Bochum - Jahrhunderthalle | 90' min. AUD Quality: 4 +
30/05/ HOLLAND, Alem - Festival (support Wishbone Ash & Manfred Mann)
31/05/ SWITZERLAND, Frauenfeld - Festhalle | 90' min. AUD Quality: 3
03/06/ UK, Douglas Isle of Man - Villa Marina | 28' min. AUD Quality: 3

07/06/ UK, Brandon - Thetford Forest | 94' min. AUD Quality: 2
13/06/ NORWAY, Jessheim - City Square at Ullensaker Culture
14/06/ DENMARK, Naestved - Festival
15/06/ SWEDEN, Kilafors - Herrgard (support The Refreshments) | 24' min. AUD Quality: 3 -

22/06/ UK, Tetbury - Westonbirt *official bootleg
27/06/ UK, Cannock - Cannock Chase (support Rick Parfitt Jnr)
28/06/ UK, Dalby - Dalby Forest | 95' min. AUD Quality: 2 +
01/07/ SLOVAKIA, Bratislava - Sibamac Arena | 97' min. AUD Quality: 4
02/07/ SLOVENIJA, Ljubljana - Tivoli Hall | 95' min. AUD Quality: 3 +
03/07/ HUNGARY, Budapest - Petofi Csarnok (support The hated Tomorrow)| 45' min. AUD Quality: 3

05/07/ SERBIA, Novi Sad - Tasmajdan Open Air | 47' min. AUD Quality: 3
06/07/ HUNGARY, Debrecen - Fönix Hall (support The hated Tomorrow)
08/07/ AUSTRIA, Graz - Orpheum | 96' min. AUD Quality: 4 +
09/07/ AUSTRIA, Wien - Gasometer | 96' min. AUD Quality: 4
11/07/ AUSTRIA, Dornbirn - Messe Stadion | 97' min. AUD Quality: 4
12/07/ SWITZERLAND, Locarno - Piazza Grande | 45' min. AUD Quality: 3
18/07/ UK, Rochester - Rochester Castle | 42' min. AUD Quality: 3

23/07/ FRANCE, Cognac - Blues Festival
25/07/ UK, London - ExCel Intern. Motor Show | 95' min. AUD Quality: 3 +

26/07/ UK, Merthyr - Cyfarthfa Castle | '43 min. AUD Quality: 2 -
02/08/ UK, Whitehaven - Rugby Stadium (support It Bites) | 98' min. AUD Quality: 3 +

03/08/ NORWAY, Maloy - Festival
04/08/ BELGIUM, Lokeren - Festival | 50' min. AUD Quality: 3

10/08/ UK, Dagenham - Central Park
15/08/ SERBIA, Nis (Private Show)
29/08/ LITHUANIA, Vilnius - Festival
30/08/ RUSSIA, Kaliningrad - Festival