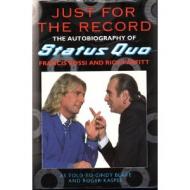 Band members: Francis Rossi, Rick Parfitt, Andy Bown, John Edwards, Jeff Rich
Main Setlist: Caroline, Hold You Back, One Man Band, Mystery Medley, 4500 Times/Juniors Wailing, Roll over lay Down, Rock'til you Drop, Dirty Water, What you're Proposing, Whatever You Want, In The Army Now, Rockin' all over the World, Don't waste my Time, Roadhouse Blues Medley, Restless, Burning Bridges, Anniversary Waltz/Bye Bye Johnny.
Tour Crew: Peter Hillier (Tour Manager), Andy Taylor (Sound Engineer), Dave Salt (Stage Manager/Bass Tech), Simon Rossi (Band Personal Assistant), Andrew Carman (Drum Tech), Pat Marks (Lightning Designer), Martin Connolly (Monitor Engineer), Alan "Tonto" Jhowry (Guitar Tech), Rory McKewan (Rigger), Jamie Young (Backline), Sue Bennett (Wardrobe), Alf Weaver (Security) Merchandiser: Niceman Europe Ltd. Management: Handle Group of Companies Manager: David Walker.
Tour Support: Little Egypt*
Tour Note: A UK Tour only to promote the Book "Just for the Record" in the UK. No dates outside Great Britain in 1993. There were 2 gigs cancelled in Northern Ireland in 1993. They were supposed to play at Coleraine Leisure Centre 18.11.1993 and Dundonald Icebowl 20.11.1993.
1993
23/11/ UK, Reading* - Rivermead Centre
24/11/ UK, Reading* - Rivermead Centre
25/11/ UK, Telford* - Ice Rink | 115' min. AUD Quality: 3
27/11/ UK, Shepton Mallet* - Pavilion
28/11/ UK, St. Austell* - Cornwall Coliseum
30/11/ UK, Bridlington* - Spa Pavilion
01/12/ UK, South Shields* - Temple Park | 102' min. AUD Quality: 3
02/12/ UK, Manchester* - GMEX Arena | 105' min. AUD Quality: 3
04/12/ UK, Blackpool* - Empress Ballroom | 107' min. AUD Quality: 4 -
05/12/ UK, Glasgow* - S.E. & C.C. | 104' min. AUD Quality: 3
06/12/ UK, Aberdeen* - Exhibition & Conference Centre
08/12/ UK, Birmingham* - N.E.C.
09/12/ UK, Birmingham* - N.E.C.
10/12/ UK, Sheffield* - Arena | 105' min. AUD Quality: 3
12/12/ UK, Bournemouth* - B.I.C.
13/12/ UK, Bournemouth* - B.I.C.
14/12/ UK, Cardiff *- Ice Rink
16/12/ UK, Brighton* - Centre | 105' min. AUD Quality: 4
17/12/ UK, Brighton* - Centre | 105' min. AUD Quality: 3
18/12/ UK, London* - Wembley Arena | 108' min. AUD Quality: 3
19/12/ UK, London* - Wembley Arena | 110' min. AUD Quality: 3
x
1994
30/03/ UK, London - Royal Albert Hall | 105' min. SBD Quality: 5
12/05/ GERMANY, Berlin - Maifeld | 90' min. AUD Quality: 2 - 3
04/06/ DENMARK, Esbjerg - Festplasden (with Deep Purple, ELO II, Smokie, Suzi Quatro...)
11/06/ DENMARK, Middelfart - Festival Rock under the Bridge
25/06/ HUNGARY, Budapest - Festival
26/06/ SLOVAKIA, Bratislava - Dubravka Stadium Festival
16/07/ ESTONIA, Tallinn - Festival (support Fish & Band) | 23' min. TV Quality: 4
05/08/ SWITZERLAND, Chur - Festival
12/08/ UK, Exmouth - Beach Festival
27/08/ UK, Chelmsford - Hylands Park (support by Magnum)

*FACTS FROM THE ROAD
03.09.1993 - An appearance by Rick Parfitt and Francis Rossiat the BBC Radio 1 road show at Blackpool's Sand Castle Centre. They did a signing session and

switched on the Blackpool illuminations at Talbot Square, the main attraction of Blackpool, in front of a 25,000 crowd.
04.11.1993 - "Just For The Record" the autobiography of Rick Parfitt & Francis Rossi was published in the UK. From 8th November to 17th December a tour of bookshops took place throughout Britain, where Rick and Francis signing the books. The book's release was supported by another short concert tour, with 21 UK-only dates.
30.03.1994 - another special show is on the schedule: out of the charity "The Princes Trust" Status Quo played at the Royal Albert Hall in London, the charity show was entitled "The Appointment". HRH Prince Charles attended this show and before the show started he was introduced to the band. He was given 2 little guitars by Rick Parfitt and Francis Rossi. The charity event raised 70,000 pounds which were given to charity projects.
12.05.1994 - Status Quo performed in Berlin, Maifeld at the big farewell-party of the allied troops. 300,000 attended this free show and saw alongside Quo (who represented UK), Charles Aznavour (representing France), and the Beach Boys (USA- representatives).