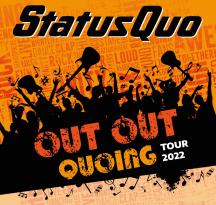 Band members: Francis Rossi, Andy Bown, John "Rhino" Edwards, Leon Cave, Richie Malone
Main Setlist: Caroline, Somethin' Bout You Baby I Like (with Rhino voc), Rain (Rhino voc), Little Lady (Richie voc), Softer Ride, Beginning of the End, Hold You Back, Cut Me some Slack, Liberty Lane, QUO Medley incl. What You're Proposin' / Down The Dustpipe / Wild Side of life / Railroad / Again and Again (Rhino voc) / Mystery Song (Richie voc), The Oriental, In The Army Now, Roll over lay Down, Down Down, Whatever You Want (Andy voc), Rockin'all over the World.Rhino voc) / Bye Bye Johnny.
Tour Crew: Glen Smith (Tour Manager), Lyane Ngan (Band Personal Assistant), Ewan Cameron (Lightning Director), Andy May (FOH Sound Engineer), Tim Franklin and Danny Stead (Monitor Engineer), Lloyd Gilbert (Stage Manager), Alan "Tonto" Jhowry (Guitar Tech), Andy Tomkins (Keyboard / BassTech), Benny Calvert (Drum Tech), Tanja Buck (Production Assistant).

Merchandiser: Global Merchandising Services Ltd. Management: Duroc Media Ltd. Manager: Simon Porter.
Additional / Unusual songs performed: Backwater (Rhino voc), Don't Waste My Time and a shorter version of Bye Bye Johnny sometimes
Support bands: Dea Matrona* (Dublin and Belfast) Laurence Jones (UK SpringTour), Shakin' Stevens (**Winter Tour UK), Manfred Mann's Earthband (# Winter Tour Germany)

Tour Notes:

2022
27/02/ UK, Belfast* - Waterfront Hall

28/02/ IRELAND, Dublin* - Olympia Theatre
02/03/ UK, Hull - Bonus Arena
03/03/ UK, Stockton - Globe
05/03/ UK, Liverpool - Philharmonic Hall
06/03/ UK, Birmingham - Symphony Hall
08/03/ UK, Southend On Sea - Cliffs Pavilion
09/03/ UK, Ipswich - Regent Theatre
11/03/ UK, Leicester - De Montfort Hall
12/03/ UK, Guildford - G Live
14/03/ UK, Manchester - Bridgewater Hall
15/03/ UK, Cardiff - St. David's Hall
17/03/ UK, Oxford - New Theatre
18/03/ UK, Bath - The Forum
20/03/ GERMANY, Karlsruhe - Schwarzwaldhalle
21/03/ GERMANY, Rostock - Stadthalle
23/03/ GERMANY, Rietberg - Cultura
25/03/ FRANCE, Lyon - Le Transbordeur
26/03/ FRANCE, Strasbourg - La Laiterie
28/03/ FRANCE, Paris - L'Olympia
29/03/ GERMANY, Saarbrücken - Saarlandhalle
31/03/ GERMANY, Hof - Freiheitshalle
01/04/ GERMANY, Krefeld - Seidenweberhaus
03/04/ FRANCE, Annecy - Arcadium
04/04/ LUXEMBOURG, Esch sur Alzette - Rockhal Main Hall
10/06/ DENMARK, Viborg - Tinghallen Comvent Arena
24/06/ SPAIN, Bilbao - Bilbao Arena

25/06/ FRANCE, Cháteau de Tilloloy - Retro CTrop Festival (with Alice Cooper)
30/06/ BELGIUM, Hemiksem - Festival
16/07/ FRANCE, Morzine Avoriaz - Harley Days Festival
05/08/ SWEDEN, Knislinge - Parkgatan Time To Rock Festival
27/08/ SWITZERLAND, Aarburg - Festivalgelände
17/09/ GERMANY, Augsburg - Kongresshalle
19/09/ GERMANY, Dresden - Kulturpalast
20/09/ BELGIUM - Ancienne Belgique
25/11/ UK, Aberdeen - P&J Live**
26/11/ UK, Glasgow - SEC Armadillo**
28/11/ UK, Leeds - FD Arena**
30/11/ UK, Brighton - Centre**
01/12/ UK, Bournemouth - BIC**
03/12/ UK, London - Wembley Arena**
05/12/ GERMANY, Düsseldorf - Mitsubishi Electric Halle#
07/12/ GERMANY - Erfurt - Messehalle#
08/12/ GERMANY, Frankfurt - Jahrhunderthalle#
10/12/ GERMANY, Stuttgart - Porsche Arena#
11/12/ GERMANY, München - Olympiahalle#
13/12/ GERMANY, Hamburg - Barclaycard Arena#
14/12/ GERMANY, Berlin - Max Schmeling Halle#
16/12/ GERMANY, Hannover - Swiss Live Hall#
17/12/ GERMANY, Lingen - Emsland Arena#