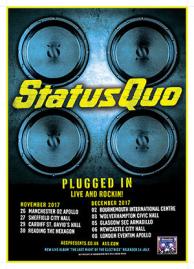 Band members: Francis Rossi, Andy Bown, John "Rhino" Edwards, Leon Cave, Richie Malone
Main Setlist: Caroline, The Wanderer (with Andy voc), Somethin' Bout You Baby I Like (with Rhino voc), Rain (Rhino voc), Softer Ride, Beginning of the End, Hold You Back, QUO Medley incl. What You're Proposin' / Down The Dustpipe / Wild Side of life / Railroad / Again and Again (Rhino voc) / Paper Plane, The Oriental, Creepin' Up On You, Gerdundula, In The Army Now, Leon Drum Solo, Roll over lay Down, Down Down, Whatever You Want (Andy voc), Rockin'all over the World, Burning Bridges, Rock and Roll Music (Rhino voc) / Bye Bye Johnny.
Tour Crew: Glen Smith (Tour Manager), Lyane Ngan (Band Personal Assistant), Ewan Cameron (Lightning Director), Andy May (FOH Sound Engineer), Tim Franklin and Danny Stead (Monitor Engineer), Lloyd Gilbert (Guitar Tech), Andy Tomkins (Keyboard / Bass & Guitar Tech), Lance Miles (Drum Tech), Tanja Buck (Production Assistant)
Merchandiser: Global Merchandising Services Ltd. Management: DurocMedia Ltd. Manager: Simon Porter.
Support Bands:
Additional / Unusual songs performed:
Tour Notes:
x
2017
26/11/ UK, Manchester - O2 Apollo
27/11/ UK, Sheffield - City Hall
29/11/ UK, Cardiff - St. David's Hall
30/11/ UK, Reading - Hexagon
02/12/ UK, Bournemouth - International Centre
03/12/ UK, Wolverhampton - Civic Hall
05/12/ UK, Glasgow - Clyde Auditorium
06/12/ UK, Newcastle - City Hall
08/12/ UK, London - Eventim Apollo
2018
03/11/ SWITZERLAND, Zürich - Hallenstadion

*FACTS FROM THE ROAD:
7.7.2017 - The UK Winter Tour 2017 - Previously announced as Aquostic, will now be a fully Electric tour - 'PLUGGED IN – Live and Rockin!'
This only applies to the UK dates - running from 26th Nov in Manchester through to 8th Dec at London's Eventim Apollo in Hammersmith. Previously announced European dates for November and December will be Aquostic.
If the term 'Status Quo' can be defined as representing 'the existing state of affairs' then maybe the band, despite being known for 50 years for their no-nonsense winning formula, need a name change. For nothing has stayed the same for this iconic band over the last year. Francis Rossi and the band have faced the retirement from live performance of the iconic Rick Parfitt, followed late last year by his tragic death, and have kept the flag flying, to honour his memory and the band's commitments, and to bring the fans what they want and deserve.
And it's the fans that have prompted yet another change. In late April the band announced their long-planned 'Aquostic' tour of the UK and immediately found themselves with a dilemma. The shift to 'Aquostic' tour had been deemed necessary as the inevitable rigours of the Electric set were considered to be too much for Rick to take on. Yet demand from fans for Electric shows was undiminished.
Taking into account all changed circumstances, and the band's movement out of the cycle of the successful 'Aquostic' albums, a decision has been made to plug back in. The renamed 'PLUGGED IN – Live and Rockin!' tour will now be fully Electric. This change applies to UK dates only. The band have not toured the 'Aquostic' show in Europe and promoters have requested that the shows stay in that format. Francis Rossi said, "This has been a year like no other. In many ways the band has felt out of control. Rick's passing was a huge blow. Much of what we had planned was envisaged initially to accommodate what would be right for him; those sands have obviously shifted. Now everything has changed. The band is not the same - it can't be and shouldn't be – and the plan has changed too. We're still listening to the fans, we always have, and we're hearing that this is what they still want. We're going to give it to them".