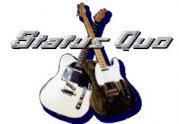 Band members: Francis Rossi, Rick Parfitt, Andy Bown, John Edwards, Jeff Rich
Main Setlist: Caroline, Roll over lay Down, One Man Band, Mystery Medley, Hold You Back, Dirty Water, Gerdundula, Whatever You Want, In The Army Now, Rockin' all over the World, Don't waste my Time, Roadhouse Blues Medley, Burning Bridges, Anniversary Waltz/Bye Bye Johnny.
Tour Crew: Peter Hillier (Tour Manager), Andy Taylor (Sound Engineer), Dave Salt (Stage Manager/Bass Tech), Simon Rossi (Band Personal Assistant), Andrew Carman (Drum Tech), Pat Marks (Lightning Designer), Tim Franklin (Monitor Engineer), Alan "Tonto" Jhowry (Guitar Tech), Sue Bennett (Wardrobe), Alf Weaver (Security) Merchandiser: Niceman Europe Ltd. Management: Handle Group of Companies Manager: David Walker.
Tour Note: Quo supported the "ROCK OVER GERMANY" Festivals* with Elton John, Sheryl Crow, Rod Stewart, Page & Plant and Joe Cocker.


1995
06/05/ SPAIN, Jerez - Estadio Chapin

25/05/ DENMARK, Ringsted - Congress Center
26/05/ DENMARK, Aalborg - Aalborghallen
27/05/ DENMARK, Jelling - Festival
28/05/ UK, Northampton - Sixfield Stadium | 87' min. AUD Quality: 4
16/06/ GERMANY, Oldenburg - Schlossplatz | 72' min. AUD Quality: 3
17/06/ GERMANY, Lüneburg - Flugplatz* | 26' min. FM Quality: 5 -
23/06/ GERMANY, Essen - Grugapark* (with Rod Stewart)
24/05/ GERMANY, Schwalmstadt - Flugplatz* | 15' min. FM Quality: 4 +
25/05/ GERMANY, Düsseldorf - Philipshalle* (with Elton John)
29/06/ AUSTRIA, Hartberg - Fußballstadion
30/06/ AUSTRIA, Selker - Ö3 Club Open Air (support Helter Skelter)
02/07/ GERMANY, München - Olympiastadion* | 24' min. FM Quality: 5 -
07/07/ SWEDEN, Gothenburg - Ullevi Stadium | 73' min. AUD Quality: 3
08/07/ LUXEMBURG, Troisvierges - Festival (support Magnum)
09/07/ SWITZERLAND, Frauenfeld - Festival
12/07/ DENMARK, Copenhagen - Parken (support to Rod Stewart)
11/08/ DENMARK, Skandeborg - Festival | 85' min. SB Quality: 4 +
12/08/ DENMARK, Randers - Festival
13/08/ DENMARK, Copenhagen - Musikforeningen 5-Ören (with Jeff Heavley, Georgia Satellites)
15/08/ BELGIUM, Leuven - Brabart Halle | 81' min. AUD Quality: 4 -
17/08/ ROMANIA, Brasov - Sfatului Square "Golden Stag Festival" | 83' min. AUD Quality: 4
18/08/ CZECH REP., Brno - Velodrome | 80' min. AUD Quality: 3 +
19/08/ GERMANY, Bad Reichenhall - Alte Saline
27/08/ UK, Cwmbran - Stadium (Decades of Rock Festival)
07/10/ SWITZERLAND, Visp - Litternahalle (Festival with The Conells, Thunder)

*FACTS FROM THE ROAD
01.05.1995 - Early May 1994 saw a scheduled tour of Asia, with dates in Japan, China and India but cancelled at short notice due to problems with the promoter.
16.06.1995 - Status Quo played for free at the "Niedersachsen Tag" at Oldenburg Schlossplatz, Germany. The Gig was supported by Radiostation NDR.

17.06.1995 - Status Quo's performance at Lüneburg's Flugplatz was filmed by German local TV station NDR and recorded for later broadcast on Radio NDR 2. This Festival was the start of the ROCK OVER GERMANY'95 series of concerts along side famous artists like Rod Stewart, Elton John, Page & Plant, Sheryl Crow, Joe Cocker and itialian star Eros Ramazzotti. Highligts from the festival were broadcasted on German TV on 24.6.1995 included Quo with In the Army Now, Whatever You Want and Rockin'all over the World.
27.08.1995 - Status Quo headlined the Decades of Rock Festival in South Wales. Other acts on the bill included Dear John, The Manfreds & Craig McLachlan, Suzi Quatro and Dr. Feelgood.