FRANCIS ROSSI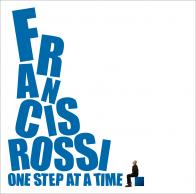 ONE STEP AT A TIME TOUR 2010
Band: Francis Rossi (voc,g), Nicholas Rossi (g,voc), Freddie Edwards (g), Gary Twigg (bass), Paul Hirsh (k,g), Leon Cave (dr), Amy Smith (voc), Amber Zakatek (voc), Emily Barton* (voc).
Main Setlist: Caroline, Claudie, All We Really Wanna Do, You'll Come'Round, Crazy For You, Old Time Rock and Roll, Strikes Like Lightning, Tallulahs Waiting, Here I Go, Tongue Tied, Blessed Are The Meek, My Little Heart Breaker, Electric Arena, One Step At A Time, Marguerita Time, Rolling Down The Road, Diggin' Burt Bacharach, Sleeping On The Job, Twenty Wild Horses, Can't Give You More, Don't Waste My Time.
Tour Notes: A full Tour of Germany and again in the UK had to be cancelled in Febuary 2011 due to Francis surgery for a hernia complaint and recording commitments for QUO's "Quid Pro Quo" album. Emily Barton* replaced Amy Smith in Amsterdam and Antwerp. Live at St. Lukes London featured all 3 female singers on stage.
2010
12/05/ UK, Edinburgh - Queens Hall
13/05/ UK, Birmingham - Town Hall | 90'min. AUD Quality: 4
14/05/ UK, Manchster - The Academy | 90'min. AUD Quality: 4
16/05/ UK, London - Her Majesty's Theatre
17/05/ UK, Sheffield - City Hall Ballroom | 90'min. AUD Quality: 4
18/05/ UK, Cardiff - Glee Club
13/09/ HOLLAND, Amsterdam* - Melkweg
14/09/ BELGIUM, Antwerp* - Trix Club | 48'min. AUD Quality: 4
15/09/ UK, London* - St. Lukes | 90'min. SBD Quality: 5 *official release*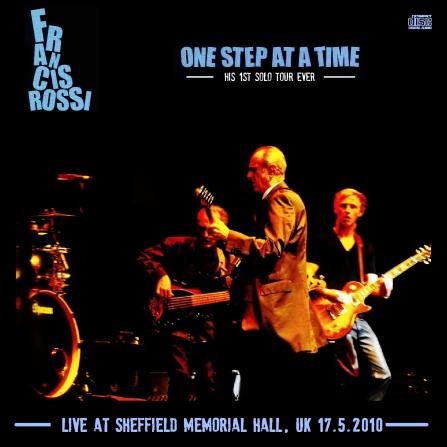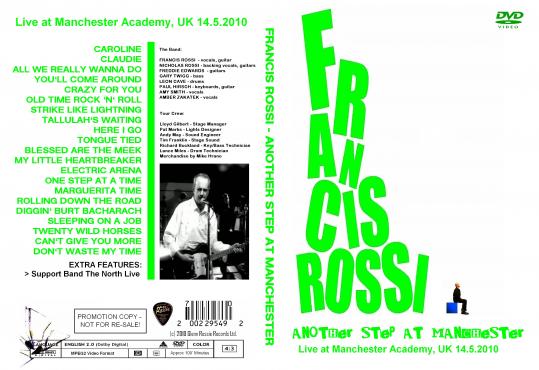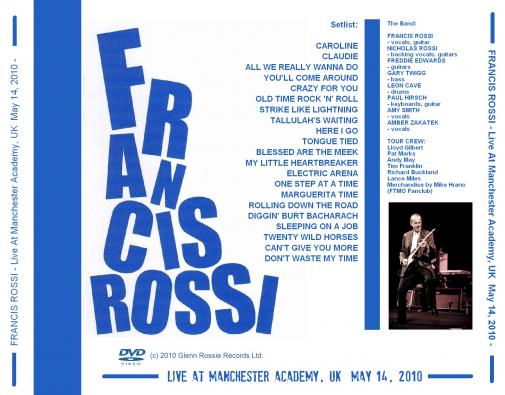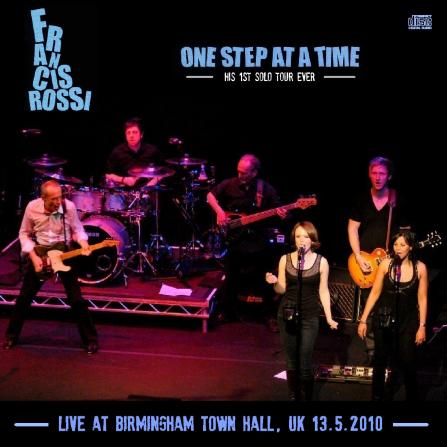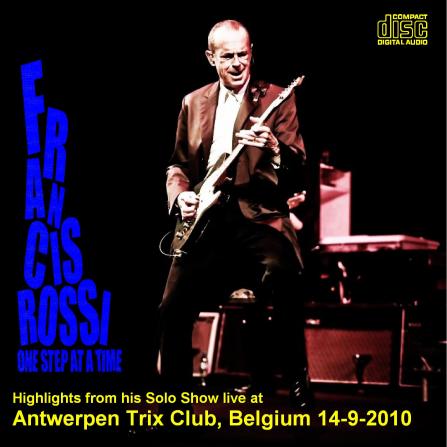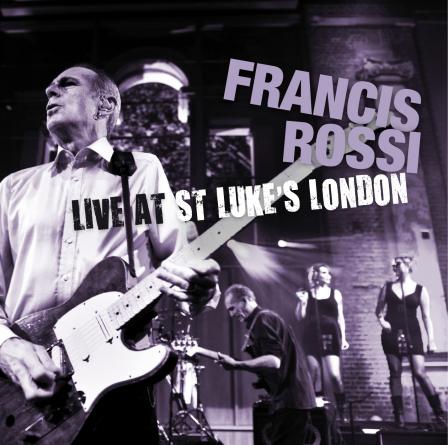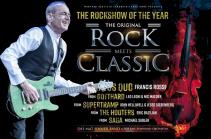 ROCK MEETS CLASSIC TOUR 2018
Featuring: Francis Rossi, Michael Sadler (Saga), Eric Bazilian (The Hooters), John Helliwell, Jesse Siebenberg (Supertramp), Leo Leoni, Nic Meader (Gotthard), The Matt Sinner Band, The RMC Symphony Orchestra.
Main Setlist: Caroline, The Wanderer, Paper Plane, In The Army Now, Down Down, Burning Bridges, Rockin'all over The World.
Tour Notes: The shows in Prag (21.4.), Krakow (23.4.) and Lodz (24.4.) were cancelled.
2018
04/04/ GERMANY, Passau - Dreiländerhalle
05/04/ GERMANY, Ingolstadt - Saturn Arena
06/04/ GERMANY, Würzburg - S. Oliver Arena
07/04/ GERMANY, Nürnberg - Arena
08/04/ GERMANY, Kempten - bigBOX Arena
09/04/ SWITZERLAND, Zürich - Hallenstadion
11/04/ GERMANY, Berlin - Tempodrom | 34' min. AUD Quality: 3

12/04/ GERMANY, Frankfurt - Jahrhunderthalle
13/04/ SWITZERLAND, Basel - St. Jakobshalle
14/04/ GERMANY, Regensburg - Donau-Arena | 28' min. AUD Quality: 3 +

15/04/ GERMANY, München - Olympiahalle
17/04/ GERMANY, Ludwigsburg - MHP Arena
18/04/ GERMANY, Neu Ulm - ratiopharm Arena
19/04/ GERMANY, Mannheim - Rosengarten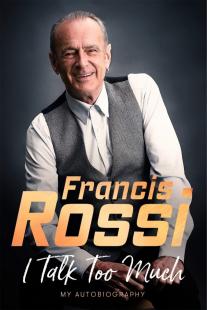 'I TALK TOO MUCH' - The Spoken Word Tour
Francis Rossi in conversation with UK rock journalist & best selling author Mick Wall.

Francis Rossi will talk about his mishaps and adventures as he opens up about the highs and lows of a life on the road with Status Quo.

And in "I Talk Too Much", Francis will share some of the best rock'n'roll stories ever, accrued during an extraordinary life on the road. Expect laughter, revelations, tales involving some of the giants of music, exclusive video clips, snatches of classic tunes and a great night out. He'll be taking his guitar along to demonstrate how some of those Quo classics came about. Francis Rossi will be joined on stage by award-winning writer and broadcaster Mick Wall, who has sold more than 1 million books.
Set: Part 1 (about 50+ minutes) - Conversation Mick Wall > Francis Rossi included video clips screened and he played a few short bits of songs like Pictures Of Matchstick Men, Spinning Wheel Blues and In My Chair on a acoustic guitar. Intermission (about 20 minutes),
Part 2 - Q&A (about 40+ minutes). He ended the evening with a rendition of Caroline (sometimes also Marguerita Time). After the show he'll be signing his new book and album but only signed the book and CD if you buy it at the venue (both for £ 20).
Tour notes: Due to scheduling difficulties, the six dates planned for Eire and nothern Ireland in may 2020 will not take place and are cancelled (19/05/ Coleraine, 20/05/ Sligo, 21/05/ Dundalk, 22/05/ Cork, 23/05/ Mullingar and 24/05/ Galway).
2019
20/03/ UK, Whitley Bay - Playhouse
21/03/ UK, Stirling - Albert Halls
22/03/ UK, Kilmarnock - Grand Hall
23/03/ UK, Dunfermline - Carnegie Hall
24/03/ UK, Greenock - Beacon Arts Centre
27/03/ UK, Leamington - Royal Spa Centre

28/03/ UK, Lincoln - New Theatre Royal | 93' min. AUD Quality: 3 +

29/03/ UK, Shrewsbury - Theatre Severn
30/03/ UK, Birmingham - Town Hall
31/03/ UK, Crewe - Lyceum
03/04/ UK, Richmond - Theatre
04/04/ UK, Coventry - Albany Theatre
05/04/ UK, Porthcawl - Grand Pavilion
06/04/ UK, Brierley Hill - Civic Hall
07/04/ UK, Preston - Guild Hall
24/04/ UK, Bury St Edmunds - The Apex | 96' min. AUD Quality: 3

25/04/ UK, Cheltenham - Town Hall
26/04/ UK, Swindon - Wyvern Theatre
27/04/ UK, Watford - Coloseum
28/04/ UK, Southend - Palace Theatre
01/05/ UK, Lancaster - Grand Theatre
02/05/ UK, Harrogate - Theatre
03/05/ UK, Newark - Palace Theatre | 90' min. AUD Quality: 3 +

04/05/ UK, Leeds - City Varieties
05/05/ UK, Loughborough - Town Hall
08/05/ UK, Reading - Hexagon
09/05/ UK, Worthing - Pavilion
10/05/ UK, Hayes - Beck Theatre
11/05/ UK, Bromley - Churchill Theatre
12/05/ UK, Wycombe - Swan Theatre
15/05/ UK, Aldershot - Princes Hall
16/06/ UK, Exeter - Corn Exchange
17/05/ UK, Folkstone - Leas Cliff Hall
18/05/ UK, Clacton - West Cliff Theatre
19/05/ UK, Dartford - Orchard Theatre
20/05/ UK, King's Lynn - Corn Exchange
09/10/ UK, Cheltenham - Forum (Literature Festival 2019 hosted by Andrew Richardson)
2020
11/03/ UK, Wimborne - Tivoli

12/03/ UK, Basingstoke - Anvil
13/03/ UK, Yeovil - Westlands
14/03/ UK, Streets - Strode Theatre
The tour promoter has issued the following message on sunday 15th march 2020:
'I Talk Too Much' tour in Spring 2020 postponed to Spring 2021!
"We have a duty of care to Francis Rossi's audience, a number of whom fall into the high risk categories identified by the Government. Therefore, we have today been advised that the 'I Talk Too Much' tour should be postponed with immediate effect.
The shows from march 15th until june 9th 2020 will be rescheduled with venues to a later date, once the risk of infection has passed. We request that fans retain their tickets, so that they can attend the rescheduled shows, for which dates will soon be announced.
Francis Rossi looks forward to visiting all of the scheduled venues as soon as he is allowed to do so. We apologise for any disruption and inconvenience this causes and reiterate that the decision is based on the need to protect fans from the risk of infection.
We are acting on the very latest advice of our health and safety advisor which was received this morning. Francis and everyone involved is bitterly disappointed but the advisor's focus is on protecting the health of Francis (being in the 70 plus category), the crew on the tour, staff at venues and especially the fans attending."
The tour promoter has issued the following message on tuesday 25th november 2020:
'I Talk Too Much' tour rescheduled once again for Summer 2021!

Francis Rossi's forthcoming tour, I Talk Too Much, will now take place in summer 2021. It has been rescheduled from Spring 2021. A number of venues contacted the tour's promoter, indicating that due to Covid-19 restrictions they would not be open in Spring 2021 to fulfil dates, which had originally been rescheduled from Spring 2020. The shows will therefore take place in Summer. By this time, a UK-wide programme of immunisations will have been completed and we are confident that the shows will go ahead.
All tickets will be transferred to the new dates. Please DO NOT contact your local venues regarding the matter; many are closed due to the present lockdown, or operating with reduced staffing. We are in constant contact with venues and their staff and are processing this change for you. YOUR TICKETS WILL BE VALID FOR THE NEW DATES.
Please note the following exceptions: St Albans and Leicester have cancelled, due to a lack of availability. Sale Waterside has been added to the tour. Performances at Stafford, Hastings and Newport are to be confirmed, as those venues are presently unstaffed and therefore unable to move to the July/August schedule.
A Way With Media Productions Ltd, Tour promoter
The tour promoter has issued the following message on tuesday 15th june 2021:
Francis Rossi and A Way With Media regret to announce the forced cancellation of some dates that had been rescheduled for the Francis Rossi Talk tour 2021 in Wales, England and Scotland.

This is entirely due to ongoing Covid-19 restrictions, which bar theatres from operating without social distancing. Despite three reschedules and despite extensive efforts and goodwill on behalf of all parties - the venues themselves, the promoters, Francis Rossi and his team - it is not possible to reschedule these again.
2021
19/07/ UK, Wolverhampton - Grand Theatre
20/07/ UK, Lincoln - New Theatre Royal
22/07/ UK, Yarm - Princess Alexandra Auditorium
23/07/ UK, Middlesbrough - Town Hall
24/07/ UK, Wellingborough - Castle Theatre
25/07/ UK, Warrington - Parr Hall

26/07/ UK, Lytham St Annes - Lowther Pavilion
28/07/ UK, Telford - The Palace

29/07/ UK, Bradford - St. George's
30/07/ UK, Chesterfield - Pomegranate Theatre | 113' min. AUD Quality: 3 +

01/08/ UK, Scarborough - Spa Theatre
02/08/ UK, Newcastle - Tyne Theatre
04/08/ UK, Camberley - Theatre
05/08/ UK, Exmouth - Pavilion
06/08/ UK, Launceston - Town Hall
07/08/ UK, Paignton - Palace Theatre
08/08/ UK, Frome - Memorial Theatre
10/08/ UK, Hereford - Courtyard

14/08/ UK, Stevenage - Gordon Craig Theatre
15/08/ UK, Isle Of Wright - Shanklin Theatre
16/08/ UK, Dorking - Dorking Halls
17/08/ UK, Crawley - The Hawth
18/08/ UK, Portsmouth - New Theatre Royal
24/08/ UK, Maidstone - Hazlitt Theatre
25/08/ UK, Runcorn - The Brindley
26/08/ UK, Northallerton - Forum
27/08/ UK, Musselburgh - Brunton
29/08/ UK, Durham - Gala Theatre
01/09/ UK, Stamford - Corn Exchange *Re-schedulded
02/09/ UK, Sale - Waterwide
03/09/ UK, Leamington Spa - Royal Spa Centre
04/09/ UK, Poole - Lighthouse Theatre
05/09/ UK, Winchester - Theatre Royal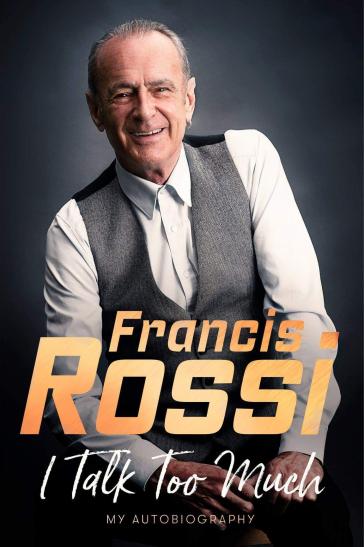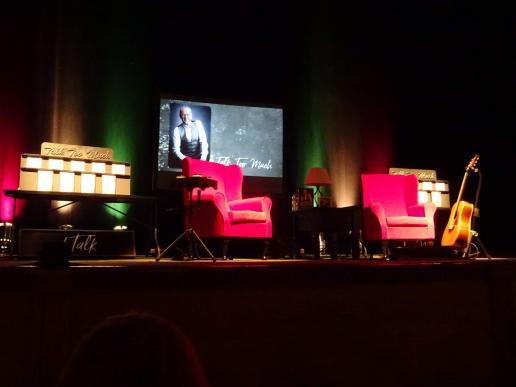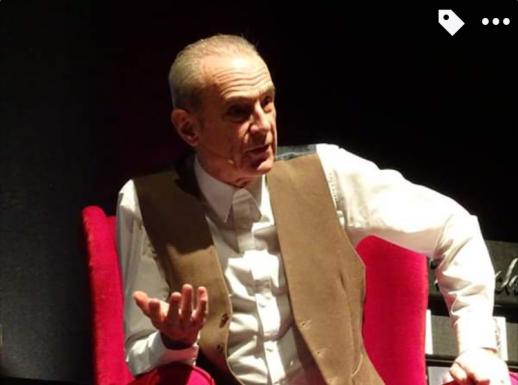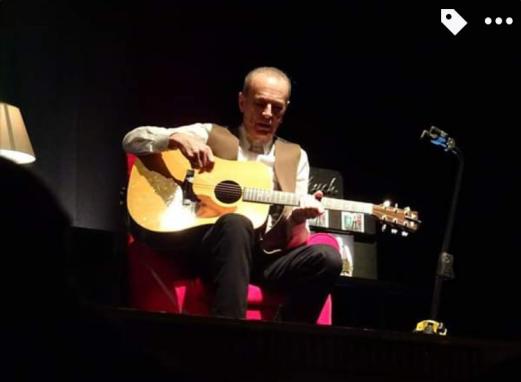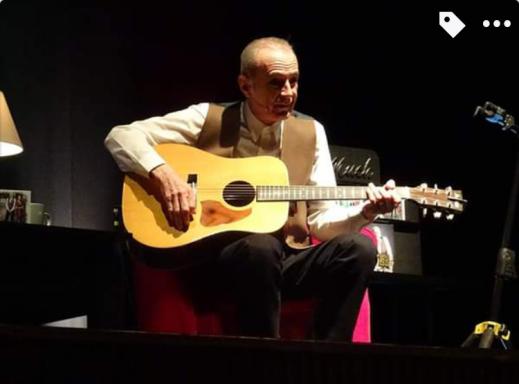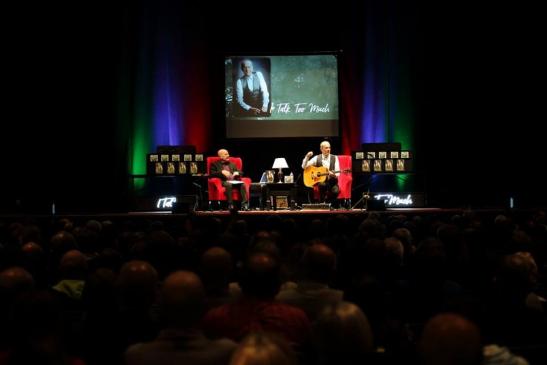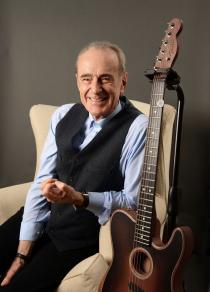 'TUNES & CHAT' Tour 2023
Francis Rossi acoustic and chatting about his music

Francis Rossi (lead vocals and acoustic guitar), Andy Brook (acoustic guitar and backin' vocals)

Status Quo legend Francis Rossi is taking up his acoustic guitar to bring you a selection of well-known hits and some previously not-performed-live-before tunes. It'll be a unique evening in which Francis will reprise fan favourites from a remarkable 50+year career. Expect original-style, acoustic versions of Quo classics, threaded together with chat in this music based evening.
Set: Pictures Of Matchstick Men, April Spring Summer and Wednesday, Spinning Wheel Blues, In My Chair, Gerdundula, Claudie, Rock'n Roll, Break the Rules, Down the Dustpipe, Burning Bridges, What You're Proposin', And It's Better Now, Nanana, Tongue Tied, Blessed Are The Meek, Marguerita Time, Rockin'all over the World, Paper Plane, Caroline.

Tour notes: VIP packages are available for those wishing to meet Francis before the show.
Super VIP seats: includes pre-show meet-and-greet + goody bag + show ticket - only in limited Rows and a 2-track exclusive CD (In my Chair and Down the Dustpipe)..
VIP seats: includes goody bag + show ticket - only available in limited Rows.

2023
24/03/ UK, Wimborne - Tivoli

25/03/ UK, Bridgwater - McMillan

28/03/ UK, Ilfracombe - Landmark

29/03/ UK, Axminster - Guildhall

31/03/ UK, Camberley - Theatre

02/04/ UK, Poole - Lighthouse

06/04/ UK, Newbury - Corn Exchange

07/04/ UK, Milton Keynes - Stables

08/04/ UK, Harpenden - Eric Morec0mbe Centre

11/04/ UK, Ipswich - Corn Exchange | 125' min. AUD Quality: 2 - 3

12/04/ UK, Kettering - Lighthouse

14/04/ UK, Plymouth - Quad Theatre

15/04/ UK, Swindon - Wyvern

16/04/ UK, Eastleigh - Thorndon Hall

18/04/ UK, Stratford Upon Avon - Playhouse

19/04/ UK, Leeds - City Varieties

21/04/ UK, Warrington - Parr Hall

22/04/ UK, Chesterfield - Winding Wheel | 122' min. AUD Quality: 3 -

23/04/ UK, Tamworth - Assembly Rooms

25/04/ UK, Loughborough - Town Hall

26/04/ UK, Stourport - Civic Theatre

02/05/ UK, Bracknell - South Hill Park

03/05/ UK, Leicester - The Y

04/05/ UK, Newark - Palace Theatre | 130' min. AUD Quality: 3 - 4
06/05/ UK, Fleet - Harlington

07/05/ UK, Isle of Wright - Shanklin Theatre
09/05/ UK, Newport - Riverfront

10/05/ UK, Brecon - Theatr Brycheiniog

12/05/ UK, Neath - Gwyn Hall

13/05/ UK, Monmouth - Savoy

14/05/ UK, Exeter - Corn Exchange

16/05/ UK, Epsom - Playhouse

17/05/ UK, Peterborough - Key Theatre

19/05/ UK, Whitley Bay - Playhouse

20/05/ UK, Harrogate - Theatre
25/05/ UK, Lincoln - New Theatre Royal

26/05/ UK, Hunstanton - Princess Theatre

27/05/ UK, Bury St Edmunds - Apex
29/05/ UK, Bristol - Redgrave Theatre (Frame's bithday show!)

30/05/ UK, Treorchy - Park & Dare

02/06/ UK, Bedford - Corn Exchange

03/06/ UK, Hastings - White Rock

04/06/ UK, Clacton on Sea - Westcliff
06/06/ UK, Cannock - Prince of Wales Theatre
07/06/ UK, Stockport - The Romiley Forum

09/06/ UK, New Brighton - Floral Pavilion
10/06/ UK, Conwy - Theatr Colwyn
12/09/ UK, Weston Supermare - The Playhouse

13/09/ UK, Portsmouth - New Theatre Royal
15/09/ UK, Leamington Spa - Spa Centre
16/09/ UK, Hereford - Courtyard
17/09/ UK, Strode - Theatre
20/09/ UK, Sale - Waterwide
22/09/ UK, High Wycombe - Swan
23/09/ UK, Guildford - G Live
24/09/ UK, Walsall - Arts Centre
26/09/ UK, Maidstone - Hazlitt Theatre

27/09/ UK, Basildon - Towngate
29/09/ UK, Wellingborough - Castle Theatre
30/09/ UK, Kings Lynn - Corn Exchange
01/10/ UK, Dunstable - Grove Theatre
03/10/ UK, Felixstowe - Spa Theatre
04/10/ UK, Radlett - Centre
06/10/ UK, Huddersfield - The LBT
07/10/ UK, Yarm - The PAA
08/10/ UK, Scarborough - Spa Theatre
10/10/ UK, Lancaster - Grand Theatre
11/10/ UK, Aberystwyth - Arts Centre
13/10/ UK, Newtown - Hafren
14/10/ UK, Melton - Mobray Melton Theatre
15/10/ UK, Coventry - Albany
16/10/ UK, St Helens - Theatre Royal
20/10/ UK, Herne Bay - Kings Hall
21/10/ UK, Dorking - Halls
24/10/ UK, Stamford - Corn Exchange
25/10/ UK, Mansfield - Palace
27/10/ UK, Bradford - St. George's
28/10/ UK, Blyth - Phoenix Theatre
29/10/ UK, Blackburn - Windsor Suite
31/10/ UK, Hamilton - The Town House
03/11/ UK, Aberdeen - Tivoli
04/11/ UK, Oban - Corran Halls
05/11/ UK, Dunfermline - Alhambra
07/11/ UK, Northallerton - Forum
08/11/ UK, Redditch - Palace
10/11/ UK, Cheltenham - Town Hall
11/11/ UK, Stourbridge - Town Hall
12/11/ UK, Worcester - Huntingdon Hall
14/11/ UK, Swansea - Grand Theatre
15/11/ UK, Milford - Haven Torch
17/11/ UK, Porthcawl - Grand Pavilion
18/11/ UK, Frome - Memorial Theatre
19/11/ UK, Yeovil - Westlands
21/11/ UK, Corby - The Core
22/11/ UK, Runcorn - Brindley Theatre
24/11/ UK, Workingdon - Carnegie Hall
25/11/ UK, Burnley - Mechanics
26/11/ UK, Lytham St Annes - Lowther Pavilion
28/11/ UK, Barrow In Furness - The Forum