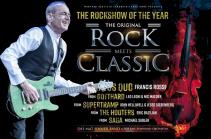 ROCK MEETS CLASSIC TOUR 2018
Featuring: Francis Rossi, Michael Sadler (Saga), Eric Bazilian (The Hooters), John Helliwell, Jesse Siebenberg (Supertramp), Leo Leoni, Nic Meader (Gotthard), The Matt Sinner Band, The RMC Symphony Orchestra.
Main Setlist: Caroline, The Wanderer, Paper Plane, In The Army Now, Down Down, Burning Bridges, Rockin'all over The World.
Tour Notes: The shows in Prag (21.4.), Krakow (23.4.) and Lodz (24.4.) were cancelled.
2018
04/04/ GERMANY, Passau - Dreiländerhalle
05/04/ GERMANY, Ingolstadt - Saturn Arena
06/04/ GERMANY, Würzburg - S. Oliver Arena
07/04/ GERMANY, Nürnberg - Arena
08/04/ GERMANY, Kempten - bigBOX Arena
09/04/ SWITZERLAND, Zürich - Hallenstadion
11/04/ GERMANY, Berlin - Tempodrom | 34' min. AUD Quality: 3

12/04/ GERMANY, Frankfurt - Jahrhunderthalle
13/04/ SWITZERLAND, Basel - St. Jakobshalle
14/04/ GERMANY, Regensburg - Donau-Arena | 28' min. AUD Quality: 3 +

15/04/ GERMANY, München - Olympiahalle
17/04/ GERMANY, Ludwigsburg - MHP Arena
18/04/ GERMANY, Neu Ulm - ratiopharm Arena
19/04/ GERMANY, Mannheim - Rosengarten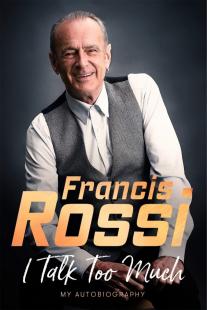 'I TALK TOO MUCH' - The Spoken Word Tour
Francis Rossi in conversation with UK rock journalist & best selling author Mick Wall.

Francis Rossi will talk about his mishaps and adventures as he opens up about the highs and lows of a life on the road with Status Quo.

And in "I Talk Too Much", Francis will share some of the best rock'n'roll stories ever, accrued during an extraordinary life on the road. Expect laughter, revelations, tales involving some of the giants of music, exclusive video clips, snatches of classic tunes and a great night out. He'll be taking his guitar along to demonstrate how some of those Quo classics came about. Francis Rossi will be joined on stage by award-winning writer and broadcaster Mick Wall, who has sold more than 1 million books.
Set: Part 1 (about 50+ minutes) - Conversation Mick Wall > Francis Rossi included video clips screened and he played a few short bits of songs like Pictures Of Matchstick Men, Spinning Wheel Blues and In My Chair on a acoustic guitar. Intermission (about 20 minutes),
Part 2 - Q&A (about 40+ minutes). He ended the evening with a rendition of Caroline (sometimes also Marguerita Time). After the show he'll be signing his new book and album but only signed the book and CD if you buy it at the venue (both for £ 20).
Tour notes: Due to scheduling difficulties, the six dates planned for Eire and nothern Ireland in may 2020 will not take place and are cancelled (19/05/ Coleraine, 20/05/ Sligo, 21/05/ Dundalk, 22/05/ Cork, 23/05/ Mullingar and 24/05/ Galway).
The tour promoter has issued the following message on sunday 15th march 2020:
'I Talk Too Much' tour in Spring 2020 postponed!
"We have a duty of care to Francis Rossi's audience, a number of whom fall into the high risk categories identified by the Government. Therefore, we have today been advised that the 'I Talk Too Much' tour should be postponed with immediate effect.
The shows from march 15th until june 9th 2020 will be rescheduled with venues to a later date, once the risk of infection has passed. We request that fans retain their tickets, so that they can attend the rescheduled shows, for which dates will soon be announced.
Francis Rossi looks forward to visiting all of the scheduled venues as soon as he is allowed to do so. We apologise for any disruption and inconvenience this causes and reiterate that the decision is based on the need to protect fans from the risk of infection.
We are acting on the very latest advice of our health and safety advisor which was received this morning. Francis and everyone involved is bitterly disappointed but the advisor's focus is on protecting the health of Francis (being in the 70 plus category), the crew on the tour, staff at venues and especially the fans attending."
2019
20/03/ UK, Whitley Bay - Playhouse
21/03/ UK, Stirling - Albert Halls
22/03/ UK, Kilmarnock - Grand Hall
23/03/ UK, Dunfermline - Carnegie Hall
24/03/ UK, Greenock - Beacon Arts Centre
27/03/ UK, Leamington - Royal Spa Centre

28/03/ UK, Lincoln - New Theatre Royal | 93' min. AUD Quality: 3 +

29/03/ UK, Shrewsbury - Theatre Severn
30/03/ UK, Birmingham - Town Hall
31/03/ UK, Crewe - Lyceum
03/04/ UK, Richmond - Theatre
04/04/ UK, Coventry - Albany Theatre
05/04/ UK, Porthcawl - Grand Pavilion
06/04/ UK, Brierley Hill - Civic Hall
07/04/ UK, Preston - Guild Hall
24/04/ UK, Bury St Edmunds - The Apex | 96' min. AUD Quality: 3

25/04/ UK, Cheltenham - Town Hall
26/04/ UK, Swindon - Wyvern Theatre
27/04/ UK, Watford - Coloseum
28/04/ UK, Southend - Palace Theatre
01/05/ UK, Lancaster - Grand Theatre
02/05/ UK, Harrogate - Theatre
03/05/ UK, Newark - Palace Theatre | 90' min. AUD Quality: 3 +

04/05/ UK, Leeds - City Varieties
05/05/ UK, Loughborough - Town Hall
08/05/ UK, Reading - Hexagon
09/05/ UK, Worthing - Pavilion
10/05/ UK, Hayes - Beck Theatre
11/05/ UK, Bromley - Churchill Theatre
12/05/ UK, Wycombe - Swan Theatre
15/05/ UK, Aldershot - Princes Hall
16/06/ UK, Exeter - Corn Exchange
17/05/ UK, Folkstone - Leas Cliff Hall
18/05/ UK, Clacton - West Cliff Theatre
19/05/ UK, Dartford - Orchard Theatre
20/05/ UK, King's Lynn - Corn Exchange
09/10/ UK, Cheltenham - Forum (Literature Festival 2019 hosted by Andrew Richardson)
2020
11/03/ UK, Wimborne - Tivoli

12/03/ UK, Basingstoke - Anvil
13/03/ UK, Yeovil - Westlands
14/03/ UK, Streets - Strode Theatre
08/10/ UK, Dudley - Borough Halls **Online live Stream!**
Francis Rossi had just started his 50-date spoken word tour when Covid-19 hit in March.
He was on the road in support of his best-selling autobiography, I Talk Too Much, which features some of the most remarkable rock'n'roll tales of all-time.
While his tour has been rescheduled to 2021, Francis will catch up with fans during this intimate broadcast. The co-founder, lead singer and lead guitarist of Status Quo has sold around 128 million albums and had more than 60 chart hits – more than any other rock band. Rossi sang the first words at Live Aid in 1985, survived the obligatory rock'n'roll brush with alcohol and drugs, was awarded an OBE in 2010 and has a BRIT for his Outstanding Contribution to Music.
Broadcast live 8th October 2020 at 18.30h Dudley - Borough Halls (UK time)
Tickets: £7 + max 70p booking fee, where applicable.
VIP tickets: £39.50 – includes stream of show, personalised signed copy of I Talk Too Much (value £20), with Royal Mail Special Delivery postage (value £12.50).
Website for tickets: https://shows2home.co.uk/a-night-in-with-francis-rossi/
If you'd like to ask Francis a question, Tweet it to @awaywithmedia using the hashtag #AskFrancisRossi, or email it to andy@awaywithmedia.com – Questions will be pre-recorded
Tickets go on sale on 21 August 2020
Signed copies of I Talk Too Much will be available to purchase on the evening of the broadcast.
This is how it works
The stream will begin 30 minutes prior to the advertised time, when you will be able to find out about other shows and events you may be interested in. The main event will start at the time advertised by the venue.
During these difficult times, it is unlikely that the UK theatre industry will return to normal for some considerable period and therefore, we believe we must adapt.
We have developed this unique service with a view to keeping shows alive for the benefit of venues, artists and customers.
This is how it works: You purchase a ticket from the venue, as you would for any in-person event. However, instead of a paper ticket, the venue will send you a voucher code for one of our broadcast shows. This code will enable you to access the concert or event either via our online player, which can be found on our website. You are also able to purchase a voucher code direct from our website.
If you have already purchased tickets and that show has now been either postponed or cancelled, the venue will be in contact with you regarding the options available. One of which may be to convert your existing ticket into a voucher code for the equivalent live show on our platform.
We believe this is a great way to enable the venues and shows that you love to keep trading in the current climate and we thank you for your support in this regard.
2021
18/02/ UK, Isle Of Wright - Shanklin Theatre
19/02/ UK, Dorking - Dorking Halls
20/02/ UK, Stamford - Corn Exchange
21/02/ UK, Wolverhampton - Grand Theatre
22/02/ UK, Ipswich - Corn Exchange
23/02/ UK, Peterborough - Cresset Theatre
01/03/ UK, Telford - Oakengates Theatre
02/03/ UK, Bedford - Corn Exchange
03/03/ UK, Portsmouth - New Theatre Royal

04/03/ UK, Winchester - Theatre Royal
05/03/ UK, Exmouth - Pavilion
09/03/ UK, Kettering - Lighthouse Theatre
10/03/ UK, Stevenage - Gordon Craig Theatre
11/03/ UK, Stockport - Plaza Theatre
12/03/ UK, Chesterfield - Winding Wheel
13/03/ UK, Wrexham - William Aston Hall
14/03/ UK, Colwyn Bay - Theatre
18/03/ UK, Redditch - Palace Theatre
19/03/ UK, Musselburgh - Brunton
20/03/ UK, Dunfermline - Alhambra
21/03/ UK, Durham - Gala Theatre
22/03/ UK, Newcastle - Tyne Theatre
23/03/ UK, Scarborough - Spa Theatre
28/03/ UK, Margate - Theatre Royal
29/03/ UK, Hastings - White Rock
30/03/ UK, Maidstone - Hazlitt Theatre
31/03/ UK, Wellingborough - Castle Theatre
01/04/ UK, Crawley - The Hawth
02/04/ UK, St. Albans - Alban Arena
09/04/ UK, Dundee - Rep
10/04/ UK, Northallerton - Forum
11/04/ UK, Yarm - School
12/04/ UK, Burnley - Mechanics

13/04/ UK, Hull - City Hall
14/04/ UK, Bradford - St. George's
15/04/ UK, Leicester - De Montford Hall
18/04/ UK, Camberley - Theatre
19/04/ UK, Stafford - Gatehouse
20/04/ UK, Hereford - Courtyard
21/04/ UK, Aberystwyth - University Concert Hall
22/04/ UK, Newport - Riverfront
23/04/ UK, Newton - Theatre Hafren
24/04/ UK, Lytham St Annes - The Lowther Pavilion

26/04/ UK, Lincoln - Theatre Royal
27/04/ UK, Runcorn - The Brindley
28/04/ UK, Corby - Cube
29/04/ UK, Middlesbrough - Town Hall
30/04/ UK, Leeds - City Varieties
03/05/ UK, Bristol - St. Georges
04/05/ UK, Hertford - Theatre
06/05/ UK, Ilfracombe - Landmark Theatre
07/05/ UK, Treorchy - Park and Dare Theatre
08/05/ UK, Neath - Gwyn Hall
09/05/ UK, Brecon - Theatr Brycheiniog