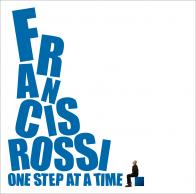 ONE STEP AT A TIME TOUR 2010
Band: Francis Rossi (voc,g), Nicholas Rossi (g,voc), Freddie Edwards (g), Gary Twigg (bass), Paul Hirsh (k,g), Leon Cave (dr), Amy Smith (voc), Amber Zakatek (voc), Emily Barton* (voc).
Main Setlist: Caroline, Claudie, All We Really Wanna Do, You'll Come'Round, Crazy For You, Old Time Rock and Roll, Strikes Like Lightning, Tallulahs Waiting, Here I Go, Tongue Tied, Blessed Are The Meek, My Little Heart Breaker, Electric Arena, One Step At A Time, Marguerita Time, Rolling Down The Road, Diggin' Burt Bacharach, Sleeping On The Job, Twenty Wild Horses, Can't Give You More, Don't Waste My Time.
Tour Notes: A full Tour of Germany and again in the UK had to be cancelled in Febuary 2011 due to Francis surgery for a hernia complaint and recording commitments for QUO's "Quid Pro Quo" album. Emily Barton* replaced Amy Smith in Amsterdam and Antwerp. Live at St. Lukes London featured all 3 female singers on stage.
2010
12/05/ UK, Edinburgh - Queens Hall
13/05/ UK, Birmingham - Town Hall | 90'min. AUD Quality: 4
14/05/ UK, Manchster - The Academy | 90'min. AUD Quality: 4
16/05/ UK, London - Her Majesty's Theatre
17/05/ UK, Sheffield - City Hall Ballroom | 90'min. AUD Quality: 4
18/05/ UK, Cardiff - Glee Club
13/09/ HOLLAND, Amsterdam* - Melkweg
14/09/ BELGIUM, Antwerp* - Trix Club | 48'min. AUD Quality: 4
15/09/ UK, London* - St. Lukes | 90'min. SBD Quality: 5 *official release*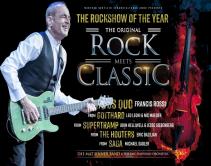 ROCK MEETS CLASSIC TOUR 2018
Featuring: Francis Rossi, Michael Sadler (Saga), Eric Bazilian (The Hooters), John Helliwell, Jesse Siebenberg (Supertramp), Leo Leoni, Nic Meader (Gotthard), The Matt Sinner Band, The RMC Symphony Orchestra.
Main Setlist: Caroline, The Wanderer, Paper Plane, In The Army Now, Down Down, Burning Bridges, Rockin'all over The World.
Tour Notes: The shows in Prag (21.4.), Krakow (23.4.) and Lodz (24.4.) were cancelled.
2018
04/04/ GERMANY, Passau - Dreiländerhalle
05/04/ GERMANY, Ingolstadt - Saturn Arena
06/04/ GERMANY, Würzburg - S. Oliver Arena
07/04/ GERMANY, Nürnberg - Arena
08/04/ GERMANY, Kempten - bigBOX Arena
09/04/ SWITZERLAND, Zürich - Hallenstadion
11/04/ GERMANY, Berlin - Tempodrom
12/04/ GERMANY, Frankfurt - Jahrhunderthalle
13/04/ SWITZERLAND, Basel - St. Jakobshalle
14/04/ GERMANY, Regensburg - Donau-Arena
15/04/ GERMANY, München - Olympiahalle
17/04/ GERMANY, Ludwigsburg - MHP Arena
18/04/ GERMANY, Neu Ulm - ratiopharm Arena
19/04/ GERMANY, Mannheim - Rosengarten