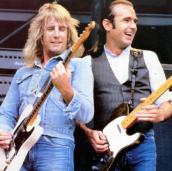 Band members: Francis Rossi, Rick Parfitt, Andy Bown, John Edwards (bass), Jeff Rich (drums)
Main Setlist: Whatever You Want, Paper Plane, Roll over lay down, Little Lady, Mystery Medley, Hold You Back, Don't drive my Car, Dirty Water, Rockin'all over the World, Big Fat Mama, Don't waste my Time, Roadhouse Blues, Caroline, Rain, Down Down, Bye Bye Johnny.
Tour Crew: Iain Jones (Tour Manager), Brian Tippey (Stage Manager/Keyboard Tech), Christopher Hedge (Sound Engineer), Steve Robertson (Guitar Tech Francis), Sean Berisford (Guitar Tech), Mick Hardgrave (Drum tech). Merchandiser: Bravado Merchandising Ltd. Management: Quarry Productions Manager: Colin Johnson, Alan Crux.
Tour Note:

Quo supported Queen on their "It's A Kind Of Magic UK Summer Tour 1986". Also lots of Festival performances with Jethro Tull, Rory Gallagher or Magnum in Europe. The shows at two festivals in Germany (Bruchhausen 17.5. and Bremen 19.5.1986 - Link: https://de.wikipedia.org/wiki/Bruchhausen-Festival) were cancelled due to problems with promoter . Another cancelled date for Quo was on September 10th, 1986 in Italy when their show with Rod Stewart headlining at the Turin football stadium was cancelled on the same day short handed, which means that many people went to the stadium only to find out there was no show!

1986
11/04/ UNITED ARAB EMIRATES, Dubai - Al Nasr Tennis Court
12/04/ UNITED ARAB EMIRATES, Abu Dhabi - Al Nasr Leisureland
13/04/ UNITED ARAB EMIRATES, Abu Dhabi - Al Nasr Leisureland
15/04/ BAHRAIN, Al Manamah - Holiday Inn
27/04/ GREECE, Athens (Faliro) - Basketball Stadium

29/04/ YUGOSLAVIA, Belgrade - Hala Pionir

30/04/ HUNGARY, Budapest - MTK Sports Hall (support band Omega)
02/05/ AUSTRIA, Linz - Sporthalle | 88' min. AUD Quality: 3
03/05/ AUSTRIA, Graz - Eishalle Liebenau
04/05/ ITALY, Bolzano - Eisstadion
05/05/ AUSTRIA, Wien - Stadthalle | 91' min. AUD Quality: 3
06/05/ AUSTRIA, Innsbruck - Olympia Eishalle | 60' min. AUD Quality: 2
13/05/ NORWAY, Stavanger - Kongeparken

14/06/ NORWAY, Algaard - Kongeparken | 20' min. AUD Quality: 2 -
15/06/ NORWAY, Bergen - Nygaardsparken (support Stage Dolls)
21/06/ BELGIUM, Brussels - Stade de L'Union | 78' min. TV Quality: 4 +
05/07/ GERMANY, Dinkelsbühl - Festwiese | 44' min. TV Quality: 5
06/07/ GERMANY, St. Goarshausen - Freilichtbühne | 77' min. AUD Quality: 3
09/07/ UK, Newcastle* - St. James Park | 70' min. AUD Quality: 3
11/07/ UK, London* - Wembley Stadium | 78' min. AUD Quality: 4
12/07/ UK, London* - Wembley Stadium | 52' min. FM Quality: 5-
13/07/ FRANCE, Brest - Stade Francis Le Blé | 75' min. AUD Quality: 3 +
14/07/ HOLLAND, Drachten - Veenhoop Festival (support Quotation)
16/07/ UK, Manchester* - Maine Road | 73' min. AUD Quality: 3
26/07/ FINLAND, Lappajärvi - Tulivourirock Festival | 74' min. AUD Quality: 3
02/08/ GERMANY, Jübeck - Festival | 80' min. AUD Quality: 3 +
09/08/ DENMARK, Skandeborg - Festival (showtime 0:30h)
09/08/ UK, Knebworth* - Park (16.30h) | 68' min. AUD Quality: 3 +
09/08/ SWITZERLAND, Arbon - See Park (22.30h) | 60' min. AUD Quality: 2
*FACTS FROM THE ROAD
02/1986 - in the lawsuit about the bandname between Alan Lancaster and Francis Rossi / Rick Parfitt the jugde decided, that Francis Rossi and Rick Parfitt can furthermore keep and act under the bandname "Status Quo". In an out-of-law case Alan Lancaster sold his rights of the name to the remaining two members.

11.4.1986 - Quo's very first live show with the new Line-up featuring John Edwards (bass) and Jeff Rich (drums) at Al Nasr Tennis Courts in Dubai. During this 84 minutes set the band filmed some parts of their gig for the "Rolling Home" video - Single released in the end of April 1986. Here are some picutres from the gig (Cheers to Luke Hargreaves)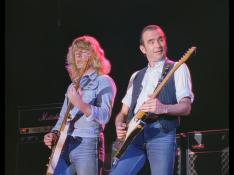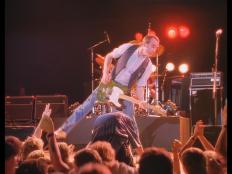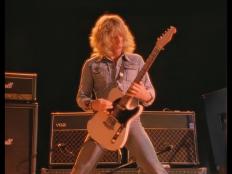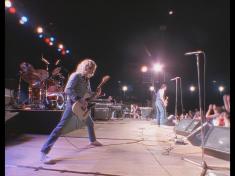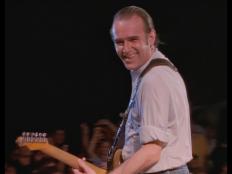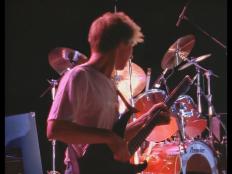 20.6.1986 - Francis and Rick performed at the Prince's Trust Concert 1986 at London Wembley Arena, UK. They both "backed" Sir Paul McCartney along a Allstar Band featuring Elton John, Mark Knopfler, Eric Clapton, Phil Collins, Mark King, Midge Ure, Bryan Adams, Tina Turner, John Illsey and Howard Jones. Tracklist: Long Tall Sally, I Saw her Standing there and Get Back. The Gig was later broadcasted on TV and released on Vinyl, CD and VHS Video.
21.6.1986 - the show at Brussels Union Stadium was filmed and it was later shown in the belgian TV at the show "Chewing Rock".
05.7.1986 - Status Quo's performance at the "Out In The Green" Festival in Dinkelsbühl Germany (with Jehtro Tull and others) was filmed and later broadcasted on german television (45 minutes)
09.7.1986 - Status Quo as Special Guest at the "Magic" stadium-tour of Queen. The kick-off is at the St. James Park in Newcastle upon Tyne. "The Alarm" and "INXS" were support bands too. This show is followed by 2 shows at the famous Wembley Stadium. Later Queen released a live-album and a video from their show. And recently Queens show was released as a DVD showing Rick Parfitt in the wardrobe of Queen. The stadium tour was to be continued at Manchester.
09.08.1986 - a day where Status Quo wrote rock history: Status Quo played in the morning at the Skanderburg Festival in Denmark, to return at midday to England and played at the Knebworth festival ahead of a strong 120,000 crowd. At the same festival played also Queen but later that day. After their Knebworth performance the band was flewn to Switzerland where they played at the Seepark Festival. That means that Status Quo played at 3 different countries within 24 hours.