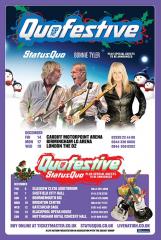 Band members: Francis Rossi, Rick Parfitt, Andrew Bown, John 'Rhino' Edwards, Matt Letley
Main Setlist: Caroline, Paper Plane, Hold you Back, Rain, Mystery Song, Rock'n' Roll'n' You, Beginning of The End, Proposin' Medley incl. What You're Proposin', Down The Dustpipe, Wild Side of life, Railroad, Again and Again, Big Fat Mama, The Oriental, Creepin' Up On You, Marguerita Time, Living On An Island, In The Army Now, Drum Solo, Roll over lay Down, Down Down, Whatever You Want, Rockin'all over the World, X'mas Medley incl. Winter Wonderland, Rockin' Around the Christmas tree, It's Christmas Time, Burning Bridges.
Tour Crew: Glen Smith (Tour Manager), Lyane Ngan (Band Personal Assistant), Pat Marks (Lightning Designer), Andy May (FOH Sound Engineer), Tim Franklin (Monitor Engineer), Lloyd Gilbert (Guitar Tech), Andy Tomkins (Keyboard / Bass Tech), Lance Miles (Drum Tech) Merchandiser: Global Merchandising Services Ltd. Management: DurocMedia Ltd. Manager: Simon Porter
Special Guests: Bonnie Tyler and Eddie and The Hot Rods, Eddie and the Hot Rods*,
Bad Influence** and Knock Out Kaine (only Glasgow)
Tour Notes: Power cut / lighting failure at Cardiff gig and Quo's drummer Matt Letley announced on Monday 17th that he has decided to leave the band after more than 12 years.
09/x
2012
06/12/ UK, Glasgow - Clyde Auditorium
07/12/ UK, Sheffield - City Hall** | 97' min. AUD Quality: 3
09/12/ UK, Bournemouth - BIC*
10/12/ UK, Brighton - Centre*
12/12/ UK, Gateshead - Sage**
13/12/ UK, Blackpool - Opera House** | 84' min. AUD Quality: 3
14/12/ UK, Cardiff - Motorpoint Arena
16/12/ UK, Nottingham - Royal Concert Hall** | 95' min. AUD Quality: 3 +
17/12/ UK, Birmingham - LG Arena
19/12/ UK, London - O2 Arena | 95' min. SB Quality: 5 *official Bootleg


*FACTS FROM THE ROAD:
19.12.2012 - Matt Letley has decided to leave the band after 12 years with QUO. Matt's last show was on Wednesday 19th December at the O2 Arena in London. Typical for Francis: No official goodbye from him or Rick on stage at the O2 Arena. Only Andy and Rhino pushed Matt to the front after Burning Bridges. This show was also recorded by Abbey Road Live Here Now and is available on double CD and mp3 download.