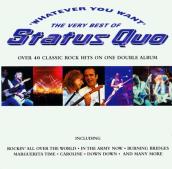 Band members: Francis Rossi, Rick Parfitt, Andy Bown, John Rhino Edwards, Jeff Rich
Main Setlist: Whatever You Want, Softer Ride, The Wanderer, Mystery Medley, Don't drive my Car, Gerdundula, Roll over lay Down, Get Out of Denver, In my Chair, Rock'n Roll / Marguerita Time / Living on an Island / Break The Rules / Mean Girl, Rain, In the Army Now, Rockin'all over the World, Somethin' bout you Baby I Like, Roadhouse Blues, Caroline, Anniversary Waltz.
Additional/unusual songs performed: Burning Bridges sometimes in the Set.
Tour Crew: Peter Hillier (Tour Manager), Andy Taylor (Sound Engineer), Dave Salt (Stage Manager/Bass Tech), Simon Rossi (Band Personal Assistant), Andrew Carman (Drum Tech), Pat Marks (Lightning Designer), Tim Franklin (Monitor Engineer), Alan "Tonto" Jhowry (Guitar Tech), Bryan Wilson (Rigger), Darren Pyke (Backline), Julie Devine (Wardrobe) Merchandiser: Niceman Europe Ltd. Management: Handle Group of Companies Manager: David Walker.
Support Bands: Paul Rodgers (UK Tour 1997), Thunder (German Tour 1998).
Tour Note: A hole German tour in February 1998 was cancelled and postponed in April/May. Also 3 shows were cancelled due to problems with promoter (Germany: Hahn, Austria: Kapfenberg and Norway: Stavanger).

1997
30/11/ HOLLAND, Zwolle - Ijsselhal | 95' min. AUD Quality: 4
01/12/ BELGIUM, Brussels - Forest National | 95' min. AUD Quality: 4
03/12/ UK, Bournemouth - B.I.C. | 95' min. AUD Quality: 2 - 3
04/12/ UK, Bournemouth - B.I.C.
06/12/ UK, Glasgow - S.E.C.C.
07/12/ UK, Newcastle - Arena
08/12/ UK, Bridlington - Spa Pavilion | 80' min. AUD Quality: 2
10/12/ UK, Plymouth - Pavilions | 95' min. AUD Quality: 2
11/12/ UK, Brighton - Centre | 95' min. AUD Quality: 3
12/12/ UK, Brighton - Centre
13/12/ UK, London - Wembley Arena | 98' min. AUD Quality: 4 +
14/12/ UK, London - Wembley Arena
16/12/ UK, Reading - Rivermead Centre | 95' min. AUD Quality: 2 -
17/12/ UK, Birmingham - N.E.C.
18/12/ UK, Birmingham - N.E.C.
19/12/ UK, Sheffield - Arena
20/12/ UK, Manchester - Nynex Arena | 97' min. AUD Quality: 3
21/12/ UK, Cardiff - Arena
x
1998
24/03/ AUSTRALIA, Geelong - Pura Milk Arena
25/03/ AUSTRALIA, Melbourne - Entertainment Centre
26/03/ AUSTRALIA, Adelaide - Entertainment Centre
28/03/ AUSTRALIA, Perth - Burswood Theatre
29/03/ AUSTRALIA, Perth - Burswood Theatre
01/04/ AUSTRALIA, Canberra - Royal Theatre
02/04/ AUSTRALIA, Sydney - Entertainment Centre
03/04/ AUSTRALIA, Brisbane - Festival Hall
04/04/ AUSTRALIA, Newcastle - Entertainment Centre
17/04/ GERMANY, Düsseldorf - Philipshalle | 97' min. AUD Quality: 4 +
18/04/ GERMANY, Schweinfurt/Dittelbrunn - Marienbachzentrum
20/04/ GERMANY, Stuttgart - Kongress Zentrum
21/04/ GERMANY, Nürnberg - Forum
22/04/ GERMANY, München - Rudi Sedlmayerhalle
24/04/ GERMANY, Chemnitz - Chemnitzparkhalle
25/04/ GERMANY, Halle - Eissporthalle
26/04/ GERMANY, Magdeburg - Stadthalle
28/04/ GERMANY, Hannover - Music Hall
29/04/ GERMANY, Hamburg - Sporthalle Alsterdorf
30/04/ GERMANY, Rostock - Stadthalle
02/05/ GERMANY, Osnabrück - Stadthalle
03/05/ GERMANY, Dortmund - Westfalenhalle
04/05/ GERMANY, Offenbach - Stadthalle
05/05/ GERMANY, Erfurt - Messehalle | 76' min. AUD Quality: 3
07/05/ GERMANY, Berlin - Arena Treptow
16/05/ DENMARK, Aalborg - Festival | 80' min. AUD Quality: 3 -
29/05/ LUXEMBURG, Kockelscheuer - Sporthalle | 75' min. AUD Quality: 4
30/05/ GERMANY, Rügen - Ralswiek Freilichtbühne
05/06/ SWEDEN, Karlshamn - Festival | 75' min. AUD Quality: 3
06/06/ DENMARK, Skive - Beach Party (Festival 17h)
06/06/ DENMARK, Esbjerg - Stadium (Festival 22.30h)
07/06/ DENMARK, Copenhagen - Fem Ören | 75' min. AUD Quality: 4
13/06/ DENMARK, Middelfart - Festival
14/06/ HOLLAND, Weert - Festival | 76' min. AUD Quality: 4
03/07/ SWITZERLAND, Luzern - Eschenbach Stadion Festival
04/07/ AUSTRIA, Imst - Stadion Festival
06/07/ AUSTRIA, Linz - Donaupark Festival
10/07/ AUSTRIA, St. Pölten - Stadtfest | 76' min. AUD Quality: 4 -
11/07/ GERMANY, Aue - Radio PSR Festival
16/07/ LATVIA, Riga - Festival
18/07/ FINLAND, Pargas-Parainen - Festival
01/08/ BELGIUM, Bilzen - Jazz & Rock Festival
10/08/ SPAIN, Majorca - Palma Bullring Arena
12/08/ SPAIN, Castro Urdiales - Bullring Arena
13/08/ SPAIN, Salou - Recinto Municipal
14/08/ SPAIN, Murcia - Polideportivo Municipal | 78' min. AUD Quality: 3 - 4
15/08/ SPAIN, Marbella Puerto Banus - Plaza de Toros
22/08/ MALTA, Valetta - Ta' Qali International Music Festival
29/08/ GERMANY, Soest - Adam Kaserne (Festival with Gildo Horn & Band)
04/09/ NORWAY, Trondheim - Town Hall Festival
18/09/ GERMANY, München - Biker Messe (support by Roger Chapman)
21/10/ RUSSIA, St. Petersburg - Sportscomplex (with Deep Purple)
23/10/ RUSSIA, Moscow - Luzhniki Stadium (with Deep Purple)