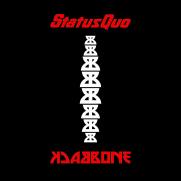 Band members: Francis Rossi, Andy Bown, John "Rhino" Edwards, Leon Cave, Richie Malone
Main Setlist: Caroline, Somethin' Bout You Baby I Like (with Rhino voc), Rain (Rhino voc), Little Lady (Richie voc), Softer Ride, Beginning of the End, Hold You Back, Cut Me some Slack, Liberty Lane, QUO Medley incl. What You're Proposin' / Down The Dustpipe / Wild Side of life / Railroad / Again and Again (Rhino voc) / Mystery Song (Richie voc), The Oriental, In The Army Now, Roll over lay Down, Down Down, Whatever You Want (Andy voc), Rockin'all over the World.Rhino voc) / Bye Bye Johnny.
Tour Crew: Glen Smith (Tour Manager), Lyane Ngan (Band Personal Assistant), Ewan Cameron (Lightning Director), Andy May
(FOH Sound Engineer), Tim Franklin and Danny Stead (Monitor Engineer), Lloyd Gilbert (Stage Manager), Alan "Tonto" Jhowry (Guitar Tech), Andy Tomkins (Keyboard / BassTech), Benny Calvert (Drum Tech), Tanja Buck (Production Assistant).

Merchandiser: Global Merchandising Services Ltd. Management: Duroc Media Ltd. Manager: Simon Porter.
Additional / Unusual songs performed: Backwater (Rhino voc), Don't Waste My Time and a shorter version of Bye Bye Johnny sometimes
Support bands:

Tour Notes: Quo (of course without Francis) played a small set on Richie's wedding on 29.2.2020 in Trim, Ireland. See pictures and a great diary here

2020
29/02/ IRELAND, Trim - The Knightsbrook Hotel (Richie's private wedding Party without Francis)

CANCELLATION OF "BACKBONE TOUR 2020"
Status Quo management Info:
With great reluctance we are forced to announce the cancellation of the forty date UK and European tour that was planned for winter 2020 in support of the 'Backbone' album release. This is in line with public health requirements and advice relating to Covid-19.

Due to various commitments for next year, the band are unable to reschedule these shows for 2021. This cancellation is not what the band wanted, but they are very mindful of the wellbeing of band, audience and crew. Despite the fact that many shows have already sold out, an outright cancellation will allow our valued fans to receive a refund on tickets purchased.

All UK and EU dates scheduled for October, November and December are now cancelled! Quo will continue to monitor the situation and make a further announcement about future shows.

Quo is a band largely defined by their live performances and we cannot wait for the next time that we can perform safely, securely – and loudly!

2021
No show will be planned for 2021...