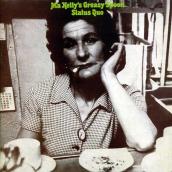 Band members: Francis Rossi, Rick Parfitt, Alan Lancaster, John Coghlan, Roy Lynes (Organ), Bob Young (Harmonica).
In early September 1970 Roy Lynes decided to call it a day and QUO continued as a four-piece band.
Main Set: (Gerdundula), Junior's Wailing, April Spring, Summer and Wednesday, Umleitung, Someone's Learning, In My Chair, Down The Dustpipe, Daughter, Spinning Wheel Blues, Is It Really Me, (Gerdundula), Roadhouse Blues, Mean Girl, Bye Bye Johnny.
Tour Crew: Bob Young (Roadie), Mal Kingsnorth (Sound engineer/Equipment), Paul Robert Lodge (Roadie/Equipment) Management: Exclusive Artists / Acron Artists* (January 1971) Manager: Pat Barlow and Joe Bunce / Colin Johnson*
In this periode Quo changed the setlist quite a lot and tried out a couple of new selfwritten songs on stage. (Later recorded for the "Dog of two Head" album.)
They played most of the "Ma Kelly..." album plus a couple of cover versions like Roadhouse Blues by The Doors and Chuck Berry's Johnny Be Goode and started their set for a very short time with Gerdundula, while sitting on chairs or simply on the floor. After changing the sound from Soul- & Popmusic to Hardrock, it seems it was more a fun thing to start with an full acoustic track!
Tour Note: There are about 40 additional dates for 1970 which seen the band play with all sorts of people from Fleetwood Mac, Chicken Shack etc. There was also some promo nights for the "Ma Kelly Greasy Spoon" Album in the UK in October with at least 4 or 5 dates in Scotland.


1970
07/07/ UK, London - Marquee Club
08/07/ UK, Gosport - Community Hall
10/07/ GERMANY, Munich* - Oberwiesenfeld | 18'min. AUD Quality: 2-3
12/07/ UK, Bexley - Black Prince (support band Bram Stoker)
17/07/ UK, Sleaford - Mabern Club
18/07/ UK, Folkstone - Leas Cliff Hall
20/07/ UK, Great Yarmouth - Tower Ballroom
21/07/ UK, Great Yarmouth - Tower Ballroom
24/07/ UK, Southend - Fickle Pickle
25/07/ UK, London - Marquee Club
28/07/ UK, Great Yarmouth - Tower Ballroom
29/07/ UK, Great Yarmouth - Tower Ballroom
31/07/ UK, Manchester - Granada TV Studios "Recording of Doing their Thing.."
01/08/ UK, Sutton Coldfield - The Belfry
07/08/ UK, Nairn - Ballerina Ballroom (support Bones)
11/08/ UK, Torquay - 400 Club
13/08/ UK, Newquay - Blue Lagoon (support katch 22 & acoustics)
14/08/ UK, Barnstable - Magic Circus
19/08/ UK, Barnet - Resurrection Club Salisbury Hotel
24/08/ UK, Great Yarmouth - Tower Ballroom
25/08/ UK, Great Yarmouth - Tower Ballroom
26/08/ UK, Torquay - Marquay Club
29/08/ UK, Boston - Starlight Room
09/09/ GERMANY, Minden - Studio M
10/09/ GERMANY, Menden - Discothek Tiffany
11/09/ GERMANY, Gütersloh - Kleine Stadthalle
12/09/ GERMANY, Lüneburg - Nordlandhalle
15/09/ GERMANY, Hamburg - Discothek Cheyenne
16/09/ GERMANY, Itzehoe - Cheyenne Musik Club
17/09/ GERMANY, Heide - Rote Grotte

18/09/ GERMANY, Bielefeld - British Army Ripon Barracks
19/09/ GERMANY, Holzminden - Marktplatz Open-Air
20/09/ GERMANY, Oelde - Gasthaus zur Post
21/09/ GERMANY, Schwerte - Zeltveranstaltung Wirtschaftsausstellung
22/09/ GERMANY, Wuppertal - Sportplatz Open-Air Festival
23/09/ GERMANY, Diepholz - Open-Air am Flugplatz Festival
24/09/ GERMANY, Bielefeld - British Army 10th Regt. Cookhouse
26/09/ UK, Nelson - Imperial Ballroom
29/09/ UK, Woodgreen - Fishmonger's Arms
02/10/ UK, Croydon - Star Hotel
07/10/ UK, London/Tooting - The Castle (support to Mott the Hoople)
10/10/ UK, London - Marquee Club
15/10/ UK, London - The Factory
16/10/ UK, London - Marquee Club
17/10/ UK, Potters Bar - Farx Club
21/10/ UK, Grays - Civic Hall (with Almond Marzipan and Whisky Mama)
30/10/ UK, Edinburgh - University Students Union
08/11/ UK, Croydon - The Greyhound (support to T-Rex)
16/11/ GERMANY, Kaldenkirchen/Nettetal - Discothek Roxy
17/11/ GERMANY, Reit - Discothek Flashlight
19/11/ GERMANY, Edemissen - Kinosaal
20/11/ GERMANY, Münster - Gasthaus bei Tony
22/11/ GERMANY, Bad Nenndorf - Gasthof zur Post
23/11/ GERMANY, Langelsheim - "Wenne" Beat Club
24/11/ GERMANY, Goslar - Discothek Roadhouse
25/11/ GERMANY, Fallingbostel - Heidemarkthalle
26/11/ GERMANY, Hannover - Pop-Center Mülltonne
27/11/ GERMANY, Dortmund - Uni Mensa
30/11/ GERMANY, Paderborn - Discothek Bonanza
03/12/ IRELAND, Dublin (support to The Arrows)
04/12/ IRELAND, Dundalk - The Adelphi (support to The Arrows)
11/12/ UK, Dudley - Astra Club
12/12/ UK, Dudley - Astra Club (2nd night)
14/12/ UK, London - Westminster College
18/12/ UK, Weymouth - Pavilion
19/12/ UK, Brighton - Big Apple Concert Hall (support to T-Rex)
20/12/ UK, Croydon - The Greyhound (support to East of Eden)
29/12/ UK, London, Bumpers Club Piccadilly Music Fest
31/12/ UK, Margate - Dreamland Ballroom
1971
03/01/ UK, Epping Groovesville - Wake Arms
09/01/ UK, Brighton - Big Apple Concert Hall (support band IF)
15/01/ UK, Devizes - Corn Exchange
16/01/ UK, Cromer - Links Pavilion
22/01/ UK, Kidderminster - Stone Manor Hotel
23/01/ UK, Whitchurch - Civic Centre
24/01/ UK, Nottingham - Union Rowing Club
25/01/ UK, Chester - Quaintways
29/01/ UK, Ayr - Caledonian Hotel
30/01/ UK, Glasgow -Strathclyde University
31/01/ UK, Coatbridge - YMCA
02/02/ UK, London, Royal Albert Hall(support to Leon Russell)
07/02/ UK, London Bexley - Bexley Black Prince Hotel
09/02/ UK, Glamorgan - Polytechnic
11/02/ UK, Athyn - Red Dragon
12/02/ UK, Swansea - University
13/02/ UK, Basingstoke - Haymarket Theatre
14/02/ UK, Croydon - Greyhound Hotel
16/02/ UK, Crawley - Starlight Ballroom
19/02/ UK, Reading - University
26/02/ UK, Luton - Recreation Centre(support Crunchie Frog)
27/02/ UK, York - St. Johns College
28/02/ UK, Epping Groovesville - Wake Arms
15/03/ IRELAND, Dublin - Countdown Television Club (with Thin Lizzy)
27/03/ UK, London - Marquee Club (with Thin Lizzy)
09/04/ UK, London - Marquee Club (with Thin Lizzy)
10/04/ UK, Weston Super-Mare - Winter Gardens (support band Grass)
15/04/ UK, Swindon - McKilroys (support band Grass)
16/04/ UK, Malton - Malton Rooms (support BlitzKrieg)
23/04/ UK, London - Southwalk College

24/04/ UK, Maidstone - Tudor House
25/04/ UK, Stevenage - Bowes Lyon House (support band Grass)
30/04/ UK, High Wycombe - Blues Loft

02/05/ UK, Nottingham - Palace (with Thin Lizzy)
06/05/ UK, Wellingborough - Rock Club (with Dark & York)
08/05/ UK, Reading - Bulmersche College (support band Grass)
09/05/ UK, Croydon - Greyhound Hotel (with Thin Lizzy)
21/05/ UK, Swansea - Top Rank Suite (support to The Kinks)

26/05/ GERMANY, Kassel - Open Air Rock Festival
27/05/ GERMANY, Detmold - Gasthaus zum Falkenkrug
29/05/ GERMANY, Hildesheim - Stadtfest Open-Air Festival
30/05/ GERMANY, Langelsheim - Freedom Rock-Festival (with Steamhammer, Man, Scorpions)
31/05/ GERMANY, Rheinhausen - Rheinwiesen "Friemersheimer MayOut Festival"
02/06/ GERMANY, Paderborn - Paderhalle
03/06/ GERMANY, Hameln - Take Five
04/06/ GERMANY, Braunschweig - Stadthalle
05/06/ GERMANY, Venloh - Sportplatz
08/06/ GERMANY, Kaunitz/Verl - Ostwestfalenhalle (support Golden Earring)
09/06/ GERMANY, Cloppenburg - Stadthalle (support Shocking Blue)
10/06/ GERMANY, Vechta - Auktionshalle
11/06/ GERMANY, Rheindalen - Radio BFBS Summer Open-Air
12/06/ GERMANY, Iserlohn - Eissporthalle
13/06/ GERMANY, Berlin - Sportpalast (Pop & Blues Sunday Festival)
16/06/ UK, Twickenham - Winning Post (with Thin Lizzy)
20/06/ UK, Epping Groovesville - Wake Arms
24/06/ UK, Southend - Fickle Pickle Club at Cricketer's Inn
26/06/ UK, Margate - Dreamland Ballroom
27/06/ UK, Southall/London - Northcote Arms (support band Cosmosis)
29/06/ UK, Barnet - The Salisbury (support band Angst)
02/07/ UK, Cambridge - University
03/07/ UK, Stoke - Alsager College
15/07/ UK, Fulham - Greyhound
16/07/ UK, Hayle - Rugby Club
18/07/ UK, Snigg Hill/Sheffield - Black Swan
20/07/ UK, London/Woodgreen - Nightingale (support band Gnome Sweet Gnome)
23/07/ UK, Birmingham - Henry's Blueshouse (support band Anubis)
24/07/ UK, Birmingham - Small Heath Park (support to Fleetwood Mac)
25/07/ UK, Epping Groovesville - Wake Arms
26/07/ UK, Chester - Quaintways
28/07/ UK, Greenford - Oldfield Tavern (support band Gnome Sweet Gnome)
30/07/ UK, Wimbledon - Hobbits Garden (support band Renia)
31/07/ UK, Hitchin - Hermitage Ballroom (support by Angst & Gnome Sweet Gnome)
01/08/ UK, London - Lyceum Ballroom (support to Medicine Head)
06/08/ UK, Hereford - Wormelow Parks Hall Ballroom (support The Statesmen)
11/08/ GERMANY, Nienburg - British Army Base Sportshall
12/08/ GERMANY, Mölln - Deutsches Haus
13/08/ GERMANY, Salzgitter - Marktplatz Open-Air Festival
14/08/ GERMANY, Oberhausen - Stadtfest Open-Air
19/08/ UK, Bournemouth - Starkers Royal Ballroom
21/08/ SPAIN, Majorca (20. - 26.8. holidays & 2 shows at the World Music Event)
22/08/ SPAIN, Majorca - World Music Event
28/08/ UK, Weeley - Pop Festival | 65'min. AUD Quality: 2
28/08/ SWITZERLAND, Zürich - Pop & Rock Festival
29/08/ SWITZERLAND, Bern - Pop Festival
04/09/ SWITZERLAND, Zürich - Swiss Pop Festival Meeting
05/09/ SWITZERLAND, Winterthur - Reitplatz Festival
11/09/ YUGOSLAVIA, Belgrade - Music Festival
17/09/ UK, Leytonstone - Red Lion (support band Jerusalem)
21/09/ UK, Windsor - Club 1832 (support band Albert Monk)
23/09/ UK, Wallington - Public Hall (support bands Unicorn & Walrus Gumboot)
24/09/ UK, Plymouth - Van Dike
25/09/ UK, Penzance - the Garden (support Ezra Pound)

28/09/ UK, Crawley - Starlight Ballroom
29/09/ UK, Twickenham - Winning Post
30/09/ UK, Manchester - Rafters Club (with Chicken Shack)
01/10/ UK, Worchester - The Coppertops Public House
03/10/ UK, London - Bumpers
05/10/ UK, London/Woodgreen - Nightingale
06/10/ UK, Worthing - The Pier
07/10/ UK, Worthing - Festival
08/10/ UK, High Wycombe - College
09/10/ UK, Potters Bar - Farx Club
09/10/ UK, Devizes - Town Hall (Evening slot)
10/10/ UK, Bexley - Black Prince Hotel
11/10/ UK, London - Kennsington Oval Surrey Rooms (support band Danta)
14/10/ UK, London/Southall - White Hart Underground Club
15/10/ UK, London - Marquee Club (support band Open Road)
16/10/ UK, Halifax - Clarence's Nightclub
21/10/ UK, London/Tolworth - Toby Jug
22/10/ UK, Crewe - College
23/10/ UK, Leicester - University Students Union
24/10/ UK, Birmingham - Henry's Blueshouse
26/10/ UK, Stoke on Trent - Trentham Gardens
27/10/ UK, Bletchley - Youth Centre
29/10/ UK, Anglesey - Festival
30/10/ UK, Chester - Quaintways