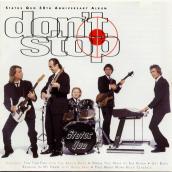 Band members: Francis Rossi, Rick Parfitt, Andy Bown, John Edwards, Jeff Rich
Main Setlist: Paper Plane, Softer Ride, The Wanderer, Backwater, Mystery Medley, Gerdundula, Get Back, Get Out Of Denver, What ever You Want, In the Army Now, Somethin' bout you Baby I Like, Don't waste my Time, Come Rock with me / Roadhouse Blues, Caroline, Rockin'all over the World, Anniversary Waltz/Bye Bye Johnny.
Additional songs performed: Burning Bridges sometimes in the Set.
Tour Crew: Peter Hillier (Tour Manager), Andy Taylor (Sound Engineer), Dave Salt (Stage Manager/Bass Tech), Simon Rossi (Band Personal Assistant), Andrew Carman (Drum Tech), Pat Marks (Lightning Designer), Tim Franklin (Monitor Engineer), Alan "Tonto" Jhowry (Guitar Tech), Bryan Wilson (Rigger), Marcus Viner (Backline), Sue Bennett (Wardrobe), Alf Weaver (Security) Merchandiser: Niceman Europe Ltd. Management: Handle Group of Companies Manager: David Walker.
Support Bands: Dear Jon (UK Tour), Little Egypt* (European Tour)
Tour Note: 5 shows were cancelled due to problems with promoter or bad weather.
x
1995
27/11/ UK, Manchester - Apollo Theatre
28/11/ UK, Blackpool - Empress Ballroom | 90' min. AUD Quality: 3
29/11/ UK, Sheffield - Arena | 90' min. AUD Quality: 3
01/12/ UK, Aberdeen - E. & C.C.
02/12/ UK, Glasgow - S.E. & C.C. | 90' min. AUD Quality: 4
03/12/ UK, Carlisle - Sands Centure
04/12/ UK, Sunderland - Empire Theatre | 90' min. AUD Quality: 3
05/12/ UK, Bridlington - Spa Centre
07/12/ UK, Hereford - Leisure Centre
08/12/ UK, Plymouth - Pavilion
09/12/ UK, Bournemouth - B.I.C. | 90' min. AUD Quality: 3
10/12/ UK, Brighton - Centre
11/12/ UK, Brighton - Centre | 90' min. AUD Quality: 3
13/12/ UK, Cardiff - Arena
14/12/ UK, Birmingham - N.E.C.
15/12/ UK, Birmingham - N.E.C. | 90' min. AUD Quality: 4
16/12/ UK, London - Wembley Arena | 90' min. AUD Quality: 4+
17/12/ UK, London - Wembley Arena | 90' min. AUD Quality: 4
x
1996

28/01/ UK, London - Brixton Academy (Fanclub Concert)
13/03/ DENMARK, Copenhagen - Falkoner Theatre
15/03/ SWEDEN, Malmö - Isstadion
16/03/ SWEDEN, Gothenburg - Scandinavium | 90 'min. AUD Quality: 3
18/03/ NORWAY, Oslo - Sentrum Scene | 60' min. FM Quality: 4+
20/03/ FINLAND, Helsinki - House of Culture
27/03/ DENMARK, Ringsted* - Congress Center
28/03/ DENMARK, Esbjerg* - Odeatshallen
29/03/ DENMARK, Frederica* - Frederician Hallen
30/03/ DENMARK, Aarhus* - Vejby Risskovhallen
31/03/ DENMARK, Herning* - Herninghallen
02/04/ DENMARK, Aalborg* - Aalborghallen
03/04/ DENMARK, Skive* - Skivehallen
06/04/ HOLLAND, Den Bosch - Brabanthallen
07/04/ BELGIUM, Gent - Windo Rock Festival
01/05/ GERMANY, Cottbus* - Stadthalle
02/05/ GERMANY, Magdeburg* - Stadthalle
03/05/ GERMANY, Berlin* - Huxley's | 90' min. AUD Quality: 4
04/05/ GERMANY, Baunatal* - Rundsporthalle
06/05/ GERMANY, Bielefeld* - Stadthalle
07/05/ GERMANY, Bremen* - Pier 2
09/05/ GERMANY, München* - Sedlmayerhalle
10/05/ GERMANY, Fürth* - Stadthalle
11/05/ GERMANY, Augsburg* - Kongresshalle
12/05/ GERMANY, Stuttgart* - Kongress Zentrum
14/05/ GERMANY, Kiel* - Ostseehalle
15/05/ GERMANY, Hannover* - Music Hall
16/05/ GERMANY, Düsseldorf* - Philipshalle | 95' min. FM Quality: 5
17/05/ GERMANY, Erfurt* - Thüringenhalle
18/05/ GERMANY, Offenbach* - Stadthalle
19/05/ GERMANY, Hamm* - Maximilianpark | 75' min. AUD Quality: 4-
21/05/ SWITZERLAND, Zürich - Hallenstadion | 90' min. AUD Quality: 3
14/06/ SWEDEN, Karlshamn - Festival (with Deep Purple + ELO II)
23/06/ RUSSIA, Moscow - Dynamo Stadium | 80' min. FM Quality: 4
25/06/ FRANCE, Paris - La Cigale | 90' min. AUD Quality: 4
28/06/ SWEDEN, Bollnäs - Festival | 90' min. AUD Quality: 4
29/06/ SWEDEN, Jönköping - Festival
12/07/ LATVIA, Riga - Festival
14/07/ FRANCE, Bagnols Sur Ceze - Parc Arthur Rimbaud
19/07/ SWEDEN, Kungshamn - Kungshamnsvallen | 90' min. AUD Quality: 3
20/07/ SWEDEN, Borgholm - Öland Island
21/07/ SWEDEN, Halmstad - Lilla Torget | 90' min. AUD Quality: 3
17/08/ SPAIN, La Coruna, Beach Festival (support Mercedes Ferrer)
20/09/ SWITZERLAND, Schupfart - Festival (support Gotthard)
21/09/ GERMANY, Oberhausen - Arena (Free Arena Opening Gala)
25/10/ TURKEY, Istanbul - Cemil Topuzlu Tiyatrosu
*FACTS FROM THE ROAD
25.10.1995 - Allthrough an initial huge tour was scheduled for October & November with dates in Germany, Belgium, Holland and Scandinavium. All shows were cancelled with the explanation that the band needed time in the studio to finish the recording of the forthcoming "DON'T STOP" album. The dates were however rearranged for May 1996. The UK tour 1995 went ahead as scheduled.

27.11.1995 - Status Quo kicked off their annual UK-Tour in Manchester which was called "Don't Stop". It's the name of the covers album which was due to be out in February 1996 and the tour name should say "(please) Don't Stop Status Quo after 30 years". Until December 17 the band played 18 shows. Special guest are "Dear John".
28.01.1996 - the first ever fanclub gig of the offical "From the makers of..." fanclub was held at Brixton Academy,London. Status Quo introduced the songs of the new cover-album "Don't Stop" to around 3,000 fanclub members. The songs were played play-back and the show was filmed and later released on video. The Beach Boys were on stage to perform their song "Fun, Fun, Fun" together with Status Quo. Brian May appeared on stage when the song "Raining in my heart" was played. After a break the band returned to stage and played a 60 minutes Status Quo live set. Again Brian May appeared on stage to perform a stunning version of the Shadows classic hit "F.B.I" in the encore.
11.02.1996 - Status Quo performed at the start of the televised German Bundesliga match between Hamburger SV and Bayern Munich to play their new single "FUN FUN FUN" and promted their Hamburg concert in a sold out Volkspark Stadium. This was a notable performance, as Quo's drummer Jeff Rich was at one of his drum master classes at a school on the Falkland Islands and John Lingwood of Manfred Mann's Earth Band sat in for him.

16.05.1996 - the full Status Quo show at the Phillipshalle in Düsseldorf, Germany was braodcasted live via the german radiostation SWF3 in their series "Lifetime".
22.06.1996 - The Moscow show with Deep Purple was changed from the original date of 22nd June to the following day due to the demands of the TV broadcaster to fit in with scheduling, enabling the show to be performed to a live TV audience and reportedly a 75000 russian crowd within the stadium itself.

28.10.1996 - Status Quo having performed in Istanbul 3 days earlier, there seems to have been a possibility that the band may have played another show in Turkey. This time in Ankara. However any confirmation of this show having gone ahead is still being sought.