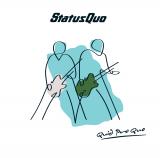 Band members: Francis Rossi, Rick Parfitt, Andy Bown, John Edwards, Matt Letley
Main Setlist: Caroline, Somethin' About You Baby, Rain, Rock'n' Roll'n' You, Mean Girl, Softer Ride, Beginning of The End, Proposin' Medley, Big Fat Mama, The Oriental, Creepin' Up On You, In The Army Now, Drum Solo Matt, Roll over lay Down, Down Down, Whatever You Want, Rockin'all over the World, Rock'n Roll Music / Bye Bye Johnny.
Tour Crew: Glen Smith (Tour Manager), Lyane Ngan (Band Personal Assistant), Pat Marks (Lightning Designer), Andy May (FOH Sound Engineer), Tim Franklin (Monitor Engineer), Lloyd Gilbert (Guitar Tech), Andy Tomkins (Keyboard / Bass Tech), Lance Miles (Drum Tech) Merchandiser: Mike Hrano for Finally Fan-Fair Ltd. Management: DurocMedia Ltd. Manager: Simon Porter.
Support Bands: The Baseballs (Leipzig,Germany), Torfrock (Bad Segeberg,Germany), Opus (Ötztal + Tulln, Austria), The Christians (Liverpool, UK), 10CC (Eastnor Castle,UK), Bonfire (Heidenheim, Germany)
Additional songs performed: Let's Rock, Junior's Wailing, Don't Waste My Time (all tracks sometimes in the set)
Tour Notes: Quo continued their "QPQ" Tour with a private show and lots of gigs through out Europe and the UK. Cancelled gigs: St. Petersburg, Russia 12.5.2012 (cancelled by local authorieties because of heavy wind and safety concerns), Ljusdal, Sweden Folkets Park 18.7.2012 (again safety concerns) Luleä, Sweden 22.7.2012 (poor ticket sales).2
a09/x
2012
24/03/ GERMANY, Neuss - Ballsaal Swissótel (private show for EP 75th Anniversary)
18/05/ GERMANY, Leipzig - Arena
19/05/ GERMANY, Bad Segeberg - Freilichtbühne | 85' min. AUD Quality: 3-4
25/05/ DENMARK, Jelling - Festival | 38' min. AUD Quality: 3

26/05/ HOLLAND, Raalte - Festival | 75' min. AUD Quality: 3 +

02/06/ IRELAND, Wexford - Strawberry Fest
03/06/ UK, Liverpool - Speke Hall Open-Air | 48' min. AUD Quality: 3 -

08/06/ DENMARK, Odense - Den Fynske Landsby | 24' min. AUD Quality: 2-3

13/06/ SPAIN, Valladolid - Arroyo de la Encomienda
14/06/ SPAIN, Vitoria Gasteiz - Azkena Rock Festival | 86' min. AUD Quality: 3
16/06/ UKRAINE, Kiev - Palace (with Smokie, The Sweet) | 55' min. AUD Quality: 3 -

23/06/ GERMANY, Heidenheim - Brenzpark | 80' min. AUD Quality: 3-4
29/06/ AUSTRIA, Ötztal - Area 47 Dome | 86' min. AUD Quality: 3
30/06/ AUSTRIA, Tulln - Donaubühne | 90' min. AUD Quality: 4+
03/07/ UK, Kew - Kew Gardens | 86' min. AUD Quality: 3
06/07/ SWITZERLAND, Locarno - Piazza Grande (with Billy Idol) | 46' min. AUD Quality: 3

07/07/ SWEDEN, Karlslund - Toreboda Festival
08/07/ SWEDEN, Skane - Christnehof Castle | 25' min. AUD Quality: 3

10/07/ SWEDEN, Fästning - Marstrands Carlstens Fortress | 34' min. AUD Quality: 3
11/07/ SWEDEN, Halmstad - Tylösand Solgarden
13/07/ SWEDEN, Hasslö - Skärgardsvallen | 22' min. AUD Quality: 3

14/07/ SWEDEN, Stockholm - Skansen Solliden
15/07/ SWEDEN, Sunne - Kolsnäs Folkpark
17/07/ SWEDEN, Leksand - Sammilsdal | 40' min. AUD Quality: 3

20/07/ SWEDEN, Östersund - Jamtli | 33' min. AUD Quality: 3 -

21/07/ SWEDEN, Lycksele - Torget
27/07/ BELGIUM, Tienen - Grote Markt (with Alice Cooper) | 75' min. AUD Quality: 4+
28/07/ UK, Ledbury - Eastnor Castle | 30' min. AUD Quality: 2-3
30/07/ FRANCE, Antibes Juan-Les-Pins - Pinede Gould Arena
03/08/ GERMANY, Bad Krozingen - Kurpark
07/08/ ITALY, Kaltern - Seebühne
11/08/ SPAIN, Cambre - Festival
17/08/ GERMANY, Bochum - Zeltfestival Ruhr | 90' min. AUD Quality: 4

18/08/ GERMANY, Kamenz - Hutbergbühne
22/08/ UK, Shetland Isles - Clickimin Hall
24/08/ UK, Inverness - Nothern Meeting Park
25/08/ UK, Swansea - Singleton Park | 34' min. AUD Quality: 3

09/09/ UK, London - Hyde Park BBC Radio 2 Festival | 45' min. FM Quality: 5

21/09/ SWITZERLAND, Schupfart Festival | 58' min. AUD Quality: 3+
22/09/ AUSTRIA, Salzburg - Arena | 88' min. AUD Quality: 3-4
03/10/ AUSTRALIA, Melbourne - private gig for Coles supermarket employees
17/10/ ROMANIA, Bucharest - Palace Hall | 50' min. AUD Quality: 3
18/10/ BULGARIA, Sofia - Palace of Culture | 82' min. AUD Quality: 3+
*FACTS FROM THE ROAD:
24.3.2012 - Quo performed their very first gig in 2012 at a private concert near Düsseldorf, Germany on a Saturday evening. The event was the staff & business party for the ElectricPartners Group and marked the 75th anniversary of the company. The party attracted some 2000 guests in the Ballsaal of the Swissótel in Neuss. The party was kept secret until it was announced on social networks. Quo kicked off with "Caroline" and went on to perform a well-received 60-minute set.
2.6.2012 - The band had to curtail the set at the Strawberry Fest Wexford, Ireland because of heavy rain. The stage was drenched, pedals were soaked. At one stage they moved the pedals back, but to no avail. Middle section of their set taken out, no encore. Played just over the hour. They did their best, but it was a health & safety nightmare on stage, Rhino was splashing his feet to the beat.
15.7.2012 - ...for those that say the setlist doesn't change much, there's been quite a few setlist-variations this summer. It seems it all depends on the weather how long they play for. If the weather is fine, you'll get the full set, if it's raining expect them to scap the Heavy Traffic tracks "The Oriental" and "Creeping up on You", "Let's Rock" along with a shorter encore.
09.09.2012 - After a holiday break for two weeks, Quo started their second leg of 2012 in front of a massiv 30.000 crowd at the BBC Radio 2 Live Festival at London Hyde Park, UK. The band played a rockin' 45 minutes set (19:05h -19:50h) including Caroline, Something'bout you Baby, Rain, Rock'n'Roll'n'You, In The Army Now, Roll over lay Down, Down Down, Whatever You Want and Rockin'all over the World. Their full set was broadcasted live on Radio and via Webstream to fans around the globe. Also appearing on the day: Mick Hucknall, Paloma Faith, Emeil Sande, Average White Band, The band Perry, Jessie J and Tom Jones.