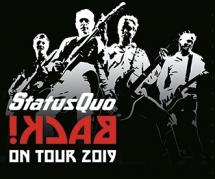 Band members: Francis Rossi, Andy Bown, John "Rhino" Edwards, Leon Cave, Richie Malone
Main Setlist 2019: Caroline, Somethin' Bout You Baby I Like (with Rhino voc), Rain (Rhino voc), Little Lady (Richie voc), Softer Ride, Beginning of the End, Hold You Back, Cut Me some Slack, Liberty Lane, QUO Medley incl. What You're Proposin' / Down The Dustpipe / Wild Side of life / Railroad / Again and Again (Rhino voc) / Mystery Song (Richie voc), The Oriental, In The Army Now, Roll over lay Down, Down Down, Whatever You Want (Andy voc), Rockin'all over the World.Rhino voc) / Bye Bye Johnny.
Tour Crew: Glen Smith (Tour Manager), Lyane Ngan (Band Personal Assistant), Ewan Cameron (Lightning Director), Andy May (FOH Sound Engineer), Tim Franklin and Danny Stead (Monitor Engineer), Lloyd Gilbert (Stage Manager), Alan "Tonto" Jhowry (Guitar Tech), Andy Tomkins (Keyboard / BassTech), Benny Calvert (Drum Tech), Tanja Buck (Production Assistant).

Merchandiser: Global Merchandising Services Ltd. Management: Duroc Media Ltd. Manager: Simon Porter.
Additional / Unusual songs performed: Backwater (Rhino voc), Don't Waste My Time and a shorter version of Bye Bye Johnny sometimes in the set. Some of the summer shows ended with Rockin' all over the World (no encore due to time limits) Also two brand new tracks in the Set (Cut Me Some Slack and Liberty Lane) from the forthcoming new Quo Studio album in September 2019.

Support bands: On Quo's own shows (venue or Open-Air) Velvet Two Stripes (7.7.), The Baseballs (15.6.), The Wake Woods (Mannheim, Hamburg, Schwerin, Dresden and Halle)
Tour Notes: *Status Quo and Massive Wagons are very special guest on all dates at Lynyrd Skynyrd's Farewell UK Arena Tour 2019. The gig in Bucharest, Romania 26.8. was cancelled due to a 10 days promotion tour for the new album "Backbone" across Germany (Munich, Hamburg, Frankfurt, Cologne, Duisburg and Düsseldorf).
x
2019
03/06/ GERMANY, Berlin - Tempodrom | 99' min. AUD Quality: 4

05/06/ GERMANY, Mannheim - Palastzelt am Maimarktgelände (Rhein Neckar Festival)
08/06/ UK, Sunderland - Herrington Country Park (Open-Air)

10/06/ GERMANY, Hilchenbach - KulturPur Zeltfestival
14/06/ HOLLAND, Strijen - Festival | 95' min. AUD Quality: 3-4

15/06/ GERMANY, Hamminkeln - Thunderbike Joker Festival | 97' min. AUD Quality: 3-4

21/06/ UK, Pembroke - Pembroke Castle (Open Air with Bonnie Tyler & Dr. Feelgood)
22/06/ UK, Leeds - Temple Newsam Leeds (Open-Air) | 67' min. AUD Quality: 3 +

26/06/ UK, Glasgow - SSE Hydro Arena* (with Lynyrd Skynyrd) | 65' min. AUD Quality: 4

27/06/ UK, Manchester - Arena* (with Lynyrd Skynyrd) | 61' min. AUD Quality: 3-4

29/06/ UK, London - Wembley Arena* (with Lynyrd Skynyrd) | 62' min. AUD Quality: 4

30/06/ UK, Birmingham - Resorts World Arena* (with Lynyrd Skynyrd) | 61' min. AUD Quality: 3 -

04/07/ FRANCE, Nimes - Les Arénes Open Air (with ZZ Top)
06/07/ LIECHTENSTEIN, Schaan - FL 1 Life Festival (Open-Air)

07/07/ GERMANY, Markdorf - Stadtfest Stadtzentrum | 87' min. AUD Quality: 3 +
13/07/ SWITZERLAND, Sion - Plaine de Tourbillon (with Gotthard, Krokus)
18/07/ DENMARK, Samso - Festival (Open-Air)
23/07/ GERMANY, Ebern - Schloss Eyrichshof (Open Air)
25/07/ GERMANY, Hamburg - Stadtpark (Open-Air) | 90' min. AUD Quality: 3

27/07/ POLAND, Slupsk - Dolina Charlotty Resort (Open-Air) | 87' min. AUD Quality: 4

09/08/ DENMARK, Kalundborg - Festival (Open-Air)

10/08/ BELGIUM, Middelkerke - Festival (Open-Air)

13/08/ GERMANY, Schwerin - Freilichtbühne (Open-Air)
15/08/ GERMANY, Dresden - Junge Garde (Open Air) | 50' min. AUD Quality: 4
16/08/ GERMANY, Halle - Peissnitzinsel (Open-Air) | 89' min. AUD Quality: 3
23/08/ AUSTRIA, Linz - Hauptplatz (Free Concert) | 89' min. AUD Quality: 2 -

24/08/ AUSTRIA, Moosburg - Schlosswiese (Open-Air)
07/09/ UK, Chelmsford - Hylands House Estate (Let's Rock Essex Open-Air)
15/09/ UK, London - Hyde Park (BBC Radio 2 Festival) | 54' min. FM Quality: 5 -
19/09/ GERMANY, Ludwigsburg - MHP Arena
20/09/ SWITZERLAND, Schupfart - Flugplatz-Halle