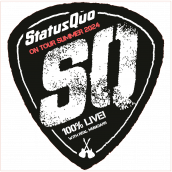 Band members: Francis Rossi, Andy Bown, John "Rhino" Edwards, Leon Cave, Richie Malone
Setlist: Caroline, Rain (Rhino voc), Little Lady (Richie voc), Softer Ride, Beginning of the End, Hold You Back, QUO Medley incl. What You're Proposin' / Down The Dustpipe / Wild Side of life / Railroad / Again and Again (Rhino voc) / Mystery Song (Richie voc), The Oriental, Cut Me some Slack, Liberty Lane, In The Army Now, Roll over lay Down, Down Down, Whatever You Want (Andy voc), Rockin'all over the World - Encore: Paper Plane.
Tour Crew: Andrew Keightley (Tour Manager), Lyane Ngan (Band Personal Assistant), Ewan Cameron (Lightning Director), Andy May (FOH Sound Engineer), Tim Franklin (Monitor Engineer), Lloyd Gilbert (Stage Manager/Guitar Tech), Andy Brook (Guitar Tech), Andy Tomkins (Keyboard / BassTech), Benny Calvert (Drum Tech).

Merchandiser: Global Merchandising Services Ltd. Management: Duroc Media Ltd.
Additional / Unusual songs performed:

Support bands: *Spider Murphy Gang (Germany), **Canned Heat (Austria, Germany),

Tour Notes:

2024
28/05/ UK, Belfast - Botanic Gardens
30/05/ UK, Glasgow - Kelvingrove Bandstand & Amphitheatre
31/05/ UK, Glasgow - Kelvingrove Bandstand & Amphitheatre
02/06/ UK, Scarborough - Open Air Theatre (with The Alarm)
04/06/ UK, Swansea - Arena
05/06/ UK, Wolverhampton - Civic Hall at the Halls
07/06/ GERMANY, Greven - Emspark Am Hallenbad

08/06/ GERMANY, Ehingen* - Marktplatz (with Spider Murphy Gang)
10/06/ GERMANY, Köln* - Tanzbrunnen

20/06/ GERMANY, Geldern* - Am Waldfreibad
21/06/ GERMANY, Steinbach/Langenbach - Naturtheater
27/06/ GERMANY, Hadamar* - Schlossplatz
30/06/ GERMANY, Rostock - IGA Park
02/07/ GERMANY, Chemnitz - Theaterplatz
03/07/ GERMANY, Leipzig - Parkbühne
05/07/ AUSTRIA, Burg Klam** - Clam Rock Festival
06/07/ AUSTRIA, Eisenstadt** - Lovely Days Festival
08/07/ GERMANY, München** - Tollwood Musik Arena im Olympiapark
12/07/ SWITZERLAND, Locarno - Piazza Grande
13/07/ GERMANY, Nürnberg* - Stadionpark
26/07/ GERMANY, Ludwigsburg* - Am Residenzschloss
27/07/ GERMANY, Oranienburg - Schloss Oranienburg
28/07/ GERMANY, Tüssling* - Schlosspark
31/07/ DENMARK, Hemmet - Bork Havn (Festival)
01/08/ DENMARK, Ringsted - Festivalplads

07/08/ SWITZERLAND, Zofingen - Heitere Festival

08/08/ SWITZERLAND, Schaffhausen - Altstadt Herrenacker (Stars in Town Festival)
11/08/ UK, Elgin - Cooper Park (MacMoray Festival)

13/08/ UK, Halifax - The Piece Hall (with The Alarm)

15/08/ UK, Margate - Dreamland Scenic Stage