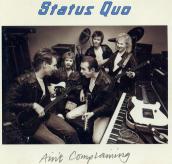 Band members: Francis Rossi, Rick Parfitt, Andy Bown, John Edwards, Jeff Rich
Main Setlist: Whatever You Want, Little Lady, Roll over lay down, Cream of the Crop, Who Gets the Love, Mystery Medley, Hold You Back, Don't drive my Car, Dirty Water, Rockin'all over the World, In The Army Now, Don't waste my Time, Roadhouse Blues Medley, Caroline, Rain, Bye Bye Johnny.
Additional songs performed: Quo jamed in the encore with tracks like Red River Rock, Matchstick Men, Junior's Wailing, Spinning Wheel Blues...etc. and Burning Bridges in the set for UK december dates.
Tour Crew: C. Axeman (Tour Manager UK), Dieter Bos (Tour Manager Germany), Alan Stirling (Production Manager), Christopher Hedge (FOH Sound Engineer), John Callis (Monitor Engineer), Derek Simpson (Monitor Engineer since Oviedo 19.11.), Steve Waite (Guitar tech), Brian West (Bass/Keyboard tech), Mick Hardgrave (Drum tech), Nick Farrant (Lightning Designer), Pete Kiggens, Nigel Holborough, Scott Duhig (Lightning Crew), Paul Ashcroft (Band PA). Merchandiser: Bravado Merchandising Ltd. Management: All Round Productions Ltd. Manager: Alan Crux, Iain Jones.
Support Bands: Honeymoon Suite (Germany & UK), Gringos Locos* (UK)
Tour Notes: No support act for Ireland and Northern Ireland. 14 shows in France and Spain were cancelled due to Andy's illness (pneumonia). In Sevilla 25.11.1988 played the band a short set without Andy!! Also the big show on the RACE AGAINST TIME day for Sport Aid at Sheffield Hillsborough Park (11.9.1988) was cancelled.
1988
10/05/ IRELAND, Cork - City Hall
11/05/ IRELAND, Tralee - Horans Theatre (Hotel)
13/05/ IRELAND, Dublin - RDS Hall | 104' min. AUD Quality: 3
14/05/ IRELAND, Galway - Leisureland
16/05/ UK, Londonderry - Templemore Leisure Centre
17/05/ UK, Belfast - Mayfield Centre | 80' min. AUD Quality: 3
18/05/ UK, Belfast - Mayfield Centre | 50' min. AUD Quality: 2 +
21/05/ GERMANY, Hamburg - Sporthalle | 101' min. AUD Quality: 3
22/05/ GERMANY, Hameln - Rattenfängerhalle
24/05/ GERMANY, Koblenz - Rhein-Mosel Halle
25/05/ GERMANY, Stuttgart - Liederhalle | 80' min. AUD Quality: 3
26/05/ GERMANY, Passau - Nibellungenhalle | 106' min. AUD Quality: 3
27/05/ GERMANY, München - Sedlmayerhalle | 107' min. AUD Quality: 3
29/05/ GERMANY, Hof - Freiheitshalle
30/05/ GERMANY, Offenbach - Stadthalle | 107' min. AUD Quality: 3 +
31/05/ GERMANY, Essen - Grugahalle | 90' min. AUD Quality: 3 -
01/06/ GERMANY, Würzburg - Carl Diem Halle
03/06/ GERMANY, St. Wendel - Stadthalle
04/06/ GERMANY, Neumarkt - Große Jurahalle
05/06/ GERMANY, Kempten - Eissporthalle | 65' min. AUD Quality: 3
07/06/ GERMANY, Augsburg - Sporthalle | 110' min. AUD Quality: 3
08/06/ GERMANY, Neckarsulm - Balei
09/06/ GERMANY, Karlsruhe - Schwarzwaldhalle
11/06/ GERMANY, Berlin - Messehalle 1 | 107' min. AUD Quality: 3 +
12/06/ GERMANY, Hannover - Niedersachsenhalle
13/06/ GERMANY, Bremen - Stadthalle
15/06/ GERMANY, Emden - Nordseehalle | 60' min. AUD Quality: 3
24/06/ UK, St. Austell - Cornwall Coliseum
25/06/ UK, St. Austell - Cornwall Coliseum
27/06/ UK, Edinburgh - Playhouse Theatre | 62' min. AUD Quality: 4 +
28/06/ UK, Edinburgh - Playhouse Theatre | 110' min. AUD Quality: 3
29/06/ UK, Whitley Bay - Ice Rink | 110' min. AUD Quality: 3
01/07/ UK, Birmingham - N.E.C. | 115' min. AUD Quality: 3
02/07/ UK, Birmingham - N.E.C. | 115' min. AUD Quality: 4
04/07/ UK, Brighton - Brighton Centre | 118' min. AUD Quality: 2 - 3
05/07/ UK, Brighton - Brighton Centre
06/07/ UK, London - Wembley Arena | 110' min. AUD Quality: 3 +
07/07/ UK, London - Wembley Arena | 60' min. FM Quality: 5 -
09/07/ SWITZERLAND, Frauenfeld - Rennbahn | 110' min. AUD Quality: 3 -
10/07/ SWITZERLAND, Leysin - Rock Festival
15/07/ ICELAND, Reikjavik - Reiöhollin
16/07/ ICELAND, Reikjavik - Reiöhollin
15/08/ RUSSIA, Moscow - Olimpiysky Sportscomplex
16/08/ RUSSIA, Moscow - Olimpiysky Sportscomplex
17/08/ RUSSIA, Moscow - Olimpiysky Sportscomplex
18/08/ RUSSIA, Moscow - Olimpiysky Sportscomplex
21/08/ RUSSIA, Moscow - Olimpiysky Sportscomplex
22/08/ RUSSIA, Moscow - Olimpiysky Sportscomplex
24/08/ RUSSIA, Moscow - Olimpiysky Sportscomplex
25/08/ RUSSIA, Moscow - Olimpiysky Sportscomplex
26/08/ RUSSIA, Moscow - Olimpiysky Sportscomplex
27/08/ RUSSIA, Moscow - Olimpiysky Sportscomplex
28/08/ RUSSIA, Moscow - Olimpiysky Sportscomplex
29/08/ RUSSIA, Moscow - Olimpiysky Sportscomplex

30/08/ RUSSIA, Moscow - Olimpiysky Sportscomplex
31/08/ RUSSIA, Moscow - Olimpiysky Sportscomplex
07/11/ AUSTRIA, Amstetten - Johann Polzhalle
08/11/ AUSTRIA, Graz - Eishalle Liebenau
10/11/ AUSTRIA, Innsbruck - Olympia Eishalle
11/11/ AUSTRIA, Dornbirn - Stadthalle
13/11/ AUSTRIA, Wien - Stadthalle
14/11/ AUSTRIA, Salzburg - Stadthalle
15/11/ AUSTRIA, Klagenfurt - Messehalle
18/11/ FRANCE, Pau - Parc des Expositions Hall Adour (support No Exqze)
19/11/ SPAIN, Oviedo - Sports Palace la Tenderina
20/11/ SPAIN, Valladolid - Festival
22/11/ SPAIN, Madrid - Sports Palace Real Madrid | 52' min. FM Quality: 4 -
23/11/ SPAIN, Valencia - Pavilion Deportiva Fuente San Luis
25/11/ SPAIN, Sevilla - Sports Palace (support No Exqze)
14/12/ UK, Paignton* - Torbay Leisure Centre
15/12/ UK, Birmingham* - N.E.C. | 107' min. AUD Quality: 3
16/12/ UK, Manchester* - GMEX Arena | 120' min. AUD Quality: 3
18/12/ UK, Newport* - Newport Centre
19/12/ UK, Bournemouth* - B.I.C.
20/12/ UK, London* - Wembley Arena | 120' min. AUD Quality: 3