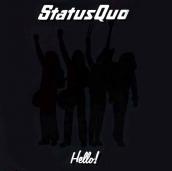 Band members: Francis Rossi, Rick Parfitt, Alan Lancaster, John Coghlan
Additional Musician: Bob Young (harmonica)
Main Setlist: Junior's Wailing, Someones Learning, In My Chair, Claudie, Roll over lay Down, Big Fat Mama, Railroad, Don't waste my time, Roadhouse Blues, Caroline, Mean Girl, Bye Bye Johnny.
Tour Crew: Bob Young (Tour Manager), Mal Kingsnorth (Sound engineer/Equipment), Paul Robert Lodge (Roadie/Stage Equipment), Keith Castley (Roadie/Equipment) Management: Gaff Management Manager: Colin Johnson and David Oddie
Support Bands: Savoy Brown* (UK dates), Sensational Alex Harvey Band** (Europe), Fleetwood Mac [bogus band] Nazareth and Badfinger (all in USA), Stryder and Epitaph (Germany).
Tour Notes: Their second US Tour failed after a couple of shows as the Fleetwood Mac in question were not the real band. So the audience walked out in disgust, demanding their money back. The show at Winnipeg Playhouse Theatre, Canada (21.2.1974) and afterwards the hole tour were cancelled (Francis and Rick got ill). So Quo did a few shows with UK rockers Nazareth and Badfinger instead and a couple of gigs alone in US Colleges and tiny clubs. Also a full tour of Italy in November 1973 and some gigs in Switzerland, Germany and France 1974 were cancelled or changed.

1973
31/08/ AUSTRALIA, Brisbane - Festival Hall (support Band Of Light)
01/09/ AUSTRALIA - Sydney - Hordern Pavilion (support Sherbet)
02/09/ AUSTRALIA, Melbourne - Festival Hall
04/09/ AUSTRALIA, Adelaide - Apollo Stadium | 45'min. AUD Quality: 3
19/09/ UK, Bristol* - Colston Hall
20/09/ UK, Cardiff* - Capitol Theatre
21/09/ UK, Bradford* - St. Georges Hall
22/09/ UK, St. Albans* - City Hall
24/09/ UK, Newcastle* - City Hall
25/09/ UK, Aberdeen* - Music Hall
27/09/ UK, Edinburgh* - Empire Theatre
28/09/ UK, Glasgow* - Apollo Centre
30/09/ UK, Croydon* - Fairfield Hall | 79' min. AUD Quality: 2
03/10/ UK, Sheffield* - City Hall
04/10/ UK, Hanley* - Stoke Victoria Hall
05/10/ UK, Manchester* - Free Trade Hall
06/10/ UK, Oxford* - New Theatre
07/10/ UK, Blackburn* - King Georges Hall
08/10/ UK, Birmingham* - Town Hall | 80' min. AUD Quality: 3 -
09/10/ UK, Leeds* - Town Hall
10/10/ UK, Southport* - Floral Hall
11/10/ UK, Liverpool* - Stadium Hall
12/10/ UK, London* - Rainbow Theatre
13/10/ UK, London* - Rainbow Theatre | 80' min. AUD Quality: 3
15/10/ UK, Portsmouth* - Guildhall
16/10/ UK, Plymouth* - Guildhall
23/10/ GERMANY, Hamm** - Zentralhalle

24/10/ GERMANY, Hamburg** - Musikhalle Großer Saal

26/10/ HOLLAND, Amsterdam** - Concertgebouw
27/10/ BELGIUM, Brussels** - Cine Marni
28/10/ FRANCE, Paris** - Olympia
30/10/ GERMANY,Heidelberg** - Aula der neuen Universität | 80'min. AUD Quality: 3
31/10/ GERMANY, Offenbach** - Stadthalle
01/11/ BELGIUM, Courtrai** - Les Halles
02/11/ GERMANY, Düsseldorf** - Rheinhallen

03/11/ GERMANY, Rüsselsheim** - Walter Kobel Halle
05/11/ SWITZERLAND, Zürich** - Volkshaus
06/11/ SWITZERLAND, Basel** - Sporthalle
16/11/ UK, London - Paris Theatre
01/12/ UK, Lancaster - The Great Hall University
09/12/ UK, Southampton - Top Rank
15/12/ UK, Farnborough - Tech Student Union (support SnakeEye)
21/12/ UK, Southend - Kursaal Ballroom
1974
22/01/ NORWAY, Oslo - Chateu Neuf | 80'min. AUD Quality: 3
24/01/ DENMARK, Copenhagen - KB Hallen

25/01/ SWEDEN, Gothenburg - Konserthuset | 20' min. AUD Quality: 1-
26/01/ SWEDEN, Stockholm - Folkets Hus
28/01/ FINLAND, Helsinki - Kulturhuset

30/01/ SWEDEN, Lund, Olympen
06/02/ USA, Los Angeles - Whiskey A Go Go (support Hot Dogs)
07/02/ USA, Los Angeles - Whiskey A Go Go (support Hot Dogs)
08/02/ USA, Los Angeles - Whiskey A Go Go (support Hot Dogs)
09/02/ USA, Los Angeles - Whiskey A Go Go
10/02/ USA, Los Angeles - Whiskey A Go Go
14/02/ USA, San Francisco - Matrix
15/02/ USA, San Francisco - Matrix
16/02/ USA, San Francisco - Matrix
18/02/ CANADA, Vancouver - PNE Garden Auditorium (support Tim Buckley)
19/02/ CANADA, Calgary - Jubilee Auditorium (support to Fleetwood "bogus" Mac and Tim Buckley)
20/02/ CANADA, Edmonton - Kinsmen Fieldhouse (support to Fleetwood "bogus" Mac and Nazareth)
22/02/ USA, Fargo - Auditorium (support to Fleetwood "bogus" Mac and Nazareth)

23/02/ USA, Detroit - Michigan Palace (support to Badfinger/The Flock)
24/02/ USA, Madision - Stock Pavillion Uni Wisconsin (support to Badfinger/ The Flock)
25/02/ USA, East Lansing - Michigan State University (support to Badfinger)
26/02/ USA, Wichita - Century II (with Nazareth)

27/02/ USA, Kansas City - Municipal Auditorium (with Nazareth)
01/03/ USA, Washington D.C. - Warner Theatre
02/03/ USA, Blacksburg - VPI Polytechnic College
03/03/ USA, Williamsburg - College William & Mary Hall (with Blue Öyster Cult, Badfinger, Nazareth)
04/03/ USA, Cleveland - The Agora (with Rory Gallagher)

05/03/ USA, Toledo - Agora Ballroom (support to Badfinger)
24/03/ UK, Stoke on Trent - Trentham Gardens (support Snafu)

30/03/ SWITZERLAND, Montreux - Maison des Congres (support Duffy)
31/03/ SWITZERLAND, Lausanne - Palais de Beaulieu (support Strider)

01/04/ SWITZERLAND, Zürich - Volkshaus
03/04/ FRANCE, Lyon - Palais d'Hiver (support Solitude)
04/04/ FRANCE, Bordeaux - Alhambra (support Solitude)
05/04/ FRANCE, Poitiers - Arenes (support Solitude)
07/04/ FRANCE, Faches Thumesnil - Salle des fetes

08/04/ SWITZERLAND, Bern - Festhalle
16/04/ GERMANY, Göttingen - Stadthalle
18/04/ GERMANY, Neumünster - Holstenhalle
19/04/ GERMANY, Hannover - Niedersachsenhalle
20/04/ GERMANY, Stuttgart - Sindelfingen Ausstellungshalle
21/04/ GERMANY, Saarbrücken - ATSV-Halle
22/04/ GERMANY, Heidelberg - Stadthalle
23/04/ GERMANY, München - Circus Krone
24/04/ GERMANY, Frankfurt - Jahrhunderthalle (support Wind & Fire)
25/04/ GERMANY, Dortmund - Westfalenhalle (postponed from 14.4.)
27/04/ GERMANY, Hamburg - Musikhalle
28/04/ GERMANY, Fallingborstel - Heidemarkhalle
29/04/ GERMANY, Oldenburg - Weser~Ems Halle
30/04/ GERMANY, Düsseldorf - Philipshalle
01/05/ SWITZERLAND, Winterthur - Eulach Halle (support Duffy)
*FACTS FROM THE ROAD:

23.10.1973 - Status Quo started their european Hello! Tour in Hamm, Germany. There's a strange newspaper review from the gig without any pics or text about the headliner, Status Quo! It seems the two reporters only saw the support band Alex Harvey Band, took the pictures and went home. In the article Mr. Manfred Brackelmann wrote it was way too loud and 600 young fans went mad...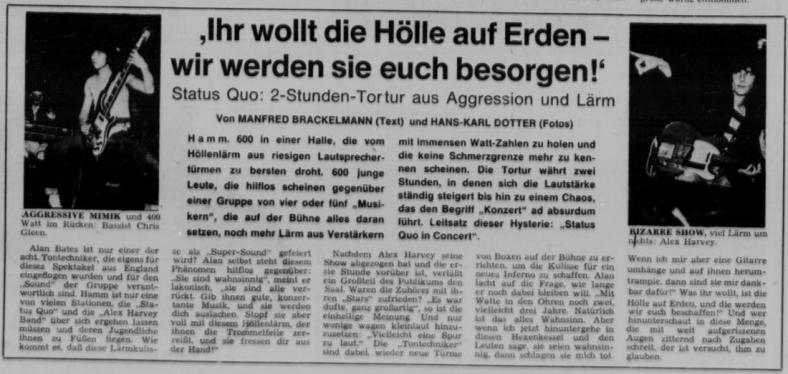 13.11.1973 - Allthough it had been reported that Quo's November/December 1973 USA Tour with Billy Preston had been cancelled. November dates were advertised at Billboard magazine.
01.12.1973 - there was a US tour schedulded for December (dates from Billboard magazine) but cancelled by short hand: 1.12. Miami Jai-Alai Fronton, 2.12. Tampa Curtis Hixon Hall, 4.12. Alabama Florence State Uni, 6.12. Cleveland Case Western Reserve Uni, 8.12. Millersville State College, 9.12. New Jersey Trenton Civic Auditorium, 12.12. - 16.12. Los Angeles Whiskey A Go Go.
Most of the US/CANADA dates from original schedule or Billboard magazine. Some of the dates were re-scheduled due to the false "FLEETWOOD MAC" debacle althrough research is ongoing recarding what actual gigs were played with the "Bogus Mac". The following dates were also scheduled at Billboard magazines in 1974: 22.2. Fargo Civic Auditorium, 26.2. Wichita - Century II, 6.3. St. Louis Ambassador Theatre, 8.3. Delphi NY State University, 9.3. Burlington University of Vermont, 12.3. North Hampton Pa. Roxy Theatre, 13.3. Hamburg Pa. Fieldhouse, 15.3. Hollywood Fla. Sportatarium. Not more than 2 songs into the set at the Edmonton Kinsmen Fieldhouse 20.2.1974, the crowd started to boo and heckle the "Bogus Mac" band (later becoming Stretch with Jeff Rich on drums). Fans remember bottles being thrown on stage! In addition to these problems, rumours said - both Francis Rossi and Rick Parfitt "took ill" and were having to soldier on as best they could. Given the circumstances, Quo had no option but to finally out of the US tour only after the first batch of dates (scheduled were six weeks from coast to coast) and returned earlier home to the UK. At least 5 shows were at the famous Whiskey A Go Go Club in LA with the band being heavily promoted by A&M Records America for the HELLO album. A&M publicity pics and info packs were available on these dates and two appeared on Ebay 08/2007. There appeared also a ticket on Ebay 2015 for the gig at Northampton Roxy Theatre, USA 12.3.1974. I'm not sure, the show wasn't cancelled by short hand. The gig was sponsored by AM radio Station WSAN (Tickets were only $ 2.00) - so the research is still going on...!

18.02.1974 - Nazareth was supposed to open the gig at Vancouver P.N.E. Gardens, but the crowd was told they had problems at the border, so Tim Buckley was drafted at the last minute. Thanks to Paul Cummings for the info.
19.02.1974 - Fleetwood Mac's manager Clifford Davis had the rights to the name 'Fleetwood Mac' and didn't want to let a little thing like having no original band members in the lineup prevent Fleetwood Mac from touring. As a result, he recruited members of a band called Legs (with whom he'd released one single) and got them touring in 1974 as Fleetwood Mac. So that's a fake Fleetwood Mac touring under the banner of the real Fleetwood Mac. Genius.Fans were told that Welch and John McVie had left the band whilst Christine McVie and Mick Fleetwood would join along at a later date. For what it's worth, even Legs thought that Mick would be turning up at some point. So off they went... But they didn't really get very far as the band's regular road manager John Courage realised that the line up was a complete lie. Rather than go to the press, he decided he'd do the best thing he could and hid Fleetwood Mac's equipment so it couldn't be used, thus shortening the tour considerably.
31.03.1974 - The Winterthur gig at the Eulach Halle was postponed to May 1st 1974 because the band had another promotional TV appearance to do.
15.04.1974 - Quo's first gig of their BRAVO presented German tour in Lennestadt Sauerlandhalle was cancelled by short notice because of constant power outages.
19.04.1974 - Status Quo's live performances of Big Fat Mama was broadcasted on the NBC TV show "Burt Sugarman's The Midnight Special". The band recorded their part during February 1974 in Burbank, California,USA at the NBC Studios and soundchecked also Roll Over Lay Down and Don't Waste My Time. Only Big fat Mama was broadcasted and never seen outside the US until mid April 2023. The clip was uploaded to their official YouTube channel and got 25000 views a few days later. Here's the link to the clip: https://youtu.be/JBJTSFnOYA8