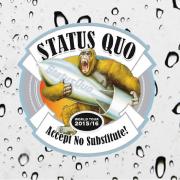 Band members: Francis Rossi, Rick Parfitt, Andy Bown, John Edwards, Leon Cave
Additional Musicians: Freddie Edwards+ / Richie Malone# (both replacements for Rick on rhythm guitar)
Main Setlist: CCaroline, The Wanderer, Somethin' Bout You Baby I Like, Rain, Little Lady, Burning Bridges, Beginning of the End, QUO Medley incl. What You're Proposin' / Down The Dustpipe / Wild Side of life / Railroad, Big Fat Mama, The Oriental, Creepin' Up On You, Gerdundula, In The Army Now, Leon Drum Solo, Roll over lay Down, Down Down, Whatever You Want, Rockin'all over the World, Paper Plane, Junior's Wailing, Rock and Roll Music/Bye Bye Johnny.
Tour Crew: Glen Smith (Tour Manager), Lyane Ngan (Band Personal Assistant), Ewan Cameron (Lightning Director), Andy May (FOH Sound Engineer), Tim Franklin (Monitor Engineer), Lloyd Gilbert (Guitar Tech), Andy Tomkins (Keyboard / Bass Tech), Lance Miles (Drum Tech) Merchandiser: Global Merchandising Services Ltd. Management: DurocMedia Ltd.
Manager: Simon Porter.
Support Bands: SQY Rocking Team (only Tilburg), *Walkway (only Blackpool and Manchester) and Wilko Johnson & Band (UK Winter Tour 2015)
Additional / Unusual songs performed: since Windermere 18.6.2016 without Rick Parfitt - Quo changed the setlist a bit: Hold You Back, Don't Waste My Time, The Wanderer, Paper Plane, Medley (co-lead vocals by Andy/Rhino), Creeping up on you (lead vocals by Rhino), Whatever You Want (lead vocals by Andy Bown), Rock'n Roll Music (lead vocals by Rhino).
Tour Notes: Live Here Now are recording the shows at Manchester's Palace Theatre and London's 02, for release on CD and mp3 downloads. You can order them now from https://statusquo.pmstores.co or www.liveherenow.com. After Rick's heart attack it appears that Freddie Edwards, Rhino's son and irish guitarist Richie Malone# is taking over Ricks position on rhythm guitar for the rest of the summer gigs.
Ix
2015
26/11/ HOLLAND, Tilburg - 013 | 99' min. AUD Quality: 4
28/11/ UK, Blackpool - Opera House* | 103' min. AUD Quality: 3
29/11/ UK, Manchester - Palace Theatre* | 103' min. OB Quality: 5
01/12/ UK, Liverpool - Echo Two Arena | 48' min. AUD Quality: 3 -4
02/12/ UK, Aberdeen - AECC
04/12/ UK, Glasgow - Hydro Arena
05/12/ UK, Birmingham - Barclaycard Arena | 65' min. AUD Quality: 3
07/12/ UK, Sheffield - Motorpoint Arena | 100' min. AUD Quality: 1
08/12/ UK, Cardiff - Motorpoint Arena | 54' min. AUD Quality: 3
10/12/ UK, Bournemouth - BIC | 103' min. AUD Quality: 3+

11/12/ UK, Brighton - Centre | 54' min. AUD Quality: 2-3

13/12/ UK, London - O2 Arena | 104' min. OB Quality: 5
2016
28/04/ UK, Blackpool - Empress Ballroom | 103' min. AUD Quality: 3
01/05/ POLAND, Wroclaw - Hala Stulecia Pergola | 84' min. AUD Quality: 2

21/05/ UK, Prenton - Stadium Tranmere Rovers FC (Cherity show for Wirral Hospice St. John's)
26/05/ GERMANY, Herborn - Festzelt | 33' min. AUD Quality: 3
28/05/ HOLLAND, Pesse - Music Weekend Festival | 90' min. AUD Quality: 3
29/05/ UK, Chinnor - Kingston House Park Estate (with Wilko Johnson)
09/06/ UK, Isle of Wight - Festival | 53' min. AUD Quality: 3

14/06/ TURKEY, Antalya - Expo Plaza | 24' min. AUD Quality: 3 +

18/06/ UK, Windermere+ - Bowness on Windermere Cumbria
25/06/ NORWAY, Steinkjer+ - Festival
30/06/ DENMARK, Horsens+ - I Lunden
02/07/ SWEDEN, Gavle+ - Furuviksparken Stora Scen | 48' min. AUD Quality: 3 -

03/07/ SWEDEN, Stockholm+ - Tivoli Gröna Lund | 61' min. AUD Quality: 4

09/07/ UK, Scarborough+ - Open Air Theatre | 39' min. AUD Quality: 3 - 4

13/07/ UK, Rochester/Kent+ - Rochester Castle | 26' min. AUD Quality: 2 -

16/07/ FRANCE, Saint Julien en Genevois+ - Festival | 77' min. AUD Quality: 3 +

20/07/ BELGIUM, Leuven# - Oude Markt | 68' min. AUD Quality: 3 - 4
23/07/ UK, Ingliston# - Royal Highland Centre (with Big Country) | 45' min. AUD Quality: 3
29/07/ CROATIA, Pula+ - Arena | 87' min. AUD Quality: 3 - 4
30/07/ AUSTRIA, Linz+ - Domplatz | 22' min. AUD Quality: 3

04/08/ GERMANY, Biberach+ - Marktplatz
05/08/ HOLLAND, Steenwijkerwold+ - Dicky Woodstock Festival | 43' min. AUD Quality: 3
06/08/ UK, Monmouthshire+ - Caldicot Castle
11/08/ SWITZERLAND, Schaffhausen+ - Stars In Town (with Marillion) | 48' min. AUD Quality: 3
12/08/ SWITZERLAND, Erlach am Bielersee+ - Lakeland Festival | 72' min. AUD Quality: 4

13/08/ AUSTRIA, Rankweil+ - Am Marktplatz
17/08/ SPAIN, Palafrugell# - Girona Cap Roig Festival
19/08/ SPAIN, Marbella# - Starlite | 25' min. AUD Quality: 3
20/08/ SPAIN, Tarragona# - Tarraco Arena Plaza | 60' min. AUD Quality: 3 - 4

21/08/ SPAIN, Alicante# - Plaza de Toros | 94' min. AUD Quality: 4
26/08/ UK, Taunton# - Somerset Vivary Park (with Steve Harley & Cockney Rebel)
27/08/ UK, Llanelli# - Parc Y Scarlets Wales

28/08/ UK, Overton# - Laverstoke Park Farm
*FACTS FROM THE ROAD:
26.11.2015 - The "Accept No Substitutes" tour kicked off at Tilburg, the Netherland. This one-night only appearance outside the UK gave the band a chance to get a feel for the new set they'd been rehearsing during the previous ten days. "New" in the set are The Wanderer, Burning Bridges and GerdundUla.
15.06.2016 - In the early hours of Wednesday 15 June 2016 following the Status Quo gig at Expo 2016 in Antalya, Turkey, Rick Parfitt suffered from a heart attack.
He is being treated in a private hospital in Antalya,Turkey and whilst his condition is serious, the band had already agreed to perform at the Rock On Windermere charity show on Saturday 18th June to raise funds for the Cumbria Flood Appeal. Rick and the band did not want to cancel this important show, and so it will go ahead with Freddie Edwards, the son of Quo bassist John 'Rhino' Edwards, stepping in for Rick. It is likely that Freddie will stay with the band to allow them to honour their commitments and not let down the fans.
08.07.2016 - Press release: Simon Porter, the band's manager said, "Rick is now making an excellent and steady recovery from an extremely serious life threatening situation following a Quo show in Turkey last month. He has now had a defibrillator fitted into his chest in order to regulate any future heart issues and has left hospital in order to recuperate with family and friends. Although I am now happy to report that his medical team anticipate that Rick
will make a full recovery, it will likely be a long and ongoing process. To this end, Rick has given his full blessing for the band to continue with the current summer touring schedule utilizing guest guitarists. Freddie Edwards, son of Quo bass player John 'Rhino' Edwards has successfully stepped in for Rick over recent gigs and will now continue for the majority of Quo's shows during July and August, the current exceptions being gigs in Leuven, Belgium, Edinburgh, and the seven shows in Spain and UK where Irish guitarist Richie Malone will step in."
Rick's family have said, "We would like to thank everyone including the fans for their messages of support during the last weeks and especially the kindness and care of all the staff at the Royal Brompton." Both the band and Rick would like to thank the fans for their continued understanding and support and would like to stress that he will return to the fold as soon as possible, but in Rick's best interests any return will not be rushed until he makes a full and absolute recovery.
20.7.2016 - The "Accept No Substitute" Tour this summer is something really special in Quo's glory tour history. With Rick, Freddie Edwards and Richie Malone performed 3 different guitarists. The first gig with Richie was in Leuven, Belgium. Richie Malone normally played with his irish band RAID. On YouTube you'll find some clips with Quo and Richie from Leuven.
- First show with Status Quo's new drummer Leon Cave at Frankfurts Wolkenkratzer Festival, Germany.
h September, has been cancelled. The band hoping that it can be re-scheduled at some point during 2015.