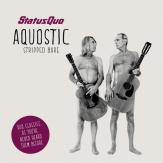 Band members: Francis Rossi, Rick Parfitt, Andy Bown, John Edwards, Leon Cave
Special Guest Musicians: Geraint Watkins - Accordion, Piano, Martin Ditcham - Percussions, Freddie Edwards - guitars, Amy Smith - female vocals, Hannah Rickard - female vocals, country violin,
Strings: Lucy Wilkins - Violin, Howard Gott - Violin, Natalia Bonner - Violin, Alison Dods - Violin, Sophie Sirota - Viola, Sarah Wilson - Cello.
Main Setlist: And It's Better Now, Break The Rules, Again And Again, Mystery Song/Little Lady, Rock 'n' Roll, Caroline, What You're Proposing, Softer Ride, Down Down, Pictures Of Matchstick Men, Down The Dustpipe, All The Reasons, Reasons For Living, Rolling Home, Don't Drive My Car, Claudie, Rain, Marguerita Time, Nanana, Whatever You Want, Rockin' All Over The World, Rock 'Til You Drop, Burning Bridges,

Tour Crew: Glen Smith (Tour Manager), Lyane Ngan (Band Personal Assistant), Ewan Cameron (Lightning Director), Andy May (FOH Sound Engineer), Tim Franklin (Monitor Engineer), Lloyd Gilbert (Guitar Tech), Andy Tomkins (Keyboard / Bass Tech), Lance Miles (Drum Tech), Danny Stead (Strings Engineer), Musicial Director: Mike Paxman. Merchandiser: Global Merchandising Services Ltd. Management: DurocMedia Ltd. Manager: Simon Porter.
Tour Notes: Status Quo's first ever full live acoustic tour!
x
2014
21/10/ UK, London - The Roundhouse (Private Family & Friends preview show)

22/10/ UK, London - The Roundhouse (BBC Radio 2 in concert) | 86' min. FM Quality: 5

24/10/ GERMANY, Stuttgart - Schleyerhalle (SWR1 Radio) | 60' min. FM Quality: 5

103' min. AUD Quality: 3+
a
2015
20/04/ UK, Glasgow - Royal Concert Hall | 90' min. AUD Quality: 4

21/04/ UK, Sheffield - City Hall
23/04/ UK, Wolverhampton - Civic Hall | 92'min. AUD Quality: 3 +

24/04/ UK, Portsmouth - Guildhall
26/04/ UK, London - Hammersmith Apollo
30/04/ UK, London - Royal Albert Hall | 92' min. AUD Quality: 4
*FACTS FROM THE ROAD:
22.10.2014 - On Wednesday 22nd October BBC Radio 2 present a unique performance from one of the globe's premier rock acts. For the first time ever, legendary rockers Status Quo will put down their famous electric guitars and perform acoustically with female singers and strings .This one-off show will take place at The Roundhouse in Camden, London and will be broadcast live on Radio 2 from 8pm.