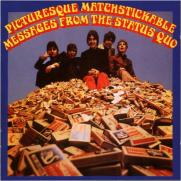 Band members: Mike Francis Rossi (vocals,guitars), Richard Parfitt (vocals, rhythm guitar), Alan Lancaster (vocals, bass), John Coghlan (drums), Roy Lynes (keyboards).
At this stage of their career (end of 1967) the band was still the backing band for Madeline Bell (signed until February 1968) and supported Gene Pitney* and Scott Walker** later on their UK tours in the spring of 1968 or the Small Faces*** in early 1969 for their German / Austrian tour.
Setlist: mostly cover versions and songs from their debut album.
Pictures Of Matchstick Men, Ice In The Sun, Lucille, Paradise flat, Love me two times, Lucille, Lucy In The Sky with Diamonds, Gloria, LSD, Hold On, You keep me hanging on, Gimme some lovin', Bloodhound, Black Veils of Melancholy, When My Mind Is Not live, Hush, ...

Tour notes: According to an article published in December 1968 in NME, the group were set to play several gigs in some VERY far off places during 1969 like Argentina, Brazil, Mexico, USA, Australia and New Zealand. A' Pye British Invasion' tour of the USA in March 1969 got cancelled right at the last minute.


1967
13/12/ UK, Eltham - The Welcome Inn (support for Episode Six)
1968
14/01/ UK, Coventry - Butt's College
24/01/ UK, Manchester - New Century Hall
12/02/ UK, Manchester - Playhouse Theatre
13/02/ UK, London - BBC Studio 2 Aeolian Hall
14/02/ UK, London - Empire Rooms (Music Echo's Valentine's Festival)
16/02/ UK, Coventry - Butt's College
17/02/ UK, Sheffield - City College
18/02/ UK, London - Golder's Green Hippodrome
19/02/ UK, Chesham - Co-op Hall
20/02/ UK, Ruislip - Townhall
23/02/ UK, Glasgow - University
24/02/ UK, Dundee - University
25/02/ UK, Dunfermline - Kinema Ballroom (with The Falkens and The Shadettes)
25/02/ UK, New Cumnock - Community Centre (late night show support The In-Set)
26/02/ UK, East Kilbride - Olympia Ballroom
27/02/ UK, Portsmouth - Locarno Ballroom

28/02/ UK, Norwich - Industrial Club
03/03/ UK, Nottingham - Rowing Club
04/03/ UK, London - Greenwich Town Hall
06/03/ UK, Sunderland - The Bay Hotel
07/03/ UK, Eastbourne - Winter Gardens (support Renaissance Fayre)
08/03/ UK, Nottingham - Baths Hall
09/03/ UK, Twickenham - St. Mary's College (support Candy Bus)
10/03/ UK, Stoke - Golden Torch
11/03/ UK, Purley - Orchid Ballroom
14/03/ UK, Newcastle - Club A GoGo
15/03/ UK, Morecambe - Central Pier (support Atlantics)
16/03/ UK, Abergavenny - Town Hall Ballroom (support Midnight City Soul Band)
18/03/ UK, Bath - Pavilion
23/03/ UK, Dunstable - California Ballroom
27/03/ UK, Workington - Banklands Youth Club
28/03/ UK, Worthing - Pier
05/04/ UK, Lewisham - Odeon Theatre*
06/04/ UK, Hanley - Gaumont Theatre*
07/04/ UK, Coventry - Coventry Theatre*
09/04/ UK, Glasgow - Odeon Theatre*
10/04/ UK, Manchester - Odeon Theatre*
11/04/ UK, Wolverhampton - Gaumont Theatre*
12/04/ UK, Leeds - Odeon Theatre*
13/04/ UK, Blackpool - ABC Theatre*
14/04/ UK, Blackpool - ABC Theatre*
15/04/ UK, Derby - Gaumont Theatre*
17/04/ UK, Cardiff - Capitol Theatre*
18/04/ UK, Bristol - Colston Hall*
19/04/ UK, London - Granada Theatre*
20/04/ UK, Bournemouth - Winter Gardens*
21/04/ UK, Leicester - de Montfort Hall*
23/04/ UK, Gloucester - ABC Theatre*
24/04/ UK, Plymouth - Guildhall*
25/04/ UK, Birmingham - Odeon Theatre* (2 shows)
26/04/ UK, Sutton, Theatre

27/04/ UK, London Finsbury Park - Astoria (with Georgie Fame & The Blue Flames)
28/04/ UK, Liverpool - Empire Theatre*
30/04/ UK, Bedford - Granada Theatre*
01/05/ UK, Peterborough - ABC Theatre*
02/05/ UK, Stockton On Tees - ABC Theatre*
03/05/ UK, Sheffield - City Hall*
04/05/ UK, Newcastle - City Hall*
05/05/ UK, London - Hammersmith Odeon*
07/05/ UK, Walthamstow - Granada Theatre*
09/05/ UK, Farnborough - Town Hall
10/05/ UK, Cambridge - Station Street Barn
11/05/ UK, Nantwich - Civic Hall
11/05/ UK, Chester - Clockwork Orange (late night show)
12/05/ UK, London - Wembley Arena (New Musical Express Poll Winners Show)
16/05/ UK, Hull - Skyline Ballroom
17/05/ UK, London - Tottenham Royal Ballroom
18/05/ UK, Margate - Dreamland Ballroom (support The Atlantic Rollers)

19/05/ UK, London - Piccadilly Hatchetts Playground
25/05/ UK, Narberth - Queen's Hall (support The Free Expression)
26/05/ UK, Tamworth - Sports & Social Club (support The Crawdads)
05/06/ UK, Wolverhampton - Lafayette Club
06/06/ UK, Bristol - Locarno
08/06/ UK, Walsall - Town Hall (support Strange Days)
09/06/ UK, Oxford - Botley Elms Court
11/06/ BELGIUM, Knokke - Casino de Knokke
21/06/ UK, Durham - University (support to The Who)
23/06/ UK, Nelson - Imperial Ballroom (support Soundcasters)

27/06/ UK, Liverpool - Cavern Club (support The Iveys)

29/06/ UK, Coventry - Metrix Hall
03/07/ UK, Minehead - Regal Ballroom (with Howard Stephen Shape)
05/07/ UK, York - Railway Institute (with Fairport Convention, Alexis Korner)
07/07/ SWITZERLAND, Neuchátel - Salle de la Paix
13/07/ UK, Maidstone/Kent - Royal Star Hotel (with Poor Boys Soul/Mood Reaction)

14/07/ UK, Redcar - Coatham Hotel Windsor Ballroom
17/08/ UK, Carmarthen - St. Peter's Civic Hall (support The 7th Dimension See Saw Band & The Bond)
23/08/ HOLLAND, Bilthoven - Wijkgebouw Tuindorp
24/08/ HOLLAND, Weesp - P.O.C.
25/08/ HOLLAND, Hengelo - Het Beetshuis (2pm show)
25/08/ HOLLAND, Hazerswoude - Youthclub Zwaantje (8pm show)
30/08/ BELGIUM, Brussels - Pop Festival

31/08/ BELGIUM, Kasterlee - Kastival'68 Festival (with Pink Floyd..)
03/09/ UK, Manchester - Playhouse Theatre

08/09/ BELGIUM, Chatalet - Festival (support to Pink Floyd)
20/09/ UK, Braintree - Corn Exchange (support The Mooche)

23/09/ UK, London - Playhouse Theatre
03/10/ UK, Bradford - University Union (with Chicken Shack)
04/10/ UK, London - Finsbury Park Astoria**
05/10/ UK, Manchester - Odeon**
06/10/ UK, Bradford - Gaumont**
08/10/ UK, Glasgow - University SU**
09/10/ UK, Edinburgh - ABC**
10/10/ UK, Newcastle - City Hall**
11/10/ UK, Birmingham - Odeon**
12/10/ UK, Redruth - Flamingo Club (support Blood and Sand)
12/10/ UK, Bournemouth Pavillion (with The Rubber Soul)

17/10/ UK, Dundee - University
18/10/ UK, Scarborough - Scene 2 Club
19/10/ UK, Birmingham - Oldhill Plaza
23/10/ UK, Herne Bay - Chez Laurie Club
24/10/ UK, Herne Bay - Chez Laurie Club (2nd night)
25/10/ UK, Dunstable - Californian Ballroom
26/10/ UK, Manchester - New Century Hall (support Angel Pavement)
29/10/ UK, London - Paris Theatre (BBC Session)
01/11/ UK, Norwich - Industrial Club (support The Transparent Rainbow)

02/11/ UK, Margate - Dreamland Ballroom
04/11/ UK, Rugby - Town Hall (support the Cataracts)
06/11/ UK, St. Albans - City Hall (support Octopus)
07/11/ UK, Bristol - Location Ballroom
08/11/ UK, Corby - Festival Hall
09/11/ UK, Leyton - Town Baths (support World Of Oz)
10/11/ UK, Woodbridge - Bentwaters USAAF Base RAFA Club
17/11/ UK, Birmingham - Cedar Club
22/11/ UK, Pontypool - ICI Fibres Club
23/11/ UK, Rotherham - Rawmarsh Baths Hall
30/11/ UK, Devizes - Corn Exchange (support Heaven)
05/12/ UK, Boscombe - Royal Ballroom (support to Pink Floyd)
06/12/ UK, London - International Hall
07/12/ UK, Ryde - Royal York Hotel
11/12/ UK, Devizes - Town Hall
12/12/ UK, Redruth - Flamingo Club
13/12/ UK, Pontypridd - Municipal Hall
14/12/ UK, Weston Super Mare - Winter Gardens
16/12/ UK, Sunderland - Annabella's Club
17/12/ UK, Sunderland - Annabella's Club
20/12/ UK, Boston - Gilderdrome Starlight Ballroom
21/12/ UK, Boston - Gilderdrome Starlight Ballroom
27/12/ UK, Scarborough - Scene 2 Club
28/12/ UK, Scarborough - Scene 2 Club
31/12/ UK, Norwich - Gala Ballroom
1969

01/01/ UK, Doncaster - Top Rank Suite
07/01/ UK, Richmond - The Castle
08/01/ UK, Hemel Hempstead - Pavilion
09/01/ UK, Portsmouth - Student's Union St. Paul's College
11/01/ GERMANY, München - Kongreßsaal Deutsches Museum***
12/01/ AUSTRIA, Wien - Konzerthaus*** | 30'min. AUD Quality: 3
14/01/ GERMANY, Hamburg - Musikhalle***
15/01/ GERMANY, Hannover - Niedersachsenhalle***
17/01/ GERMANY, Berlin - Deutschlandhalle***
24/01/ UK, London - Lyceum (Midnight Rave with Joe Cocker, Spencer Davis Group)
30/01/ UK, Manchester - New Century Hall (BBC Live Session)
01/02/ UK, St. Leonards - Cobweb Club
04/02/ UK, Wolverhampton - Civic Hall
05/02/ UK, Birmingham - Erdington Charles Russel Hall
07/02/ UK, Ross-on Wye - Top Spot Ballroom
08/02/ UK, Norwich - Gala Ballroom
20/02/ UK, London - Royal Albert Hall (festival with The Move, Spencer Davis Group and more)
22/02/ UK, Waddington - RAF Raven Club
04/03/ UK, Halesowen - Old Picture Place
08/03/ UK, Plymouth - College of Technology
15/03/ UK, Shrewbury - Music Hall (support Fluffy)
22/03/ UK, Prestatyn - Royal Lido
05/04/ UK, Banbury - Winter Gardens
12/04/ UK, Yardley - Swan Hotel
13/04/ UK, London - Wembley Empire Pool (Daily Express Record Star show)
19/04/ UK, Bangor - University PJ Hall
26/04/ UK, Ryde - Royal York Hotel
02/05/ UK, Bristol - University
03/05/ UK, Harwich - Town Hall
05/05/ UK, Bishop Stortford - Rhodes Centre
09/05/ UK, Abigdon - Rush Common House (support Fire)
10/05/ UK, Nottingham - Football Ground (with Fleetwood Mac, Pink Floyd)
16/05/ UK, Hereford - Park Hall
17/05/ UK, Bury - Territorial Army Drill Hall
29/05/ UK, Redruth - Flamingo Club
09/06/ UK, Ferndale - Workmen's Hall (support Strawberry Dust)

12/06/ UK, Helston - Coldrose Seahawk Club
13/06/ UK, Exeter - Tiffany's (support Inside Outside)
14/06/ UK, Reading/Woodley - Bulmerish College
15/06/ UK, Bristol - Broadmead Top Rank Suite (support Tony Lester Sound)
20/06/ UK, Bishops Stortford - Technical College
21/06/ UK, Maidstone - College Of Art
24/06/ UK, Oxford - Merton College
28/06/ UK, Swindon - Car Park (with The Equals, Nite People)
01/07/ UK, Ferndale - Workmen's Hall (support Strawberry Dust)

05/07/ UK, Wishaw - Belfry Hotel
12/07/ UK, London - Carnaby Street (RTL Festival with Tremeloes, Love Affair...)
12/07/ UK, Nottingham - Racecourse (12 Hour charity Concert with Yes, Nice..)
13/07/ UK, London - Whitehall Theatre (showtime: 11.00h RTL Non Stop Concert)
13/07/ UK, London - Wembley Stadium (with Love Affair, Yes...)
28/07/ UK, Ringwood - Regal Cinema (support Fascinations)
01/08/ UK, Farnborough - Assembly Hall
22/08/ UK, Hereford -
30/08/ UK, Haverfordwest - Masonic Ballroom
05/09/ UK, Plymouth - Top Rank Suite
13/09/ UK, Margate - Dreamland Ballroom
22/09/ UK, Cardiff - College of Education