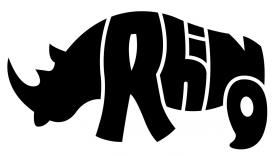 RHINO'S REVENGE
Line-Up 2000/01: John Edwards (voc,b), Charlie Morgan (dr), Mike Casswell (g), Dave Goodes (g)
2015 Line-Up: John Edwards (voc,b, g), Freddie Edwards (g), Max Edwards (dr), Matthew Starritt (g,harp,voc)
2017 Line-Up: John Edwards (voc,b,g), Matthew Starritt (g,harp,voc), Jim Kirkpatrick (g), Russell Gilbrook (dr), Jo Webb+ (g)
2018/19 Line-Up: John Edwards (voc,b,g), Jim Kirkpatrick+ (g), Richard Newman (drums), Craig Joiner (g), Freddie Edwards° (g), Russell Taylor# (g)

Setlist 2015: One Note Blues, Secretary, Cougar, Busy Doin' Nothin', Tomorrow is Today, Two Way Traffic, Gravy Train, Famous, Obstruction Day, My Name Is Stan, Bellavista Man, Republican, Dust To Gold, Bad News, Spend Spend Spend, Jam Side Down.
Additional songs performed 2015: Jungle Love, The One & Only and Paper Plane.
Setlist 2017/18: One Note blues, Republican, My Name Is Stan, Bellavista Man, Two Way Traffic, Gravy Train, Busy Doin' Nothing, Get out Of Denver, Obstruction Day, Jungle Love, Lucinda, Mine all Mine, Secretary, Bad News, Spend Spend Spend, Paper Plane, Jam Side Down.
Setlist 2019: Two Way Traffic, Cougar, Gravy Train, Spacemaker, Secretary, Busy Doing Nothing, Back In The USSR, One Note Blues, Belavista Man, Mony Mony, Jungle Love, For Your Accuse Me, Jam Side Down, Spend Spend Spend, Bad News, Never Too Old To Rock'n Roll, Ob LaDi Ob La Da, Mine All Mine, My Name Is Stan, Get Out Of Denver

Additional songs performed: New New New, Famous, I'm a Rocker, The Stranger One, Old Time Rock and Roll, Lucille, Roll Over Beethoven, Once Bitten Twice Shy, I Saw Her Standing There, Born To Be Wild, The Stealer, You Really Got Me and Never Too Old (new Quo Track), Shady Lady, Paper Plane.

Tour Notes: *support for Hayseed Dixie on 5 dates of their UK 2015 Tour. UK shows with Eddie and the hot Rods in February 2016 and rescheduled gigs in Europe (Germany, France and Holland) in April 2016 were cancelled due to Rhinos illness and Status Quo commitments. Plans for UK shows by Rhino's Revenge have been shelved to allow Rhino a full recovery from his recent illness. The 2017 gigs featured FM Bandmember Jim Kirkpatrick on lead guitar and Uriah Heep's brilliant drummer Russell Gilbrook.

On the 2018/19 Tours Rhino supports SAVE THE RHINO INTERNATIONAL and will make a donation to it from profits of the tour. In addition, the merchandise stand will be hosting collection buckets at all shows, with contributions passed directly to SAVE THE RHINO INTERNATIONAL. At the Duisburg gig guitarist Craig Joiner collapsed on stage (suspected a heart attack) and the show were stopped. So Freddie Edwards flew in from London the other day to play the last gig on their tour at Rotenburg an der Fulda, Germany.

2000
03/09/ UK, London - The Peel
05/09/ UK, London - 100Club (Album Launch Party)
2001
05/05/ UK, London - Borderline
06/05/ UK, London - The Limelight
2015
06/03/ UK, London - 100 Club (Album Launch Party) | 72'min. AUD Quality: 4
07/03/ UK, Paisley - The Bungalow
10/03/ UK, Milton Keynes Bowl - The Craufurd Arms
14/03/ UK, Wakefield - Warehouse 23
15/03/ UK, Kendal - Bootleggers Bar
19/03/ UK, Stockton - The Georgian Theatre
20/03/ UK, Bolton - The Railway

21/03/ UK, Sheffield - The Corporation
22/03/ UK, Winchester - The Railway Inn
26/03/ GERMANY, Freiburg - Waldsee
27/03/ GERMANY, Duisburg - Parkhaus
28/03/ HOLLAND, Frieschepalen - Ma Kelly's Cafe
30/03/ FRANCE, Paris - La Boule Noire
31/03/ HOLLAND, Haarlem - Patronaat Cafe
02/04/ HOLLAND, Beverwijk - Broer en Zus
03/04/ HOLLAND, Deest - T'Zwaantje
05/04/ UK, Tring - Court Theatre
27/08/ UK, Brixton - The Windmill
20/10/ UK, Bury St. Edmunds - The Apex*
22/10/ UK, Southampton - The Brook*
23/10/ UK, London - O2 Brooklyn Bowl*
24/10/ UK, Frome - The Cheese & Grain*
25/10/ UK, Turnbridge Wells - Assembly Hall*
2016
12/03/ UK, London - Kensington Olympia (London Bass Guitar Show 2016)
20
2017
05/05/ UK, Evesham - The Iron Road+ (with Jo Webb on guitar)
12/05/ UK, London - 100 Club
13/05/ UK, Horsham - Holbrook Club | 80'min. AUD Quality: 4

18/05/ UK, Kendal - Bootleggers
20/05/ UK, Glasgow - Ivory Blacks
23/05/ HOLLAND, Frieschepalen - Ma Kelly's
26/05/ GERMANY, Duisburg - Das Parkhaus
11/08/ GERMANY, Dautphe - Hausplatz (Open-Air)
2018
16/01/ UK, London - The Water Rats+

17/01/ UK, London - Shepherd's Bush+ (support to King King)
18/01/ UK, Birmingham - Town Hall+ (support to King King)
20/01/ UK, Bath - Forum+ (support to King King)
31/03/ UK, Horsham - The Holbrook Club+
06/04/ UK, Evesham - The Iron Road+
07/04/ UK, Stockport - Bluefunk Rhythm & Blues Club+
13/04/ UK, London - Half Moon+° (guest: Freddie Edwards)

14/04/ UK, Coalville - Vic Biker's Pub+
15/04/ UK, Mansfield - The Diamond+ | 83'min. AUD Quality: 3

19/04/ UK, Kendal - Bootleggers+
20/04/ UK, Keighley - Octagon Live
21/04/ UK, Kinross - Backstage Green Hotel
22/04/ UK, Stoke - Eleven
25/04/ UK, Dover - The Priory
26/04/ FRANCE, Paris - La Boule Noire
27/04/ GERMANY, Duisburg - Das Parkhaus
28/04/ GERMANY, Rotenburg an der Fulda° - Bürgersaal am Bahnhof
05/05/ IRELAND, Port Laois - Kavanagh's Bar# (guest: Richie Malone)

07/12/ UK, Dover - The Priory+
08/12/ UK, Winchester - The Railway Inn+
09/12/ UK, Kingston/London - The Ram Jam Club+
13/12/ UK, Stoke On Trent - Eleven+
14/12/ UK, Troon - Concert Hall+
15/12/ UK, Stockport - Bluefunk Rhythm & Blues Club+
16/12/ UK, Chesterfield - Real Time Live+
2019
20/01/ UK, Skegness - Butlins Resort+ (UK Rock & Blues Festival)
26/01/ UK, Minehead - Butlins+ (Giant of Rock Festival)
24/02/ UK, Birmingham - New Bingley Hall+ (The Guitar Show 2019)

19/04/ FRANCE, Paris - La Boule Noire
21/04/ FRANCE, Lyon - Rock'n Eat
27/04/ AUSTRIA, Graz - American Roadhouse+
03/05/ UK,Dover - The Priory+
04/05/ UK, Winchester - The Railway Inn+
05/05/ UK, Chesterfield - Real Time Live+ | 95'min. AUD Quality: 3 +
09/05/ UK, Kendal - Bootleggers+
10/05/ UK, Kinross - Backstage at the Green Hotel+
11/05/ UK, Kinross - Backstage at the Green Hotel+
12/05/ UK, Kinross - Backstage at the Green Hotel+ (Charity event "Concert for kids)
18/05/ GERMANY, Ratingen Homberg+ (private Party) | 101' min. AUD Quality: 3 - 4
24/05/ UK, Putney/London - The Half Moon+
25/05/ UK, Horsham - The Holbrook Club+
27/09/ UK, Minehead - Butlin's (3rd Status Quo Fanclub Convention)
12/10/ UK, London - The Half Moon Putney (Rick Parfitt Tribute Evening)
2020
18/01/ UK, Skegness - Butlins Resort+ (UK Rock & Blues Festival)
0/05/ UK, Kinross - Backstage at the Green Hotel+10/05/ UK, Kinross - Backstage at the Green Hotel+16
RHINO'S RIGHT RIVETIN' ROCKING REVUE
Band: John Edwards (voc,b), Mike Casswell (g), Dave Goodes (g), Matt Letley (dr)
2004
21/05/ UK, London - Putney Half Moon
22/05/ UK, Birmingham - Academy 2
23/05/ UK, Peterborough - Met Lounge
WOODEDZ
Band: John Edwards (voc,b), Freddie Edwards (g), Max Edwards (dr)
2006
08/04/ UK, Twickenham - Red Lion
15/09/ UK, London - The Peel
20/09/ UK, Twickenham - Red Lion
21/09/ UK, London - The Orange
19/11/ UK, London - Hammersmith Palais (Charity Gig)
2007
06/04/ UK, London - The Peel
07/04/ UK, London - The Orange
08/04/ UK, London - The Hope & Anchor
21/09/ UK, Ipswich (private Gig)
22/09/ UK, London - The Hope & Anchor
2008
26/01/ HOLLAND, Frieschepalen - Ma Kelly's Cafe
12/04/ FRANCE, Paris - Cabaret Sauvage (with Matt Letley)
31/07/ UK, London - The Peel
07/08/ UK, Bulldog Bash Festival
24/10/ UK, Twickenham - Rising Sun
2009
16/01/ UK, Twickenham - Rising Sun
28/03/ UK, Slough - Thames Valley Harley Davidson's Grand Open Day
09/05/ UK, London - Chickenshead Theatre
22/05/ GERMANY, Duisburg - Parkhaus (Special Guest Ralf Oehmichen)
23/05/ HOLLAND, Frieschepalen - Ma Kelly's Cafe
25/09/ UK, London - The Half Moon
26/09/ FRANCE, Pas de Calais - Billy Montigny
2012
12/02/ UK, London - The Westbury Arms
22/05/ UK, London - The Westbury Pub
2013
07/09/ UK, Enfield, Middlesex - The Dugdale Center
2014
27/05/ UK, London - Half Moon
29/05/ HOLLAND, Frieschepalen - Ma Kelly's Cafe
08/07/ UK, London - Grey Horse