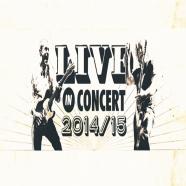 Band members: Francis Rossi, Rick Parfitt, Andy Bown, John Edwards, Leon Cave
Main Setlist: Caroline, Paper Plane, Rain, Little Lady, Hold you Back, Beginning of The End, Oh Baby, Proposin' Medley incl. What You're Proposin' / Down The Dustpipe / Wild Side of life / Railroad, Big Fat Mama, The Oriental, Creepin' Up On You, In The Army Now, Blue Eyed Lady, Drum Solo, Roll over lay Down, Down Down, Whatever You Want, Rockin'all over the World,
Rock'n Roll Music / Bye Bye Johnny.
Tour Crew: Glen Smith (Tour Manager), Lyane Ngan (Band Personal Assistant), Ewan Cameron (Lightning Director), Andy May (FOH Sound Engineer), Tim Franklin (Monitor Engineer), Lloyd Gilbert (Guitar Tech), Andy Tomkins (Keyboard / Bass Tech), Lance Miles (Drum Tech) Merchandiser: Global Merchandising Services Ltd. Management: DurocMedia Ltd.
Manager: Simon Porter.
Support Bands: Lou Gramm (Germany Tour), *Chas n' Dave (UK Tour)
Additional / Unusual songs performed: Most Of The Time (Tourstart in Dresden), Somethin' bout You Baby I like (in the set since Krefeld, Germany), Burning Bridges (UK) and Junior's Wailing (in Germany sometimes in the encore).
Tour Notes: Blue Eyed Lady were dropped from the setlist after the Leeds gig - and Abbey Road Live recorded once again a show from the new tour. This time in Birmingham 13.12.2014. CD and Downloads are available at http://abbeyroadlive.sandbag.uk.com/Store/index.html
Quo are forced to reschedule the shows at Rochester Castle,UK on July 15th 2015, Igliston Royal Highland Centre, near Edinburgh on August 8th 2015 and Monaco Monte Carlo, Salle des Etoileso on August 14th 2015. This unavoidable course of action is due to Rick Parfitt (succumbing to a stomach complaint and being forced to rest after taking medical advice) and Francis Rossi (taken ill with a virus). All 3 shows will be rescheduled for summer 2016.

2014
17/11/ GERMANY, Dresden - Messehalle (without Lou Gramm) | 44' min. AUD Quality: 3 -
18/11/ GERMANY, Kiel - Sparkassen-Arena | 53' min. AUD Quality: 3
20/11/ GERMANY, Magdeburg - Stadthalle
21/11/ GERMANY, Schwerin - Stadthalle | 100' min. AUD Quality: 3 +
22/11/ GERMANY, Erfurt - Thüringenhalle
24/11/ GERMANY, Saarbrücken - Saarlandhalle | 65' min. AUD Quality: 4

26/11/ GERMANY, Augsburg - Schwabenhalle | 58' min. AUD Quality: 2-3
28/11/ GERMANY, Krefeld - Königspalast | 100' min. AUD Quality: 3
29/11/ GERMANY, Lingen - Emslandarena
01/12/ GERMANY, Mannheim - Mozartsaal
02/12/ GERMANY, Freiburg - Rothausarena
04/12/ HOLLAND, Kerkrade - Rodahal
06/12/ UK, Liverpool* - Echo Arena | 39' min. AUD Quality: 2-3

07/12/ UK, Glasgow* - Hydro Arena | 104' min. AUD Quality: 2-3
08/12/ UK, Newcastle* - Arena
10/12/ UK, Leeds* - Arena | 104' min. AUD Quality: 4 +
11/12/ UK, Nottingham* - Arena | 100' min. AUD Quality: 4
13/12/ UK, Birmingham* - NIA *official Bootleg recorded by Abbey Road Live!*
15/12/ UK, Plymouth* - Pavilions | 100' min. AUD Quality: 4

16/12/ UK, Cardiff* - Arena
18/12/ UK, Bournemouth* - BIC
19/12/ UK, London* - O2 Arena | 100' min. AUD Quality: 3 +
20/12/ UK, Brighton* - Centre | 100' min. AUD Quality: 3 | 103' min. AUD Quality: 3+
a
a
2015
22/02/ UK, Banbury - Aynhoe Park (private Show)
07/05/ SWEDEN, Stockholm - Berns Salonger (private Show)
09/05/ UK, London - Horse Guards Parade Ground (VE Day 70th anniversary)
15/05/ UK, Burton Agnes - Bluebell Hotel Outdoor show | 90' min. AUD Quality: 3 +
16/05/ UK, Burton Agnes - Bluebell Hotel Outdoor show | 90' min. AUD Quality: 3 +
23/05/ UK, Cornish Town - Perranporth Beach | 60' min. AUD Quality: 2 +
24/05/ UK, Gloucestershire - Lechlade Festival
05/06/ UK, Dumfries - Queen of the South FC Stadium (with Big Country)
06/06/ UK, Lincs - Burghley House | 88' min. AUD Quality: 2 -
13/06/ DENMARK, Middelfart - Festival
20/06/ UK, Herts - Hatfield House | 35' min. AUD Quality: 3 +

25/06/ GERMANY, Bonn - Kunstrasen (with Alice Cooper)| 70' min. AUD Quality: 2 +
27/06/ GERMANY, Hamburg - Stadtpark (support Wayne Morris Band) | 34' min. AUD Quality: 3
29/06/ GERMANY, München - Tollwood Festival (with Uriah Heep)
03/07/ UK, Preston - Symphony at the Tower
04/07/ AUSTRIA, Wiesen - Ottakringer Arena (with Uriah Heep/Nazareth)| 74' min. AUD Quality: 3
05/07/ AUSTRIA, Clam - Burg Clam Festival | 88' min. AUD Quality: 3 +
08/07/ FRANCE, St. Malo du Bois - Festival de Poupet
09/07/ FRANCE, Albi - Festival Pause Guitare
12/07/ IRELAND, Cork - The Marquee
17/07/ UK, Suffolk - Newmarket Racecourse | 90' min. AUD Quality: 4
18/07/ GERMANY, Braunschweig - BraWo Bühne | 68' min. AUD Quality: 3 +
19/07/ GERMANY, Lörrach - Marktplatz
21/07/ GERMANY, Winterbach - Zelt Spektakel (support Mallet)
23/07/ SPAIN, Barcelona - Can Zam Festival | 42' min. AUD Quality: 3 -

25/07/ UK, Silverstone - Racecourse Silverstone Classic 2015
27/07/ LUXEMBOURG, Beaufort - Cháteau de Beaufort
30/07/ DENMARK, Ringsted Festival
31/07/ SWEDEN, Gothenburg - Liseberg | 79' min. AUD Quality: 3

01/08/ NORWAY, Andalsnes - Rauma Festival
04/08/ BELGIUM, Lokerse - Feesten | 46' min. AUD Quality: 2
06/08/ SWEDEN, Gövle - Festival
29/08/ FRANCE, Trélazé Festival | 48' min. AUD Quality: 3 -

10/09/ SWITZERLAND, Noirmont Chant du Gros Festival
12/09/ SWITZERLAND, Zürich - Hallenstadion | 91' min. AUD Quality: 3 +