IN MEMORY OF RICK PARFITT & HIS FANS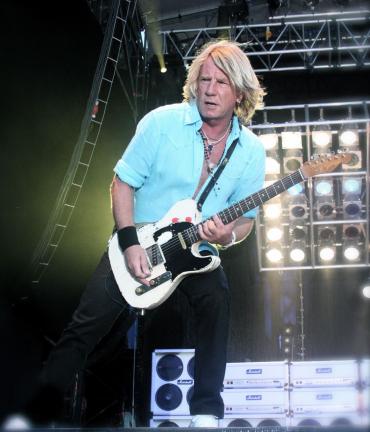 Statement from The Parfitt Family & Status Quo Manager, Simon Porter.

We are truly devastated to have to announce that Status Quo guitarist Rick Parfitt has passed away at lunchtime on christmas eve.

He died in hospital in Marbella, Spain as a result of a severe infection, having been admitted to hospital on Thursday evening following complications to a shoulder injury incurred by a previous fall.

This tragic news comes at a time when Rick was hugely looking forward to launching a solo career with an album and autobiography planned for 2017 following his departure from Status Quo's touring activities on medical advice.

He will be sorely missed by his family, friends, fellow band members, management, crew and his dedicated legion of fans from throughout the world, gained through 50 years of monumental success with Status Quo.

Rick is survived by his wife Lyndsay, their twins Tommy and Lily and Rick's adult children Rick Jnr and Harry.


An dieser Stelle könnt ihr eure eigenen Erinnerungen und Erlebnisse mit Rick Parfitt teilen. Egal ob auf Autogrammstunden, vor dem Hotel, Tourbus oder der Konzerthalle, im privaten Rahmen, im Studio...oder wo sonst auch immer. Schreibt dazu einige Zeilen und sendet mir eure gemeinsamen Fotos mit Rick an E-Mail: quolion@t-online.de.
Mit dieser Rubrik wollen wir unseren "WOMORR" Rick Parfitt gebührend ehren und in Erinnerung behalten.
Ruhe in Frieden Rick!
This site is all about Rick and his great Quo fans. You can share your photos and memories with Rick - at signing sessions, in front of the venue or tourbus, in the hotel, studio or any private meetings. I'll post everything here to honour his life as one of rock's most recognisable guitarists ever. Please send me your texts and photos to my E-Mail address: quolion@t-online.de.
R.I.P. Rick!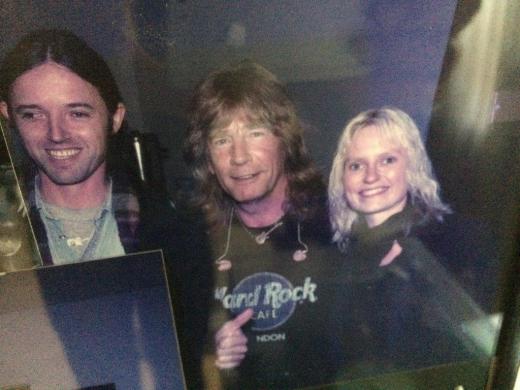 Meine Freundin Christiane und ich mit Rick Parfitt
Backstage im Juni 2004 in Bielstein, Deutschland.
Till Langhorst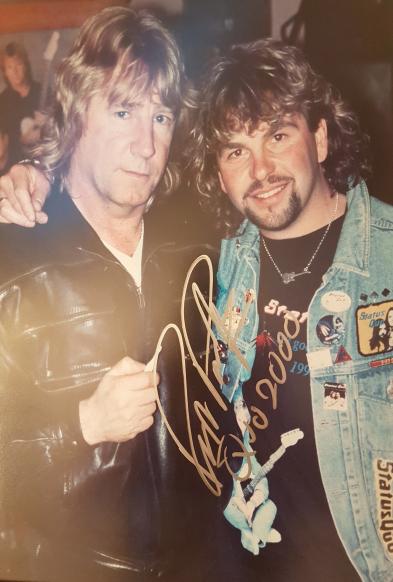 Nun ist mein Idol Rick Parfitt von uns gegangen und kann mit den anderen da oben weiter rocken.
Quo waren ein Teil meiner Jugend.Bis zum heutigen Tag.
Bin Quofan seit 1977.
Da ich aus dem Osten komme, habe ich sie das erste mal 1986 in Budapest gesehen.War gleich Backstage und habe noch im Hotel Brian May von Queen getroffen,der sich Quo als Zuschauer gönnte.
Etliche Konzerte habe ich mir reingezogen, bei 80 Gigs habe ich dann mal aufgehört zu zählen.
Dabei habe ich nette gleichgesinnte Quofans kennengelernt und diese Zeit möchte ich nicht missen.
Nun ist Rick gestorben, an einer Scheiß Infektion.
Er wollte weitermachen. Es sei ihm nicht gegönnt gewesen.
Aber so ist das Leben...Leider.
Aber die Musik von Quo lebt jetzt in mir und uns weiter.
Rock on Rick, in Heaven!
Jens Porsche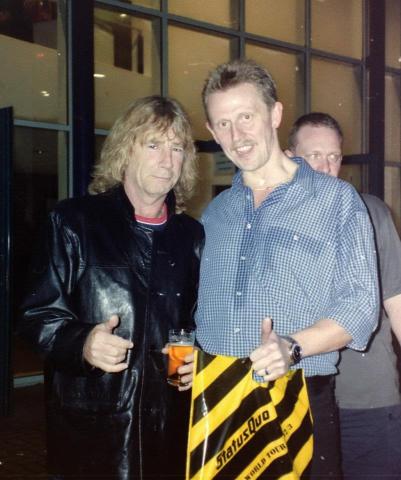 Es ist immer noch unfassbar für mich.

Das Bild entstand 2002 bei uns in

Emsdetten,
Deutschland

nach dem Gig.
Ein Bierchen mit Rick.
Dieter Brinker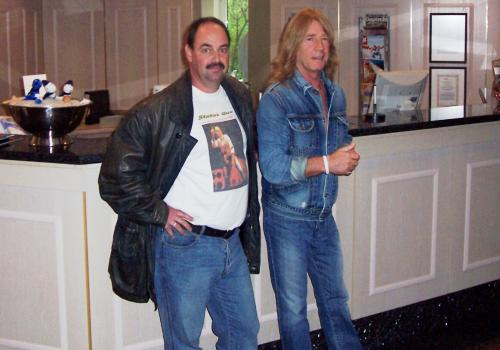 Das Bild zeigt mich mit Rick in

Emden

am

30.9.2005
Ich hatte das Glück Quo im Hotel zu treffen. Es war irgendwie lustig - das Hotel hatte gerade Handwerker im Haus, die aber ihrer Arbeit nicht nachgehen durften. Der Hotel Manager erklärte ihnen, dass eine bekannte Rock Band im Hotel abgestiegen sei und die Herren ihren Schalf bräuchten, daher mußten sie warten bis die Jungs ausgeschlafen hatten. So mußte ich natürlich auch warten, aber es hat sich ausgezahlt, es sind eine Menge Bilder dabei herausgekommen. Und Rick merkte man einfach an, dass er den Umgang mit den Fans liebt.
Roland Krebs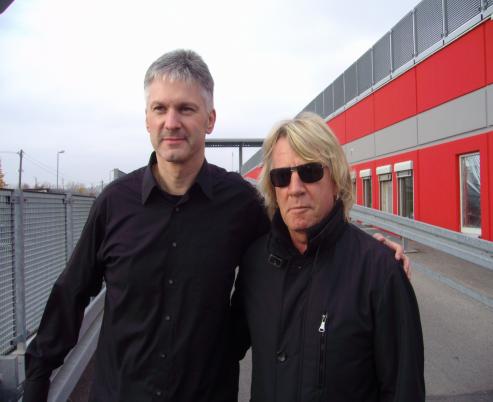 Ich mit Rick Parfitt 2009 in Bamberg.
Seit 1980 haben mich Rick und Quo begleitet. Für mich gibt es keine andere Band als Quo.
Rick hat sich immer viel Zeit für uns Fans genommen und Autogramm- bzw. Fotowünsche stets gerne und geduldig erfüllt. Auf der Bühne war er unbeschreiblich und hat vom ersten Riff von Caroline bis zum letzten Song alles gegeben. Immer stand ich bei den Konzerten auf Rick's Seite.
Es schmerzt sehr, dass dieser außergewöhnliche Mensch und Musiker Rick Parfitt nicht mehr bei uns ist.
Uwe Niewiadomski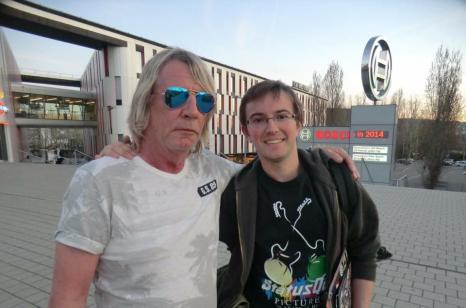 Rick...You rocked all over the world with us! We will miss you
Sebastian Geercke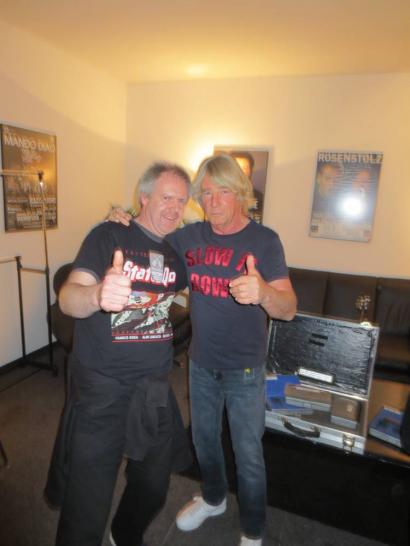 Hier ist ein Foto mit mir und Rick beim Meet & Greet 2013 in Hannover. Wir hatten uns kurz darüber ausgetauscht,
wie großartig die Konzerte der Frantic Four Quo im Hammersmith Apollo waren. Es hatte ihm auch sehr gefallen.

Ralf Daehne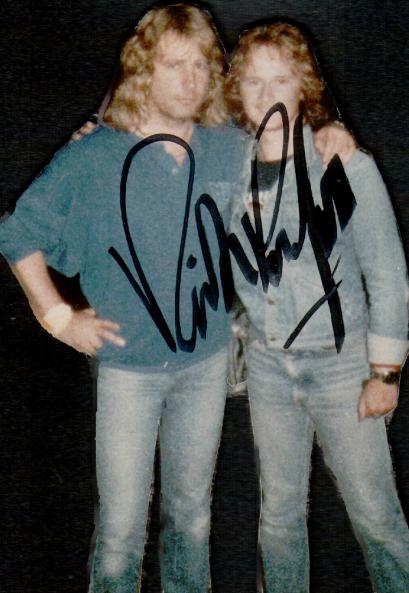 Am Vortag Hammer Konzert in Dinkelsbühl 1986!!! Quo´s Back Tour wo Rick Parfitt sich an die Marschall Box geschmissen hat und am nächsten Tag hatte ich ihn auf der Loreley im Arm !!!!! Werde es nie vergessen !!!!
Timo Hirsemann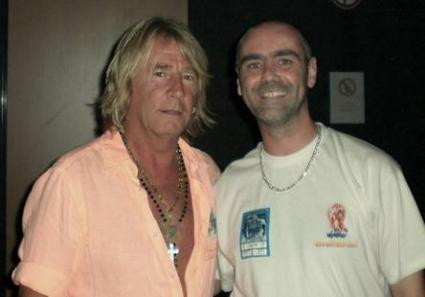 Meet and greet, Rick et moi à Tours, en France, le 7 octobre 2007.
Les fans français te regrettent, repose en paix.
Eric Fortin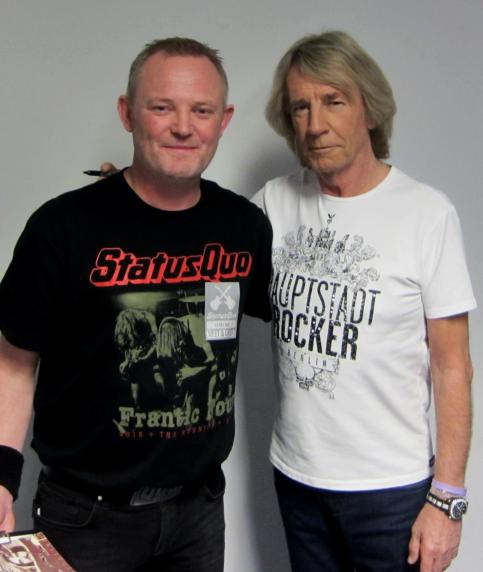 R.I.P. Rick!
Jeppe Lauritsen, Denmark
Let´s Rock!
Das gnaden- und kompromisslose Abrocken auf der Bühne zeichnete Rick Parfitt immer aus. Seit meinem ersten Quo Konzert 1997 bis zum letzten mit Rick (2015) zeigte er bis ins hohe Alter eine einzigartige Power, die kein anderer Gitarrist der Welt je erreichen kann. Rick und Quo haben mein musikalisches Leben geprägt, ihre Musik ist für mich die Beste. Als Erinnerung hier mein Lieblingsfoto, das ich von Rick 2003 in

Memmingen

gemacht habe.
Rockin´ @ 4500 Times!
Ruhe in Frieden, Rick, ich werde unsere Gespräche vor den Gigs und natürlich auch die unzähligen Live Konzerte, die ich mit dir erlebt habe, nie vergessen!
Abbas Schirmohammadi